About Dubai Underwater Zoo: Home to Over 140 Aquatic Species
Contents
The Dubai Aquarium and Underwater Zoo offers a specially curated experience wherein you can directly interact with a multitude of diverse aquatic creatures. Located within the famed Dubai Mall, this site is an important center of knowledge where you can learn about marine wildlife while simultaneously making memories with your loved ones. If you're daring enough, dive with the sharks - or sit back in a transparent bottomed boat to get a picturesque view of the resident species of the aquarium. As part of its wildlife conservation measures and research facilities, the aquarium also conducts educational programmes for schools and guests.
What Is Dubai Underwater Zoo?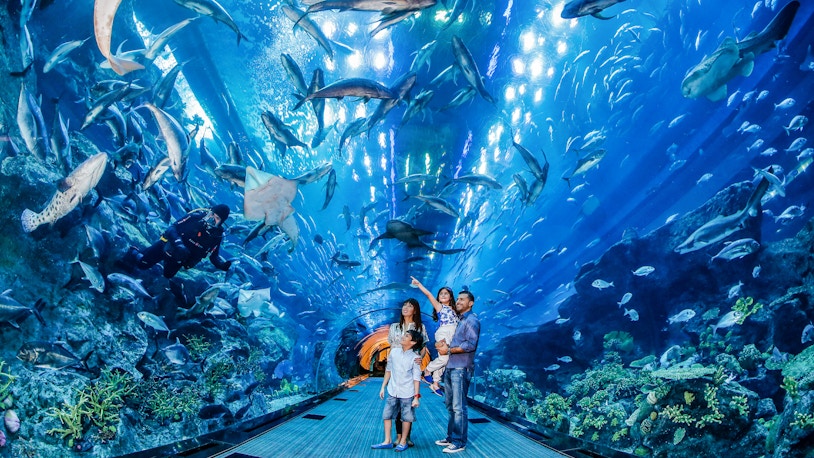 Dubai Underwater Zoo is one of the largest indoor aquariums in the world. It houses over 140 aquatic species and thousands of marine creatures.
Visitors get the chance to dive with the aquarium's sharks and get a closer look at live feeding presentations. You can also experience close encounters with aquatic animals in special enclosures and learn scuba diving with trained divers, and experience oneness with nature.
At Dubai Underwater Zoo you can learn about marine conservation efforts and meet diverse species of animals as you enjoy a 270-degree view of the creatures as you explore the Aquarium Tunnel.
What To See At Dubai Underwater Zoo?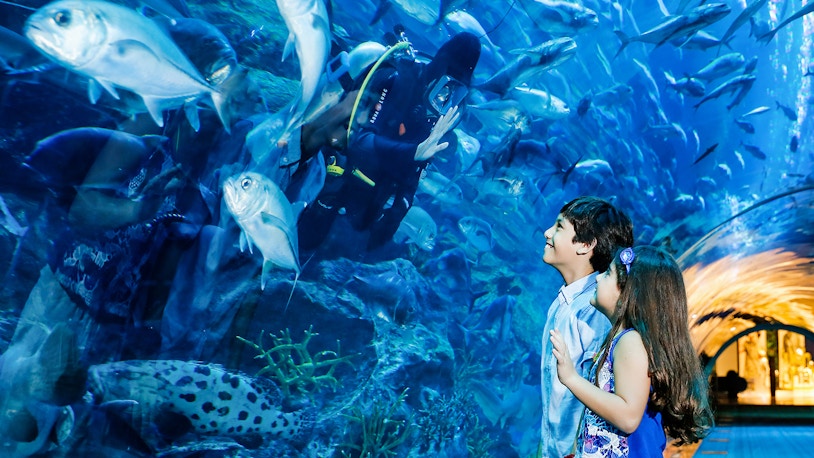 Home to over 140 species of aquatic animals with over 400 kinds of sharks and rays residing in the aquarium's 10 million liter tank, the Dubai Underwater Zoo and Aquarium is full of enriching encounters and immense learning. The aquarium's animals include Sand Tiger Sharks and Giant Groupers, along with a host of other well-known marine species. Enjoy the 3 ecological zones, and partake in awe-inspiring diving experiences where you get to dive among some of the world's deadliest predators.
Experiences At Dubai Underwater Zoo
One of the largest indoor aquariums in the world, the Dubai Aquarium & Underwater Zoo holds many opportunities for awe-inspiring experiences with its three sections - the Aquarium Tank, the Aquarium Tunnel, and the Underwater Zoo itself. While the Aquarium Tank holds many beautiful marine species, the Tunnel offers a breath-taking 270-degree view of the animals inside the Aquarium. Enter the Underwater Zoo for diving experiences and get introduced to a range of marine wildlife at close quarters.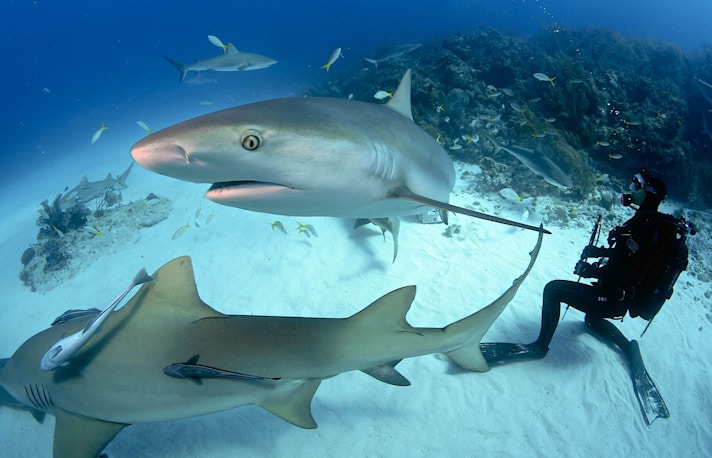 Shark Dives
Enter the territory of the kings of the underwater zone under the guidance of a qualified Dive Master and Dive Instructor. Make an advance booking to enjoy the company of Sand Tiger Sharks, Leopard Sharks, Reef Sharks, Tawny Nurse Sharks, or Giant Groupers and Stingrays housed in the underwater zoo.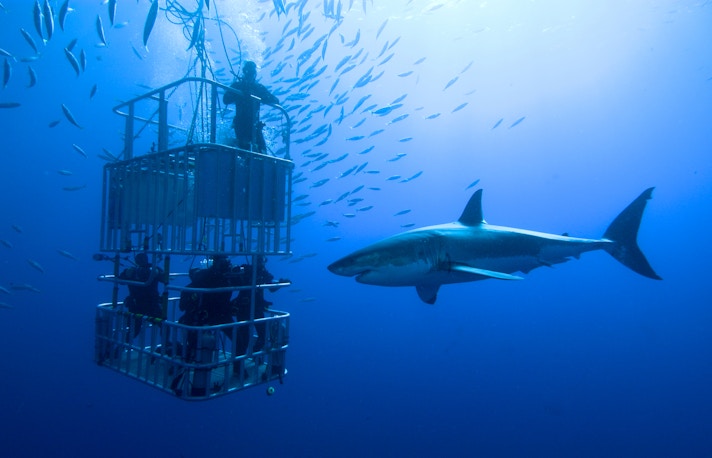 Cage Snorkeling
This is a great way to experience something similar to scuba diving even if you lack the experience to do so. Enter the cool expanse of a 10 million liter tank without any diving equipment. This experience is available to all visitors aged 8 and older and requires no previous experience.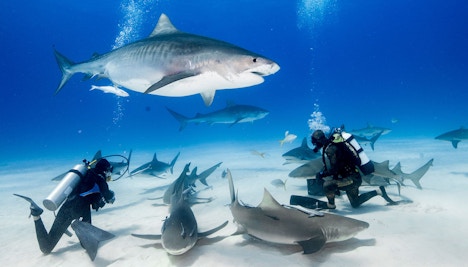 Cage Shark Walker
Get a closer look at these deadly, majestic beings as you walk with them in a specially designed cage under the waters of the aquarium. This is truly an unforgettable experience amongst the world's ultimate predators while wearing an oxygenated helmet provided by the aquarium that helps you breathe underwater.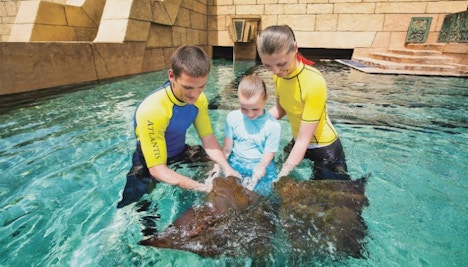 Specialty Dives
This is an opportunity to experience 3 different dives offered to PADI-certified visitors. Grab the chance to be inside the diving cage while trained staff feeds the sharks, or learn about shark conservation identification. You can even use the aquarium's professional underwater camera to take home memories.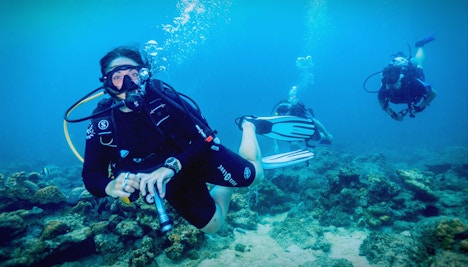 Scuba Diving
If you've always wanted to give scuba diving a try, PADI's Discover Scuba Diver program is perfect for you. Don your gear and explore the wonder of the Dubai Aquarium with a trained Dive Instructor. Then, experience the calm blue waters with your newly learned skills and interact with the marine wildlife close up.
How To Buy Dubai Underwater Zoo Tickets?
The best way to buy Dubai Aquarium tickets is to purchase your tickets online to enjoy benefits like instant confirmation, advance booking, discounted tickets, etc.
Combo (Save 5%): Dubai Aquarium + Dubai Frame Tickets
More details
Frequently Asked Questions About Dubai Underwater Zoo
What is Dubai Underwater Zoo?
The Dubai Underwater Zoo is a captivating tourist destination in Dubai, designed by Peddle Thorp and managed by Emaar Entertainment. It houses more than 140 species of marine animals.
Where is Dubai Underwater Zoo located?
The amazing Underwater Zoo is located inside the Dubai Mall, on Level 2.
Is Dubai Underwater Zoo a part of Dubai Aquarium?
The Dubai Underwater Zoo is located above the Dubai Aquarium, on Level 2 of the Dubai Mall.
How far is Dubai Underwater Zoo from Dubai Aquarium?
It is located just above the Dubai Aquarium, on Level 2 of the Dubai Mall.
Do my Dubai Underwater Zoo tickets provide me access to Dubai Aquarium Tank, Dubai Aquarium Tunnel, and Underwater Zoo?
Yes, you can access Dubai Aquarium Tank, Dubai Aquarium Tunnel, and Underwater Zoo with one Dubai Underwater Zoo ticket. For more information, please check your tickets before purchasing.
Why is Dubai Underwater Zoo so famous?
The Dubai Underwater Zoo is world-renowned for its diverse collection of marine life and its displays of the many underwater species that live within its secure enclosures. The zoo has also received accolades for its work on environmental preservation.
Can I explore Dubai Aquarium if I visit Dubai Underwater Zoo?
Yes, you get to explore the Dubai Aquarium during your Dubai Underwater Zoo visit.
What are the experiences offered at Dubai Underwater Zoo?
A visit to the Dubai Underwater Zoo is sure to stun you with the many experiences you can participate in while you're there. You can take in the 270-degree view of underwater animals through the acrylic walkthrough tunnel, as well as 4 types of animal encounters up-close. There are several other unique experiences offered here as well.
Is it worth visiting Dubai Underwater Zoo?
Visiting the Dubai Underwater Zoo is certainly going to open your eyes to the beauty of the world of marine life and offer you countless moments of awe and inspiration. It is definitely worth a visit, especially if you are in Dubai with your family.