About Dubai Aquarium: An Interactive Experience With Aquatic Life
Contents
As one of the biggest aquariums in the world, boasting over 140 species of aquatic animals and 33,000 underwater creatures, the Dubai Aquarium and Underwater Zoo is an important center for learning about marine animals. With a 10 million liter tank, it holds a vast array of animals from sharks to stingrays and lionfishes.
Located within the famous Dubai Mall, the Dubai Aquarium holds the world record for the largest acrylic panel in an aquarium. The Aquarium is also responsible for conducting exhaustive educational programmes to share important information regarding the conservation and preservation of marine species and the aquatic ecosystem. 
What Is Dubai Aquarium Tank & Aquarium Tunnel?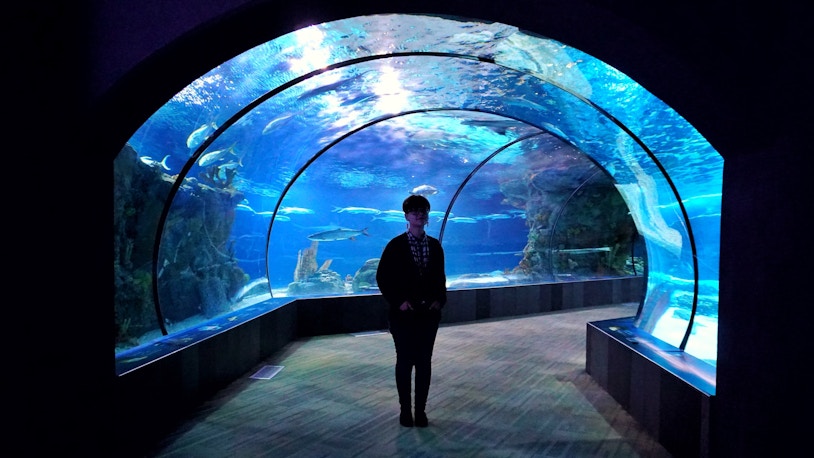 The Dubai Aquarium and its Aquarium Tunnel are known for the experiences they offer to be one with nature and learn about aquatic wildlife.
The Aquarium Tunnel provides a breath-taking view of the aquatic animals that occupy the tank. In fact, you can even interact with the animals through one-on-one experiences such as feeding the sharks, cage diving, underwater scooter rides, and expert-led scuba diving courses. 
You can also go behind the scenes and witness the feeding process or choose to walk among the world's deadliest predators in the shark tank walking experience. Snap pictures using professional underwater cameras and take home memories that will last you a lifetime.
What To See At Dubai Aquarium?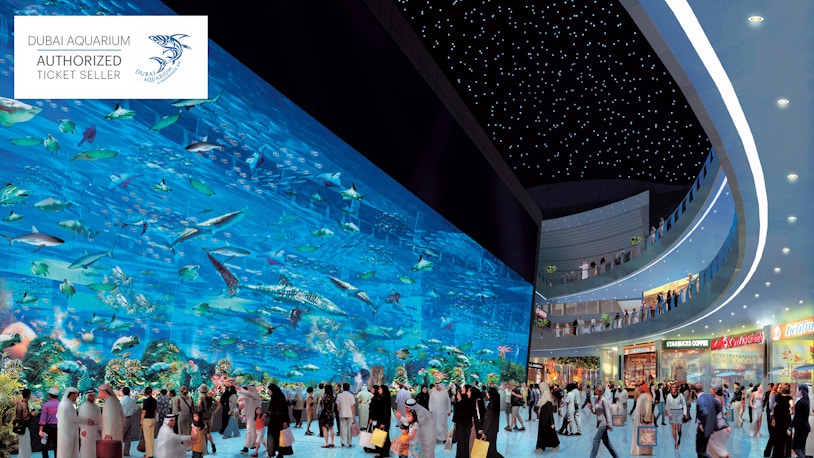 The Dubai Aquarium is the largest suspended aquarium in the world. It is home to over 140 species of aquatic animals, with over 400 kinds of sharks and rays residing in the aquarium's 10 million liter tank. The Dubai Underwater Zoo and Aquarium is full of breathtaking encounters and immense learning. 
The Aquarium's animals include Sand Tiger Sharks, Sting Rays, Lion Fishes, Giant Groupers, along with a vast array of many other well-known marine species. 
Enjoy the awe-inspiring diving experiences where you get to dive among some of the world's deadliest predators, and take in the 270-degree view as you walk through the 48 meter-long Aquarium Tunnel. And once you've had your dose of adventure, climb aboard the dreamy glass-bottom boats for a memorable ride.
Experiences At Dubai Aquarium Tank & Aquarium Tunnel
Here are some magical experiences you absolutely must not miss while visiting the Dubai Aquarium Tank and the Dubai Aquarium Tunnel. The Aquarium also features a third section called the Underwater Zoo. During your visit, dive into the depths of the largest suspended tank in the world or walk with the sharks and learn how to feed them if you're brave enough. You could also learn scuba diving or simply sit back, observe the aquatic animals, and enjoy a breathtaking ride in the glass-bottomed boats.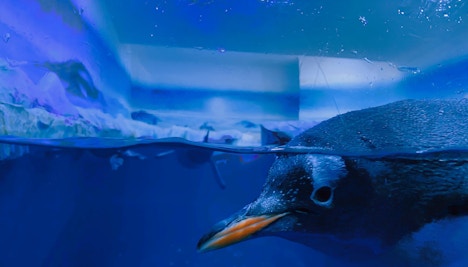 Penguin Encounter
The Dubai Aquarium is the first facility in the region to introduce Gentoo penguins. Visitors can step into the Penguin Cove habitat to interact with these charismatic birds face-to-face. These penguins are housed in an ultra-modern exhibit spanning multiple levels with loads of areas for these flightless creatures to explore and slide around in.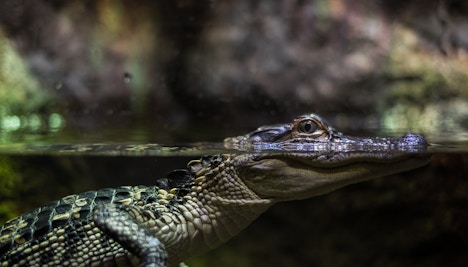 King Croc Encounter
At a whopping 750 kg, spanning over 5m in length, the King Croc is native to Australia. This wondrous creature is one of the most powerful and feared reptiles to grace nature. Despite already being one of the largest of its kind in the world, the Dubai Aquarium's 40-year-old King Croc is still expected to grow bigger over the next 50 years.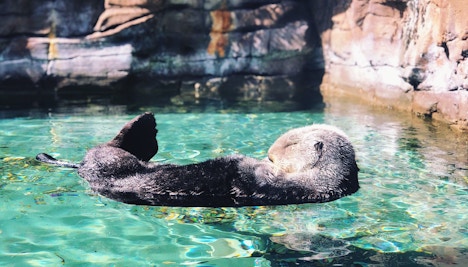 Otter Experience
Explore the otter's enclosure to engage with these adorable animals. These otters are the smallest of all 13 species of otters, and they hail from Asia. It may not be apparent, but these tiny, intelligent creatures have a big appetite and can consume up to 20% of their body weight on a daily basis.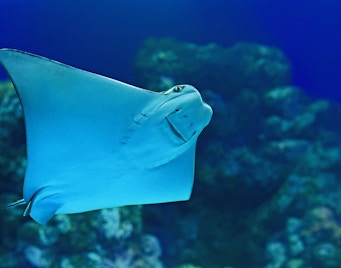 Ray Encounter
As part of this exhilarating interaction, you'll be able to safely hand-feed the graceful Eagle Rays and the Cow Nose rays while standing on the specially constructed ray-feeding platform. This will be an unforgettable experience of meeting these gentle and inquisitive creatures as they graciously accept their meal from your hands.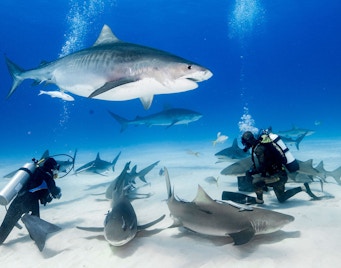 Shark Trainer Experience
This specially designed programme educates visitors about different shark species and shows them how the resident sharks are taken care of at the Dubai Aquarium & Underwater Zoo. Go behind the scenes and assist the aquarium staff in training Bamboo Sharks and Leopard Sharks while wearing waterproof waders for a hands-on experience in training and interacting with the sharks.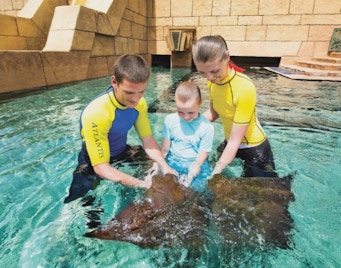 Feeding Experience
Visitors can participate in a variety of guided feeding exercises, such as ray feeding, shark feeding, King Croc feeding, etc. Although dinnertime at the Dubai Aquarium can be quite busy, the Aquarium conducts regular presentations and feedings - so be sure to check the timings for different feeding presentations beforehand to make sure you don't miss them.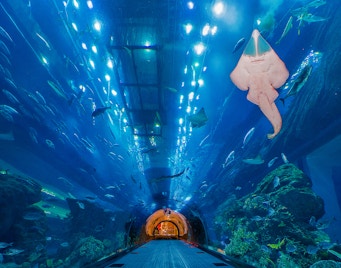 Glass Bottom Boat Rides
Ride the surface of the largest suspended tank in the world at the Dubai Aquarium with a bird's eye perspective of the tank's aquatic residents. Keep your eyes open to spot the sharks and rays as you sit back and enjoy this magical guided tour. This ride is not available to children below 2 years of age, and to pregnant visitors.
How To Buy Dubai Aquarium?
The best way to buy Dubai Aquarium tickets is to purchase your tickets online to enjoy benefits like instant confirmation, advance booking, discounted tickets, etc.
Combo (Save 5%): Dubai Aquarium + Dubai Frame Tickets
More details
Frequently Asked Questions About Dubai Aquarium
Dubai Aquarium is the world's largest suspended aquarium which houses more than 140 species of marine animals. It is designed by Peddle Thorp and managed by Emaar Entertainment
Where is Dubai Aquarium located?
The amazing Dubai Aquarium is located inside the Dubai Mall, on Level 2.
Is Dubai Underwater Zoo a part of Dubai Aquarium?
This amazing Dubai Aquarium aquarium is located inside the Dubai Mall, on the Ground Level.
What are the different sections of Dubai Aquarium?
A. The Dubai Aquarium contains the 48-meter long Aquarium Tunnel, which offers a beautiful 270-degree view of the marine animals and the famous 10 million liter Aquarium Tank. 
How far is Dubai Underwater Zoo from Dubai Aquarium?
The Dubai Aquarium and the Dubai Underwater Zoo are both located within the Dubai Mall, and they are just separated by 2 floors from each other.
Do my Dubai Aquarium tickets provide me access to Dubai Aquarium Tank, Dubai Aquarium Tunnel, and Underwater Zoo?
Yes, you can access the different areas such as Dubai Aquarium Tank, Aquarium Tunnel, and Underwater Zoo, with just one ticket.
Why is the Dubai Aquarium so famous?
The Dubai Aquarium is popular because of its diverse collection of marine life and its displays of several underwater species that live within its secure enclosures. It has also been commended for its environmental conservation programs. Apart from this, it is also the largest suspended tank in the world and offers different experiences.
Can I explore the Aquarium Tunnel if I visit Dubai Aquarium?
Yes, you can explore the 48-meter long Aquarium Tunnel if you choose to visit the Dubai Aquarium.
Are there sharks in Dubai Aquarium?
Yes, the Dubai Aquarium houses numerous species of sharks within its premises. If you're interested, you could dive among the sharks or even be present for a feeding session under the guidance of the trained Aquarium staff.
Is Dubai Aquarium a good place for children?
The Dubai Aquarium is a great place for children to learn about marine wildlife and aquatic animals they may not otherwise get to see or interact with in their day-to-day lives. Furthermore, the Dubai Aquarium also conducts educational programmes which seek to spread awareness about environmental conservation and preservation measures.
Are there any learning or educational programs at Dubai Aquarium?
The Dubai Aquarium conducts educational programmes for schools and guests alike as part of its wildlife conservation measures and research facilities. Apart from this, it is well-known for promoting environmental conservation efforts and spreading knowledge to all its visitors.
Is it worth visiting Dubai Aquarium?
Visiting the Dubai Underwater Zoo is definitely going to be a memorable experience that will open your eyes to the beauty of marine life. Your visit will be filled with countless moments of learning, awe, and inspiration. It is definitely worth a visit, especially if you are in Dubai with your family.