What to Wear in Dubai? | Do's & Don'ts
Contents
What to Wear in Dubai?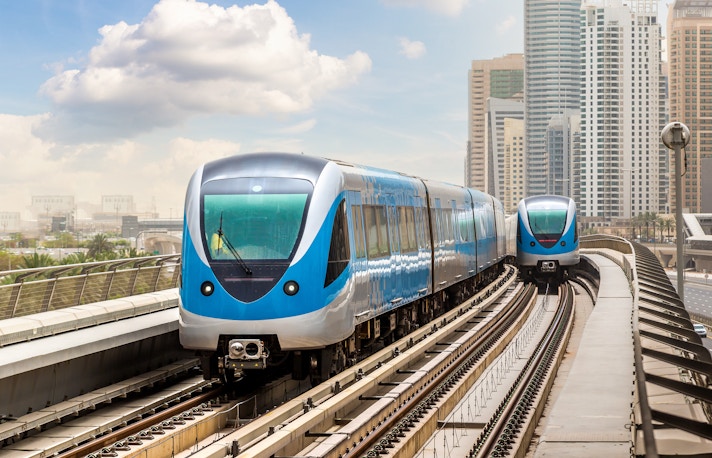 What to Wear While Traveling in Dubai?
Dubai, being a populous city and also a major tourist destination as well, has a great public transport facility for tourists and locals alike. From the well-established metro network to the state-operated bus service, Dubai's public transport system is well managed and convenient.
Go For:
Metro, buses, trams, and taxis - all are considered public places. While traveling in these, you should adhere to the general dress code rule of what to wear in Dubai.
While traveling through private vehicles, you can wear whatever you want inside the vehicle but make sure to cover up well while getting out.
Avoid This:
Don't wear anything too short or too revealing. Tops and T-shirts shouldn't be deep V-necks.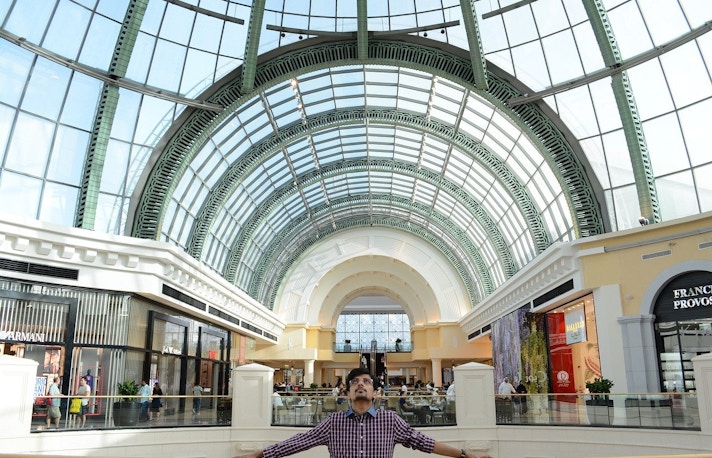 What to Wear in Dubai Malls?
Luxury malls and Dubai go hand-in-hand. You can only find such larger-than-life malls in Dubai with everything imaginable. Malls in Dubai are often called shopper's paradise for the kind of amenities and products they provide with great discounts.
Go For:
Wearing simple and casual outfits while going to a Dubai mall is the best and safest thing to do.
Most of the malls have signs and boards outside the mall instructing the tourists about the modest dress code.
Men can wear T-shirts, pants, trousers whereas women can wear tops, knee-length shorts, pants, wide-legged jeans.
Avoid This:
Avoid clothes that don't fully cover your shoulders and knees.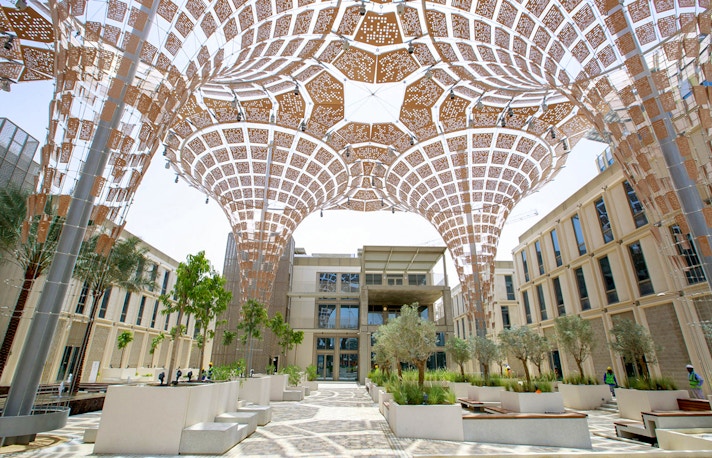 What to Wear While Shopping at Souks in Dubai?
From gold to perfumes, there are numerous souks in Dubai for a diverse range of products. You can indulge in local shopping and lay your hands on the best quality products that bespeak authentic Arabic culture.
Go for:
Souks are usually more conservative than other markets as they are an age-old tradition where you find the dress code norms being followed strictly.
Lots of local families and children are present at local markets and bazaars. It is mostly preferred to wear clothes that wouldn't turn their heads towards you through a stare. Dress as modest as you can.
Avoid This:
Female tourists should avoid wearing shorts, capris, mini dresses, skirts, or anything above-knee length. Make sure to cover your shoulders properly, and wrap around a scarf if you think you might catch any glances.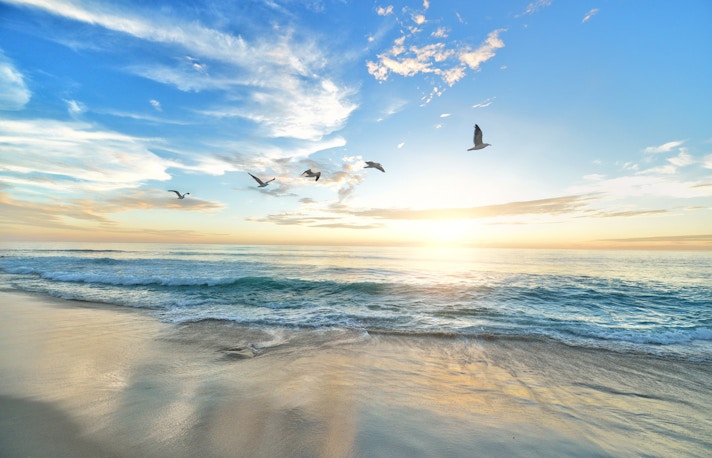 What to Wear at The Beach in Dubai?
There are two types of beaches in Dubai. Public beaches where the locals visit and private beaches in the hotels or pools which is mostly a tourist attraction. Private beaches are more liberal and let you wear almost anything you want. While public beaches can be a bit conservative.

Go for:
Wearing any type of swimwear and swim bottoms is allowed on both beaches unless it's a see-through material.
Women can wear any one-piece swimsuit, burkinis, or sports suits. Men can wear almost anything they wish provided the outfit is classy. 
Avoid This:
Wearing swimsuits are allowed only on the beaches and not outside. You have to change before leaving the beach.
Wearing wet underclothing is also offensive since it makes the clothing purely tight and somewhat see-through.
Any swimsuit with G-string material or mainly, thongs is a complete no-no. Go for minimalist swimwear as much as possible.
Topless sunbathing on the beaches is not only offensive but also illegal in Dubai. So, avoid doing so at all costs.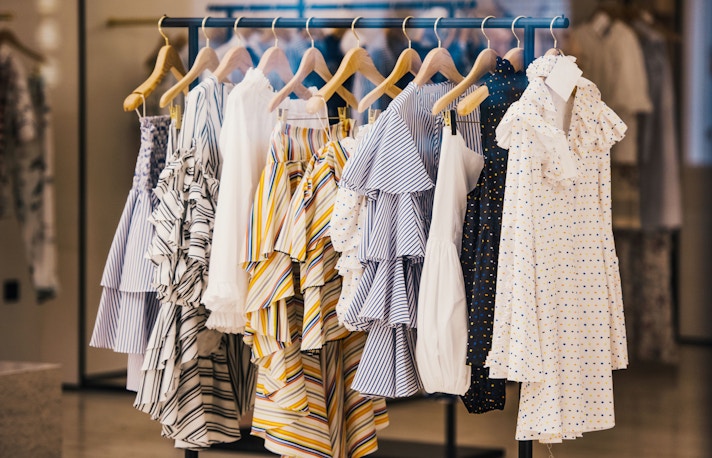 What to Wear to Pubs and Restaurants in Dubai?
Dubai is a city that never sleeps. The happening nightlife of Dubai makes it among the favorite nightlife destinations for tourists. From fun sports bars to chic restaurants, Dubai has something for everyone. 
Go for:
Most hotels and restaurants mention their dress code on their websites and social handles. Make sure to go through them once.
Maintain the rule of modesty, wear anything you want. Women can go for T-shirts, tops with fitted jeans, knee-length skirts, maxi dresses, or summer dresses.
Avoid This:
For nightclubs and pubs, the dress code is slightly more lenient. But anything that shows your cleavage or thighs, is a strict no for girls.
Bikinis, swimwear, mini skirts, and mini shorts are not allowed in pubs.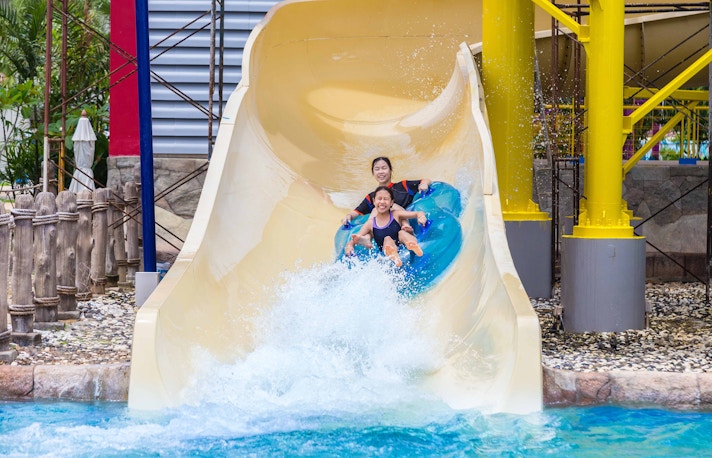 What to Wear in Dubai Waterparks?
Being a major tourist hub, Dubai has a range of fun waterparks that promise you and your family the most enjoyable time. With massive slides, water tubes, huge pools, and endless thrilling activities, these parks never fail to win the hearts of tourists.
Go for:
In water parks, it is mandatory to wear some type of bathing suit - swimwear, full-body suits, or one-piece swimsuits are all acceptable.
Again, the swimwear should nowhere be transparent. White color should also be avoided since it tends to become see-through in the water.
Avoid This:
Be careful of the material of your swimwear. Make sure beforehand that the material is not thin enough to become see-through when you're wet.
Do not show up in your dresses and underwear and expect to be allowed to go on the rides. Anything other than swimwear is strictly prohibited in the water parks.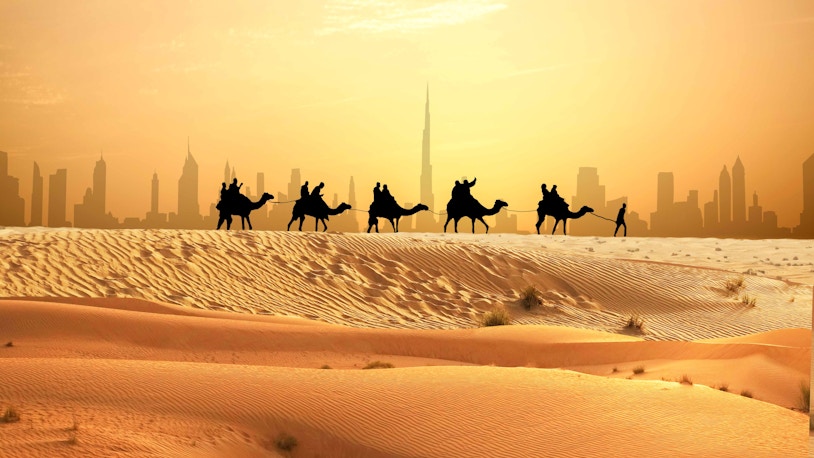 What to Wear to Dubai Desert Safari?
You cannot possibly talk about Dubai and not mention the famous Dubai Desert Safari. The ride on the golden sands amongst the towering dunes is one of the most adventurous experiences you can have in Dubai.
Go for:
Knee-length shorts are acceptable for both men and women. Women can also wear knee-length skirts if they wish to.
Avoid This:
You will do plenty of walking. It's advised to go for flip-flops if possible. Heels, sandals, and shoes should be avoided since they can carry a lot of sand.
from AED 70
Dress Code For Summer in Dubai
Summers can be extremely hot and humid in Dubai. The temperature can rise to 45°C mainly during the months of June & August. Here's everything you need to pack for a Dubai Summer.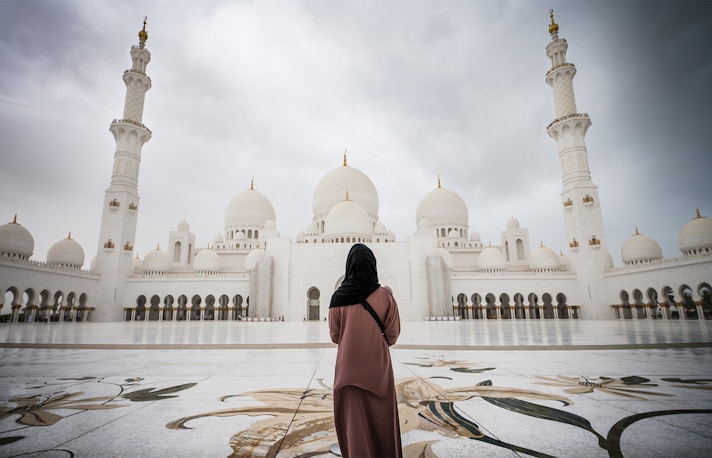 What to Wear in Summer in Dubai | Women
Women tourists can wear cotton dresses, shorts, and skirts if they want to as long as they are long enough to cover the knees.
T-shirts and tops can be worn by women if they're half-sleeved but tunics and sleeveless are better avoided.
Men should also wear cotton jeans or trousers. They can wear shorts but with the same knee-length rule.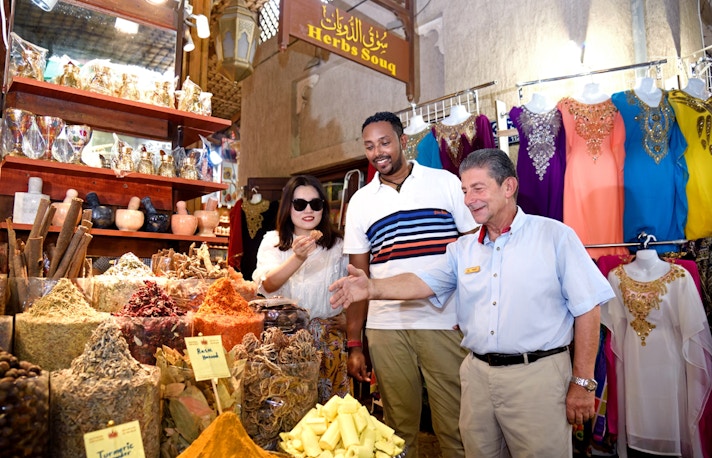 What to Wear in Summer in Dubai | Men
Men should opt for loose trousers rather than tight swim pants or swim shorts.
Both men and women are advised to wear nominal footwear - any shoes, flip-flops, or sandals.
Make sure to wear clothes made from cotton, linen, or any thin fabric since it is very hot in Dubai.
What to Avoid Wearing in Dubai in Summer
Men should not walk around bare-chested or even open the chest buttons of their shirts. V-neck t-shirts or buttoned shirts are highly advised.
Swimsuits and bikinis are also not a great choice unless you're at the beach.
Women should not wear clothes that reveal the cleavage too much. Any show of cleavage is frowned upon in Dubai.
Dress Code For Winter in Dubai
Dubai is mostly visited by tourists around the month of January due to its pleasant weather. The winter months running from December to March also experience some rainy days. While days are normally warm with temperatures around 25°C, the temperature at night can be a bit cold at a minimum of 11°C. Hence, there is no need for any heavy winter clothing.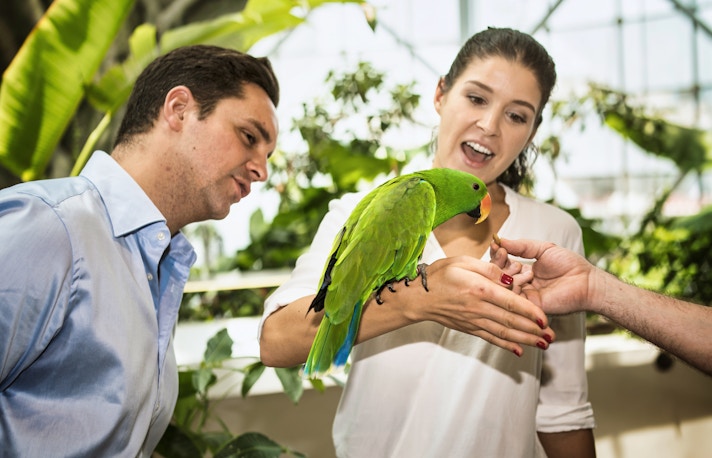 What to Wear in Winter in Dubai | Women
Since it is not too cold and not too warm, try to carry tops that are full-sleeved and bottoms of full length. Such clothing will not make you uncomfortable in either of the situations. This can easily apply to men as well.
Women should preferably go for long skirts. But if they wish to wear knee-length skirts, light leggings, or stockings, they may.
During the day, it's usually warm so normal t-shirts and pants are a good combination to go. You can carry a light sweater if need be. This works for male tourists too.
It is better to go for shoes or light boots during the winter, instead of sandals or flip-flops. Women can go for heels if they wish to wear them to pubs or clubs during the night.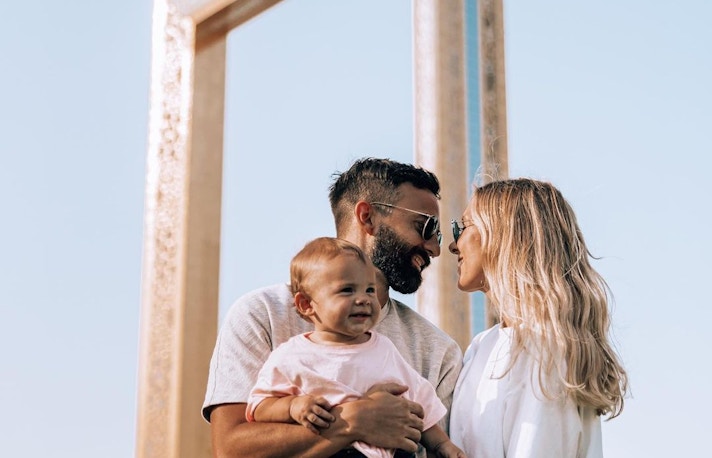 What to Wear in Winter in Dubai | Men
There isn't any separate need for clothes for men and women, as long as it is not offensive according to the general dress code of Dubai.
The temperatures go slightly down in the evening and that's where you need a few winter clothes. Go for sweaters, hoodies, and light cardigans during the evening.
Also, if you're planning to visit the water or dessert during the evening, carry a proper jacket and headscarves just in case it gets extremely cold.
Since the winter months also experience rainy days, it is advisable to carry a raincoat along with you. Though of course, it is not a mandatory requirement.
What to Avoid Wearing in Dubai in Winter
Clothes that are too revealing or show too much skin
Clothes with profanity or offensive images or messages
Clothes that are see-through, too tight, or revealing.

Frequently Asked Questions About What to Wear in Dubai Answered
Can women wear shorts in Dubai?
Yes, women can wear shorts in Dubai as long as they are not too short. You can wear them at beaches or malls but you should avoid them at local markets and souks.
Can men wear shorts in Dubai water parks?
It is mandatory in the water parks to wear any kind of swimwear. If the shorts fulfill the criteria of swimwear, it should not be a problem at all.
Do women have to wear a hijab in Dubai?
As women tourists, it is not compulsory or required for women to wear hijab, burqa, or any traditional attire of Dubai.
What can women wear in public in Dubai?
Women tourists can wear anything they like in Dubai as long as it covers their shoulders and knees. You just have to be respectful to their culture.
What can men wear in public in Dubai?
Rules for men for what to wear in Dubai are quite liberal. They can wear almost anything they want to in Dubai. They just cannot walk bare-chested.
What can tourists wear at a Dubai beach?
Any swimsuit is suitable for a Dubai beach. Anything transparent or see-through is not permitted. Do not walk outside the beach in your swimwear.
What is the dress code for women in water parks?
Any swimwear including one-piece swimsuits, wet suits, sports suits, burkinis is allowed for women to wear in the Dubai water parks.
What should women pack for Dubai?
Dubai is all about your shopping experience. Bring just enough clothes for your trip and expect to bring a lot more on your return because you'll be going on shopping sprees as well. Hotels mostly provide all the required amenities. Carry sunscreen with you for hot days. Also, carry flip-flops-type footwear for the desert safari.
Can men go shirtless on Dubai beaches?
For sunbathing, it's okay for men to be shirtless at beaches. But do not walk shirtless outside the beach at all.
What can tourists wear to pubs in Dubai?
Tourists can wear whatever they like to the pubs. Skirts, dresses, tops, jeans, etc. anything is allowed.
Can tourists wear casual outfits in Dubai?
Yes, tourists can wear casual outfits in Dubai. Anything too short or revealing is not accepted.
What to wear in Dubai during summer?
Tourists can wear anything they wish as long as they abide by the general dress code of covering the shoulders and knees. Since it is very hot, cotton, linen, or breathable material is preferred for clothes.
What to wear in Dubai during winter?
It is not too cold in Dubai except for the evening. Tourists can wear light cardigans, sweaters, hoodies, sweatshirts, etc. While going into the desert in the evening, a proper jacket and full-length pants should be sufficient.