A Guide to Visiting Dubai in July | Attractions, Malls & More
Contents
Dubai is one of the most popular tourist destinations that is perfect for a luxury vacation. From Burj Khalifa, the tallest building in the world, to Miracle Garden, there is a lot to explore around this city. This city offers something for all kinds of travelers. You can plan a visit here throughout the year, but Dubai in July can be a little brutal due to the heat. However, amazing deals on flights, hotels, and attractions make it an ideal month to visit for budget travelers. Here's everything you need to know about visiting Dubai in July!
Is July a Good Time to Visit Dubai?
July is one of the hottest months to visit Dubai but this also means that there aren't many tourists around. This is a great time to check out nocturnal activities and indoor attractions in Dubai.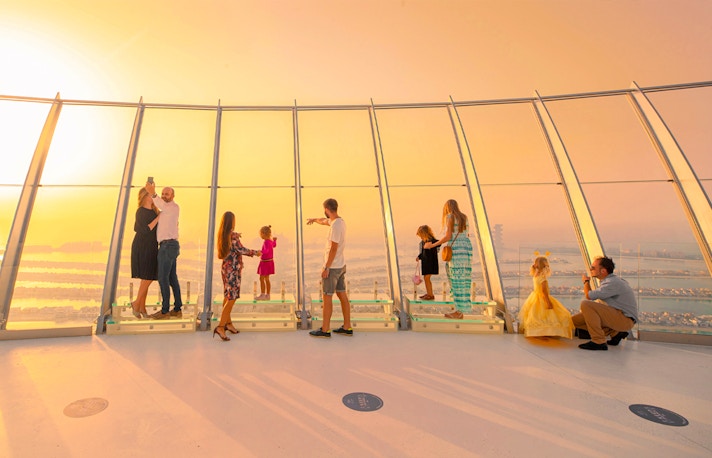 Why You Should Visit 
Good time to explore Dubai's nocturnal activities and indoor attractions. 
Participate in the local events and festivals without the tourist crowds. 
Stroll on empty streets and explore attractions at leisure.
Fewer tourists in the city. 
Amazing deals and discounts on flights and hotel accommodations.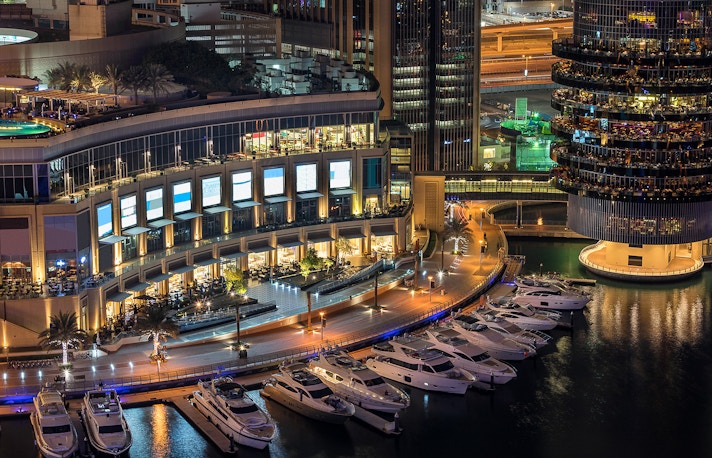 https://www.expo2020dubai.com/en/discover/pavilions
What to Look Out For
Hot weather with the temperature reaching a high of 40°C.
Difficult to enjoy outdoor attractions.
Days are 12 hours long with no rainfall, making it hard to explore Dubai.
High chances of dehydration if you aren't careful. 
You can only visit attractions in the evening as daytime results in skin-piercing heat.
Overview of Weather in Dubai in July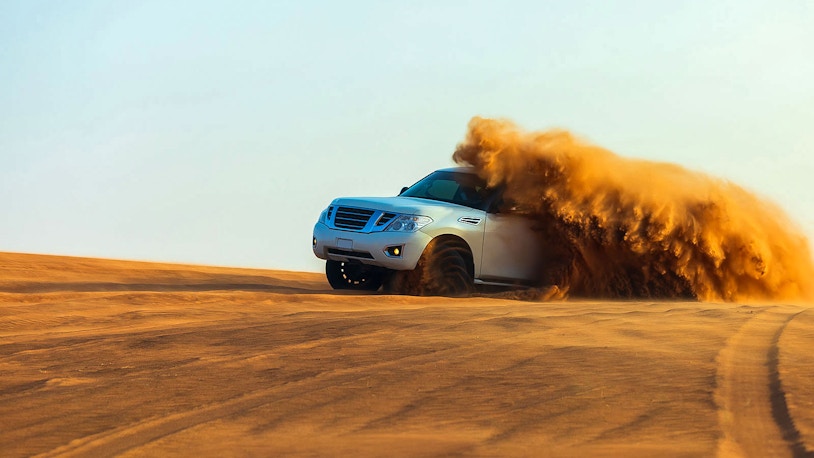 Calling Dubai in July a hot month would be an understatement. The temperature is quite high with a maximum of 40°C and a low of 30°C. Since it is a desert location, there are extremely less chances of rainfall this month. During the day, it is normal to experience scorching heat with daylight lasting up to 12 hours a day.
Average Temperature: High - 40°C | Low - 30°C
Average Rainfall: Approximately 1 mm
Daily Wind Speed: 7 mph. Light breeze
Temperature of the sea: 32°C
Best Time to Visit Dubai
Best Things to do in Dubai in July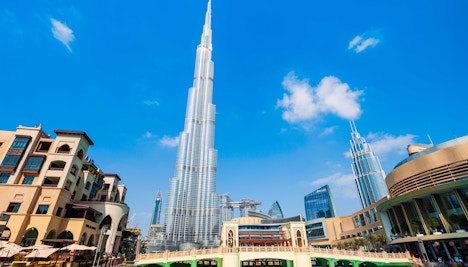 1. Burj Khalifa
At a height of 829.8m, Burj Khalifa is the tallest building in the world and is one of the top attractions to visit in Dubai. This 163-storeyed building is home to many hotels, apartments, entertainment venues, and shopping arcades. Visit one of the observation decks here to enjoy an amazing view of Dubai city and its skyline.
from AED 154.50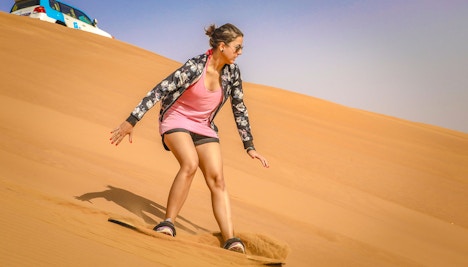 2. Desert Safari
Yes, July means peak summer in Dubai, but, that doesn't mean you can't enjoy a desert safari here. Visitors can go for the evening safari that begins once the sun has started to set. You can enjoy traditional Arabic refreshments and entertainment after sundown in the desert. This is one of the most unique experiences in Dubai that you cannot miss.
from AED 70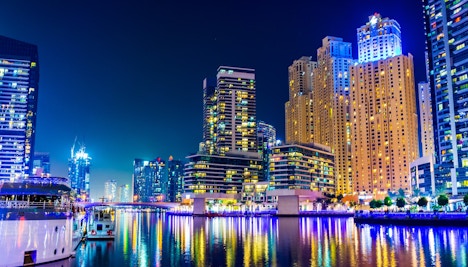 3. Dhow Cruise
If you wish to make the most of your trip to Dubai in July, then you cannot miss out on the dinner Dhow Cruise. It is a once-in-a-lifetime opportunity that takes you through Dubai Creek at night to witness Dubai's city lights while enjoying traditional performances. Enjoy delicious cuisines onboard and witness stunning attractions from the water.
from AED 64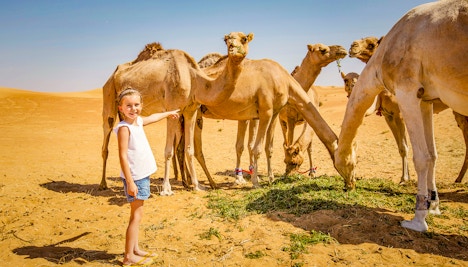 4. Dubai Safari Park
Dubai Safari Park is home to over 3,000 animals from around the world. The park is divided into five zones with animals residing in the zones that are native to them. It is a wildlife park, an animal sanctuary, and an education center where you can learn more about these animals and can even interact with them. Moon bears, lions, elephants, and camels are some of the fascinating animals found here.
from AED 50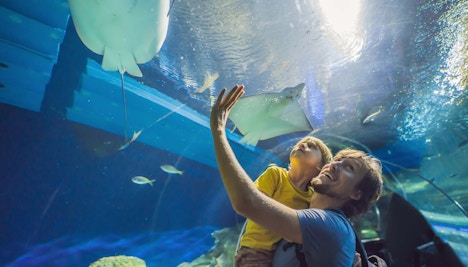 5. Dubai Aquarium and Underwater Zoo
Home to over 30,000 aquatic animals, Dubai Aquarium and Underwater Zoo is one of the most popular attractions to visit in the city. Learn about the most dangerous predators and dive with scary sharks. Since this is an indoor attraction, it is perfect for the summer season and is a great way to learn about the different marine animals found in the ocean.
from AED 135
6. Dubai Miracle Garden
You cannot visit Dubai without checking out this botanical marvel - Dubai Miracle Garden. This is a family-friendly destination that features a wide range of flowers in all colors and shapes. The highlight of this attraction is the floral structures that you can find here along with weekly live shows and dance performances. Visit this park in the evening and enjoy a stroll around while trying the many activities here. 
from AED 55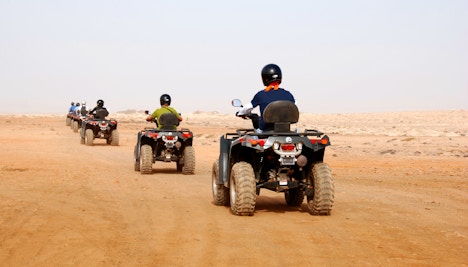 7. Ski Dubai
We all know that July is a hot time to visit Dubai, Ski Dubai is a perfect respite from the burning gulf sun. This indoor snow-themed attraction offers a lot of fun activities and experiences. Interact with the penguins, enjoy skiing and snowboarding, go zorbing, there is no shortage of things to do here. You can also get one of the best views of the city from the observation decks.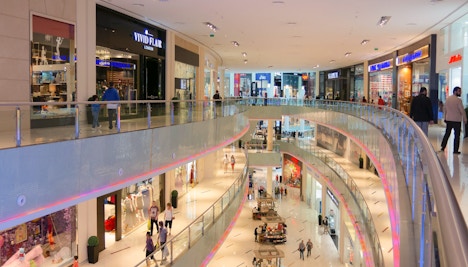 8. Mall of the Emirates
Inaugurated in 2005, the Mall of the Emirates is a popular shopping mall in Dubai that all shopping enthusiasts must check out. Since this is an air-conditioned venue, it is perfect for a summer visit. It is the world's first shopping resort and features over 630 brands. So, if you are looking for a fun place to go shopping in Dubai, do visit the Mall of the Emirates.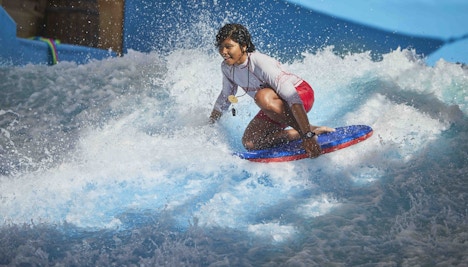 9. Aquaventure Waterpark
Spend a day enjoying the thrilling rides and water slides at Aquaventure Waterpark, the largest waterpark in the Middle East. This waterpark features many private beaches, marine activities, conventional water slides, and a kids' zone. As a result, this venue is perfect for a family fun day as there are rides for all ages here. This popular waterpark is one of the best attractions you can visit in July.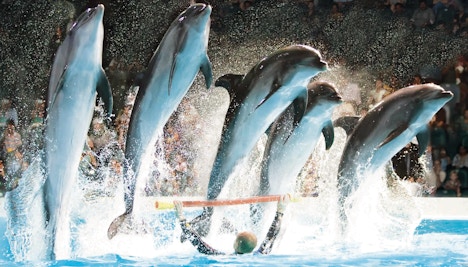 10. Dubai Dolphinarium
Dubai Dolphinarium is one of the best indoor attractions to visit in July. Here, you can indulge in many activities such as the seal and dolphin show and swim with dolphins. Spend time playing with the dolphins in the water and get relief from the brutal summer heat. The Dubai Dolphinarium is also a great learning experience for kids.
from AED 55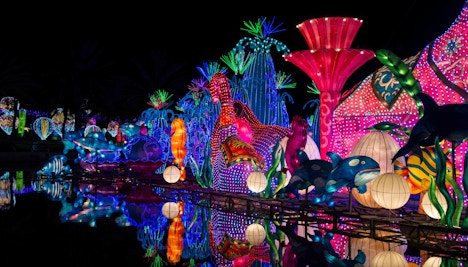 11. Dubai Glow Garden
One of the best places to visit with your family in Dubai is Garden Glow. This light-based theme park is operational only after sunset. Here, you will find colorfully animated animals and shapes for a wholesome experience. this is one of the best things you could do in the city in July as the temperatures lower in the evening.
from AED 65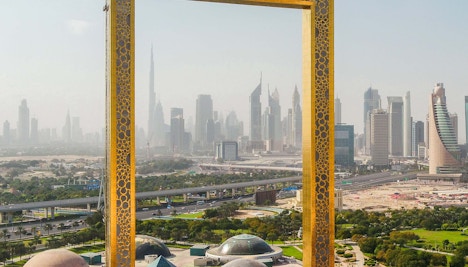 12. Dubai Frame
Another popular attraction to visit in Dubai in July is the Dubai Frame. It is a prime example of architecture and offers the best views of Dubai city. This place will take you through the years of development that the city has gone through. Plan a visit to this frame in the evening and learn more about Dubai's history and plans for the future while looking at the present Dubai.
from AED 50
Events in Dubai in July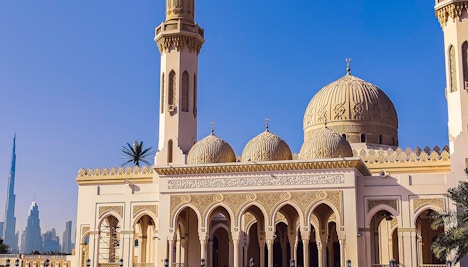 Eid Al Adha Festival
Date: July 10
Venue: Dubai City
One of the major festivals to attend in Dubai in July is Eid Al Adha which translates to 'festival of sacrifice'. It marks the end of the Hajj season, the yearly pilgrimage to Mecca, and is a significant holiday in Islam. During this time, families enjoy traditional meals, attractions are decorated with cultural performances taking place, and there are amazing deals at the malls.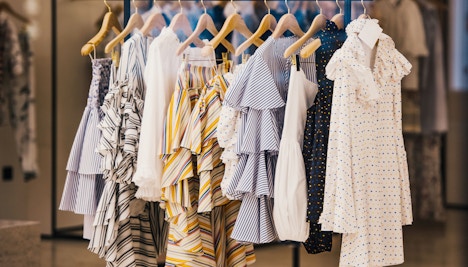 Dubai Summer Surprises 
Date: June - August
Venue: Throughout Dubai
Dubai Summer Surprises is an annual shopping and entertainment festival that is held in the summer months. It was started to attract tourists to the city in the summer heat as well. During this festival, you get discounts and deals on different things such as food, attractions, nature, and even hotel packages. Every day, they come up with new sales and discounts.
Know more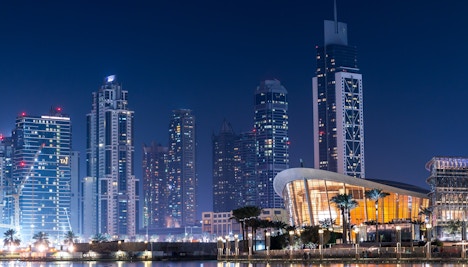 Desert is a Forest Exhibition
Date: November 15, 2021 - September 4, 2022
Venue: Jameel Arts Centre
Check out Sunoj D and Namrata Neog's work at Jameel Arts Centre this summer season. This exhibition features indigenous plants consumed by goats and humans and plants used for medicinal purposes. This unique exhibition aims to showcase the relationship between food, livestock, and humans in an entertaining yet educative manner.
Know more
Know Before You Visit Dubai in July
Travel Essentials
What to Wear
What to Pack
Transport
Stay
Food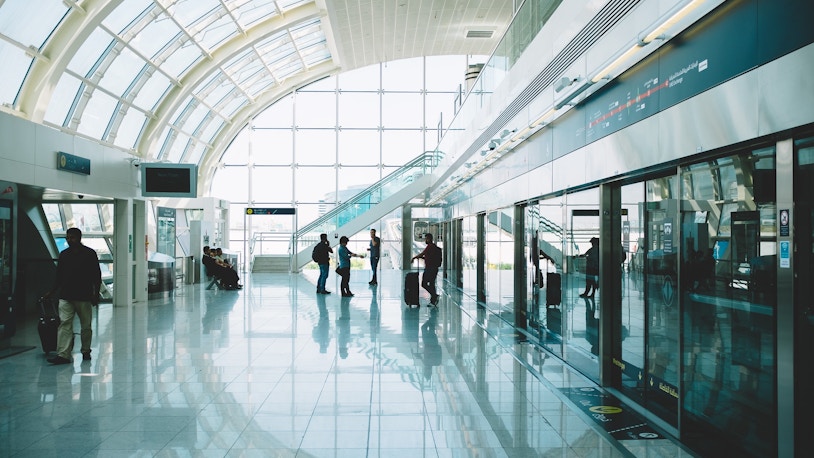 Time Zone: GMT +4
Currency: Arab Emirate Dirham (AED)
Country code: +971
Emergency numbers: 999 (Police), 998 (Ambulance), 997 (Fire Department)
Travel Guide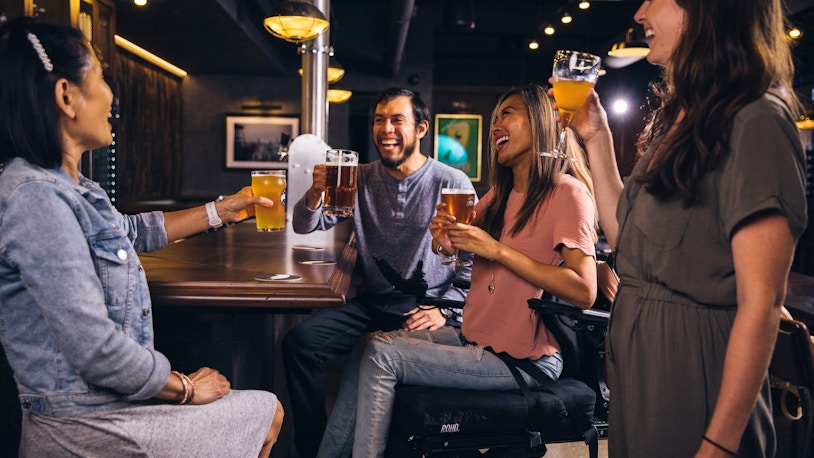 What to Wear in Dubai in July
As July is the summer season in Dubai, the weather is extremely hot and humid.
During this sweltering weather, it is advisable to wear loose and long clothes, particularly made out of cotton to stay cool through the day. 
Also, make sure you wear light colors as they won't absorb as much heat. 
Pack your shorts, skirts, pajamas, and dresses.
Wear a hat during the day and carry a light cardigan or shrug that you can wear in air-conditioned places or evening while exploring around the city.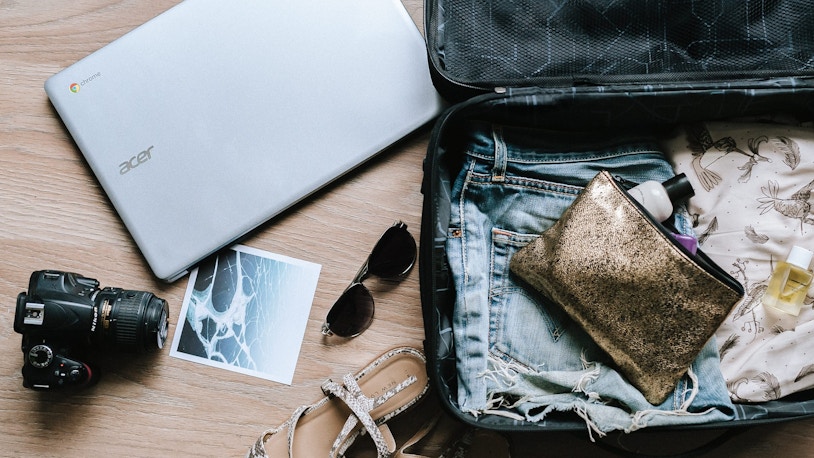 What to Pack in Dubai in July
Power Adapter: Type C, D, and G plug.
Clothes: Shorts, skirts, jeans, t-shirts, swimsuits, sarong, light cardigan, leggings, etc.
Comfortable shoes.
Umbrella, hat, and sunscreen.
A daypack for storing your essential items when you are exploring around the city.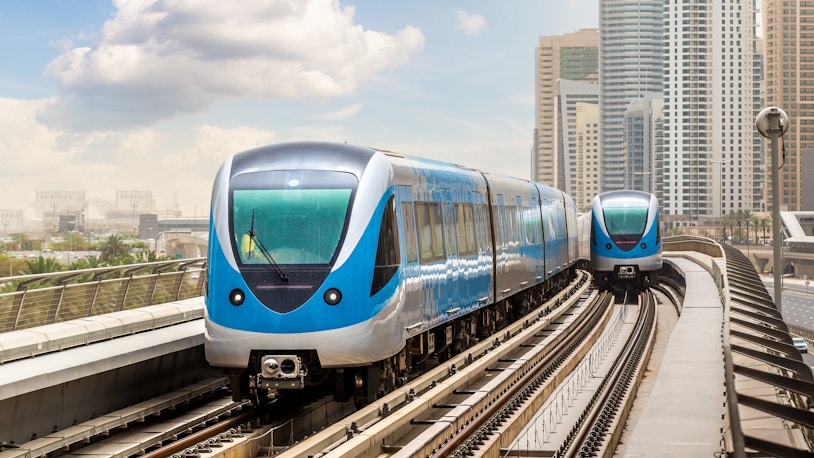 Getting Around Dubai in July
By Metro: The Dubai Metro is affordable and a convenient way to visit most places in the city. Two metro lines connect destinations throughout the city. Metro map.
By Bus: Another inexpensive way to travel around Dubai is by using a bus. The buses run 24 hours a day with the frequency of at least one in 30 minutes. Bus map.
By Cab: If you are in a hurry, you can rent a cab to reach your destination. There are many taxi rentals available outside an attraction or you can book one using an app.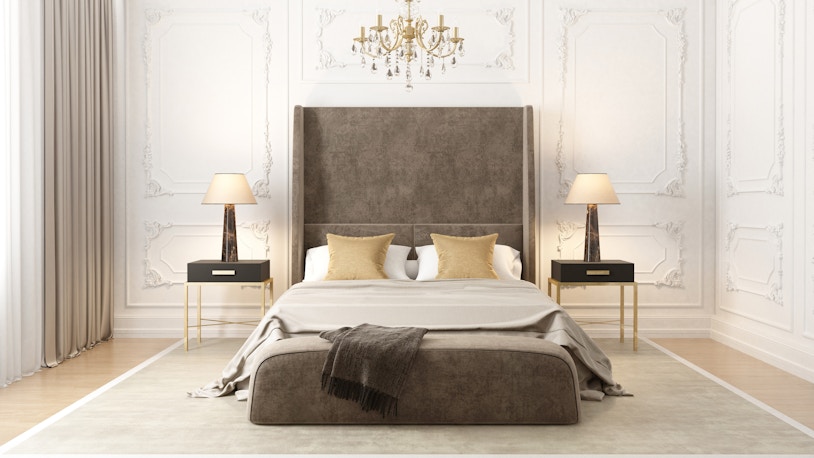 Where to Stay in Dubai in July
There are a wide variety of accommodation options in a modern metropolitan city like Dubai. Explore the different types of hotels and choose your stay based on your preferences.
Budget Hotels: J5 Rimal, Sea View Hotel, Holiday Inn Bur Dubai
Mid-range Hotels: DoubleTree by Hilton, Four Points by Sheraton Sheikh Zayed Road, Aparthotel Adagio Premium Dubai Al Barsha
Luxury Hotels: Atlantis, InterContinental Dubai Festival City, Shangri-La Hotel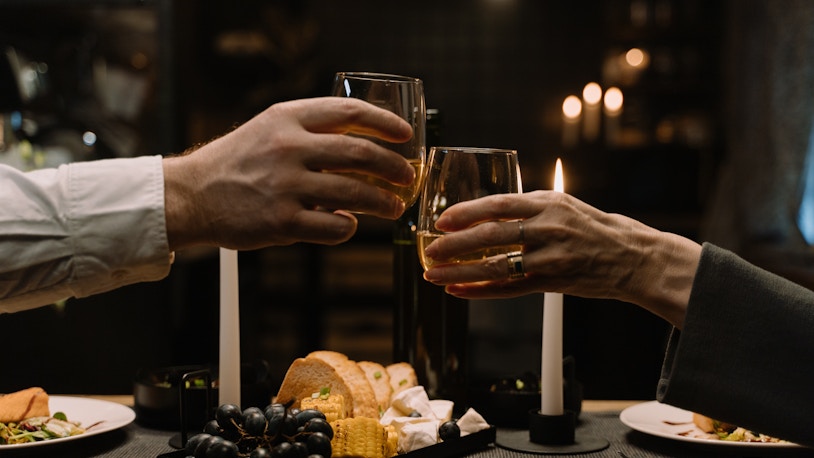 What to eat in Dubai in July
Dubai is home to lip-smacking cuisines from around the world. Treat your taste buds to some of the best local and international flavors:
Al Machboos - Al Machboos is prepared using shrimp, chicken, or lamb, and features lemon and onion to give it the unique Arabic flavor.
Shish Tawook - The Shish Tawook is a stylish version of the kebabs and is the epitome of Middle Eastern culture.
Camel Meat - Camel meat is generally prepared on important occasions and there are several versions found throughout the city.
Explore Dubai Through the Year
All Your Questions About Visiting Dubai in July Answered
Is July a good time to visit Dubai?
Yes, July is an offseason month to visit Dubai, resulting in amazing discounts on flights and hotels. Plus, there are fewer tourists at the attractions.
What are the best things to do in Dubai in July?
Although hot, Dubai in July is still a great place to visit. Take advantage of the many air-conditioned attractions, such as the Dubai Museum, the Gold Souk, or Ski Dubai. Explore the best things to do in Dubai >
The average temperature of Dubai in July ranges between a high of 40°C and a low of 30°C.
How hot is Dubai in July?
It is sweltering hot in Dubai with temperatures ranging between a high of 40°C and a low of 30°C.
Can you swim in Dubai in July?
Yes, swimming in Dubai in July is one of the best ways to stay cool in the hot weather. The water temperature is 32°C, making it relatively cool and pleasant for a swim in July.
Is it sunny in Dubai in July?
Yes, July is sunny with 12 hours of daylight and extremely less chance of rainfall in Dubai.
What clothes to wear in Dubai in July?
July is one of the hottest months to visit Dubai with temperatures reaching a high of 40°C during the daytime. This is why it is important to pack loose summer clothes, preferably made out of cotton. In the evening, you might need a light cardigan or shawl. Do wear a hat and sunscreen if you are exploring outdoors during the day.
Is it rainy in Dubai in July?
No, there is very little chance of rainfall in Dubai in July.
Is Dubai expensive to visit?
No, Dubai in July is affordable as it is the offseason. You get amazing discounts on flights and hotel accommodations so, you can easily plan an affordable trip to Dubai if you plan and book in advance.
Dubai is a safe city for visitors to explore. However, be careful of petty crimes here such as pickpocketing, scams, etc.
What can I see in Dubai in July?
Burj Khalifa, Ski Dubai, Dubai Garden Glow, Aquaventure Waterpark, etc. are a few attractions that you can visit in Dubai in July.
What are the major events in Dubai in July?
Eid Al Adha, Dubai Summer Surprises, and Exhibition: Desert is a Forest is a few major festivals and events to check out in Dubai in July.
What is the average temperature in Dubai in July?
The average high in Dubai is 40°C and the average low is 30°C.
What are the best things to do with Kids in Dubai in July?
A few of the best things to do with kids in Dubai in July are exploring the water parks such as Wild Wadi Waterpark, going to Ski Dubai, swimming on the beaches, visiting Dubai Garden Glow, and so on.