A Guide to Visiting Dubai in December | Attractions, Malls & More
Contents
Dubai is undoubtedly one of the most popular and coveted vacation destinations in the world. This city has it all, from the world's tallest building to the world's second-largest retail mall. It is a destination for individuals from all over the world looking to spend their vacations in comfort and extravagance. From spectacular vistas to luxurious accommodations, desert safaris to beaches, indoor-outdoor adventures to unrivaled shopping, Dubai has it all to make your vacation the greatest it has ever been. While the city is inviting all year, the best time to visit is in December, when the weather is comparably colder and the city is buzzing with activities and festivities.
Is December a Good Time to Visit Dubai?
There's a lot to enjoy about Dubai in December, particularly the calming weather and the many events lined up for the holiday season.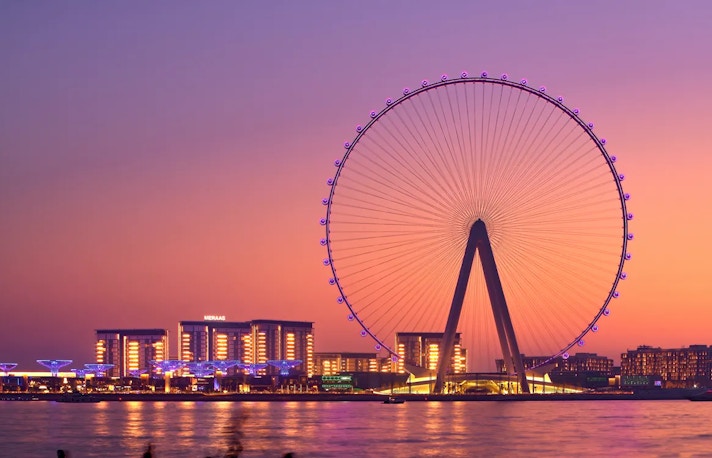 Why You Should Visit 
On several days throughout December, particularly the 25th and 31st, Dubai is beautifully lit with fairy lights and mesmerizing pyrotechnics.
The Dubai International Film Festival, Dubai Shopping Festival, and UAE National Day Festival are just a few of the activities that take place throughout December in Dubai.
December is an excellent time to visit Dubai owing to the pleasant tropical weather.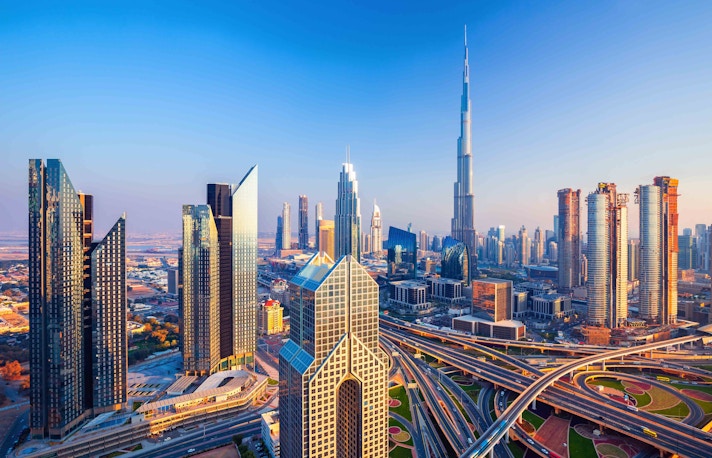 What to Look Out For
If you're looking for a typical winter holiday experience, Dubai is not the place for you since it doesn't get cold even in December.
Owing to the great weather, December is one of the busiest months in Dubai and the most crowded too.
Hotel and flight tickets may be higher than usual due to peak tourist season and end-of-year festivities.
Overview of Weather in Dubai in December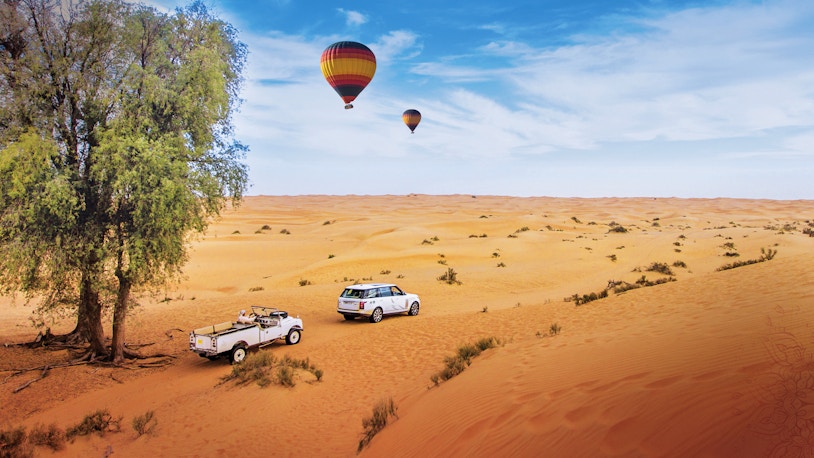 Dubai has a tropical desert climate thanks to its location in the Northern Desert Belt. The weather in December is pleasant, making it ideal for sightseeing and outdoor activities. In December, the temperature in Dubai fluctuates from 26°C to 14°C.
Average Temperature: High - 26ºC Low - 14ºC
Average Rainfall: 0.4-1.7 inches (approximately 1 of rain)
Daily Wind Speed: 7.9 mph
Temperature of the sea: 23ºC
Best Time to Visit Dubai
Best Things to do in Dubai in December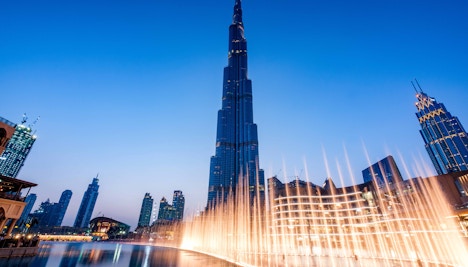 1. Burj Khalifa
City Landmark | World's Tallest Building
If you visit Dubai, the iconic Burj Khalifa is visible from every vantage point. This 825-meter-tall man-made technical marvel offers a stunning panoramic view of the city. Don't forget to pop down to the Burj on December 31st to witness a stunning light and sound spectacle. There's really no better way to begin the new year with your loved ones!
from AED 154.50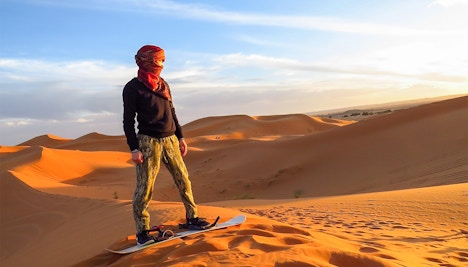 2. Desert Safari
Adventure Activities | Traditional Activity
One of the coolest things to do in Dubai in December is going on a desert safari. You can tour the enormous Arabian Desert and engage in a variety of desert activities such as sand bashing, sandboarding, quad biking, and even camel ride. Also, spend the night in one of the Bedouin tents, enjoying folk songs, watching belly dance, and savoring local cuisine.
from AED 70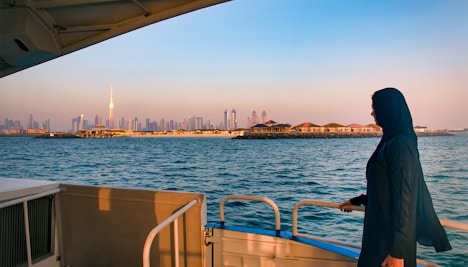 3. Dhow Cruise
Sightseeing | Dinner Cruise
Navigate the Dubai Creek in a wooden Dhow to get a sense of the city's true spirit, where 21st-century marvels coexist with traditional Arab charm. During December, when the city is decked out for the holidays, the vistas from the two-hour cruise are significantly enhanced. The journey takes place in an authentic wooden Arab Dhow that exudes classic Bedouin charm as it floats along the Dubai Creek.
from AED 64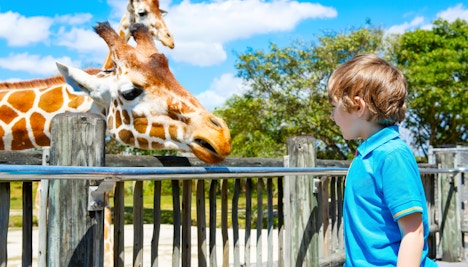 4. Dubai Safari Park
Zoo | Learning Experience
The Dubai Safari Park, which was built to replace Jumeirah Zoo, is a diverse reserve that spans 119 hectares. Hundreds of exotic animals can be seen up close and personal at the park, offering tourists a once-in-a-lifetime opportunity. There are about 2,500 animals in the park, representing 250 different species including lions, tigers, hippos, flamingos, chimps, reptiles, and much more.
from AED 50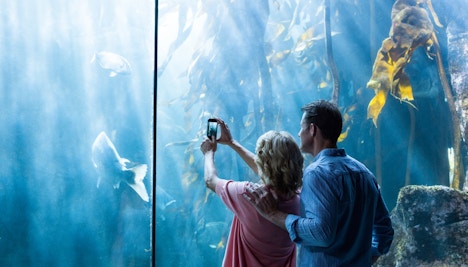 5. Dubai Aquarium
Aquarium | Learning Experience
The Dubai aquarium is a must-see for anyone who visits Dubai. It's one of the largest aquariums in the world, and it's home to a variety of aquatic animals. The aquarium has over 16,000 creatures including terrifying sharks, shy sea turtles and sleek rays. With water levels at almost 4 meters deep, multiple entrances allow for better viewing of all the creatures.
from AED 135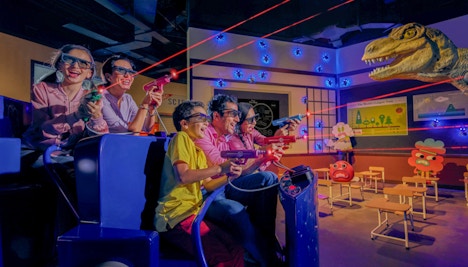 6. IMG Worlds of Adventure
Themepark
IMG Worlds of Adventure is a theme park made up of 4 different zones: Marvel, Lost Valley - Dinosaur Adventure, IMG Boulevard and The World. Each zone has a set of rides and attractions designed to fit the theme for the child in you. Even if you don't have kids it's still worth visiting IMG Worlds of Adventure for the rides and attractions based on your favorite superheroes.
from AED 335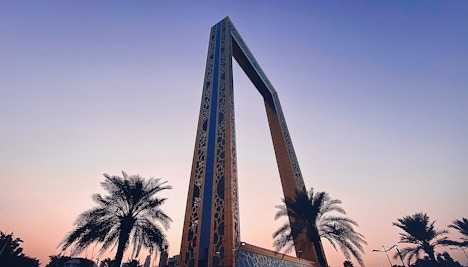 7. Dubai Frame
City Landmark
With a height of 150 meters, Dubai Frame offers a bird's eye view of the city's iconic and stunning skyline. You can witness Old and New Dubai and learn about how the city has evolved into a one-of-a-kind metropolis. Enjoy the sparkling skyline of Dubai that's illuminated for the holiday season and witness stunning vistas.
from AED 50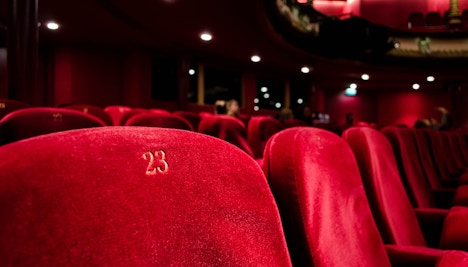 8. La Perle Show
Live Show | Entertainment
The La Perle Show, designed and created by the great Franco Dragone, is visually stunning and provides spectators with a mesmerizing experience. The theatre is one-of-a-kind, with more than 60 world-class performers doing incredible exploits and feats throughout the play. If you're visiting Dubai with your kids, this is a must-see attraction.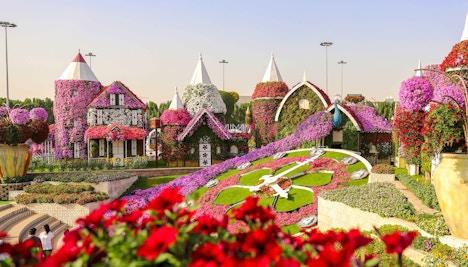 9. Dubai Miracle Garden
Garden | Tourist Hotspot
The Dubai Miracle Garden is one of the most beautiful places in Dubai. It is a 72,000 square meter garden with over 45 million flowers. The flowers are arranged in beautiful displays that change with the seasons. The garden is a popular tourist attraction and also one of the cheapest attractions in the city for you to enjoy.
from AED 55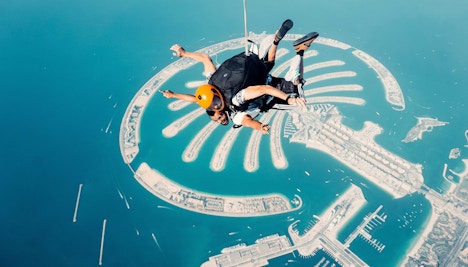 10. Skydiving
Skydiving | Adventure Activity
For all thrill-seekers, skydiving in Dubai is one of the must-do activities among many others. Jump into the air from nearly 14,000 feet and come crashing down to the ground before being dragged away by your parachute. Book your skydiving experience tickets much in advance to get your preferred slot.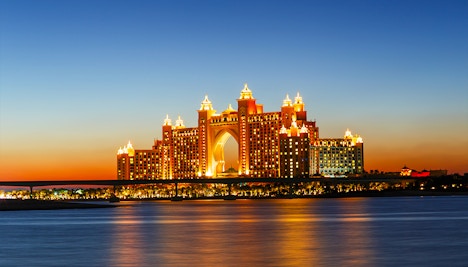 11. Dubai International Film Festival
Film Festival
The festival's goal is to recognize cinematic greatness while also encouraging open discussion across cultures and nations. Encourage and develop local and international talent, driving and promoting the industry's growth while also offering a valuable cultural benefit to the people of Dubai and the UAE.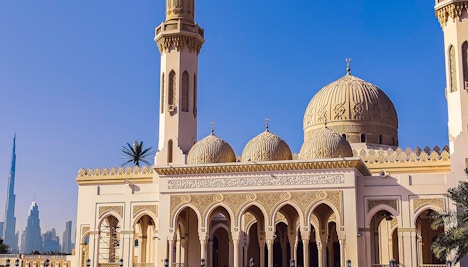 12. Jumeirah Mosque
City Landmark | Mosque
The Jumeirah Mosque is one of the most popular tourist destinations in Dubai. It's known for its intricate architecture and beautiful design. The mosque is open to tourists from all religions, and it's a great place to learn about Islamic culture, history, and the mosque's significance in Emirati culture.
Events in Dubai in December
Know Before You Visit Dubai in December
Travel Essentials
What to Wear
What to Pack
Transport
Stay
Food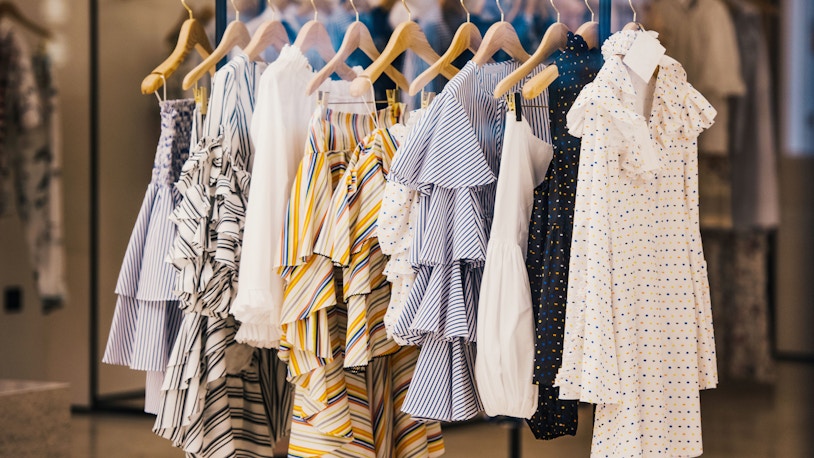 Time Zone: GMT +4
Currency: Arab Emirate Dirham (AED)
Country code: +971
Emergency numbers: 999 (Police), 998 (Ambulance), 997 (Fire Department)
Travel Guide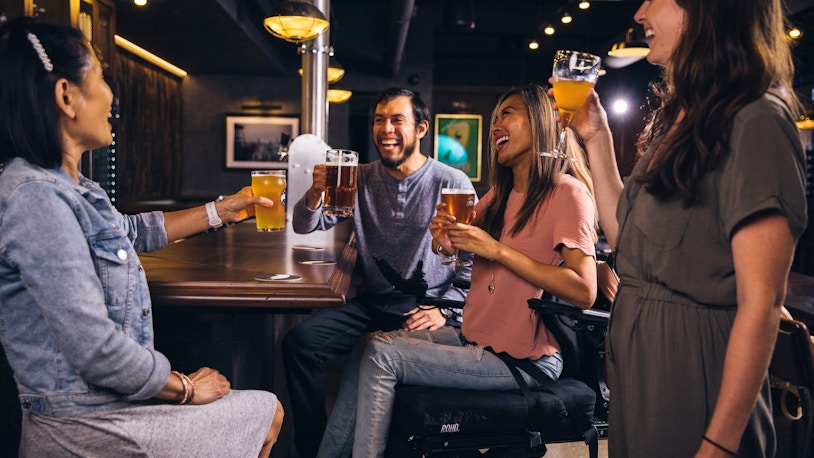 What to Wear in Dubai in December
Lightweight clothing since it's relatively hot during the day 
A jacket in case it gets too cold 
Lightweight cardigans for cooler evenings 
Party casuals and shoes for your night outs if you're visiting around Christmas or New Year's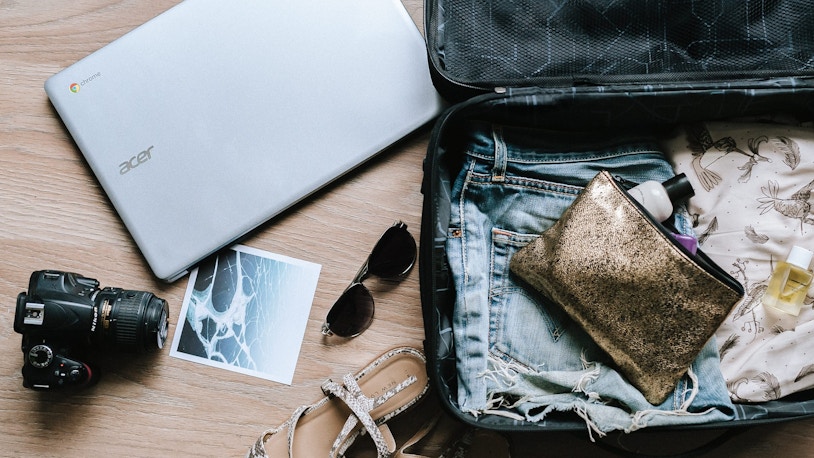 What to Pack in Dubai in December
Power Adapter: Type C, D, And G
A high SPF sun cream to keep away UV rays, hat or scarf of bandanas, sunglasses, swimsuit with coveralls, and comfortable flip-flops or shoes.
A daypack with enough pockets for all of your items to be carried around during the day.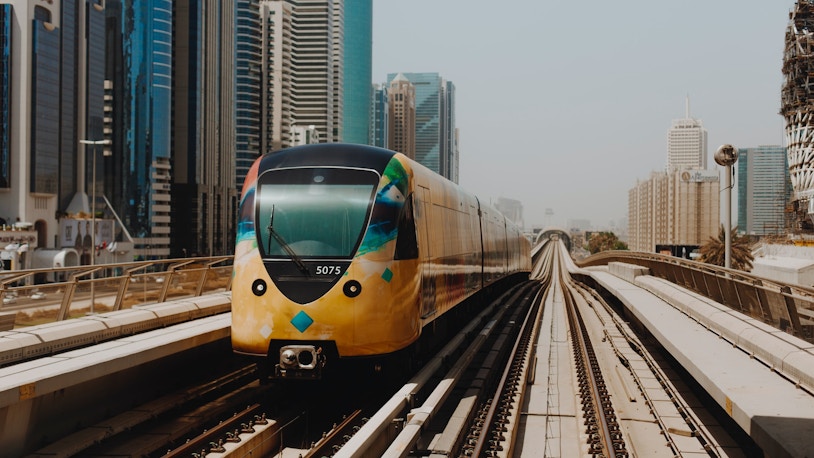 Getting Around Dubai in December
By Metro: The Dubai metro is the most cost-effective way to see the city. Because the Dubai metro runs primarily above ground, it provides a spectacular view of the city. Metro map.
By Taxi: Taxis are one of the most cost-effective and handy ways to get around the city. They can be flagged down on the street, or rented over the phone or through the RTA Smart Taxi app.
By Bus: Buses are an excellent means to navigate throughout the city as well as between the Emirates. The majority of buses have wifi and demand a small price, making them a perfect alternative to expensive cabs. Bus map.
By Boat: At least once, take a ride on the Dubai Water Taxi; it's a very unique experience.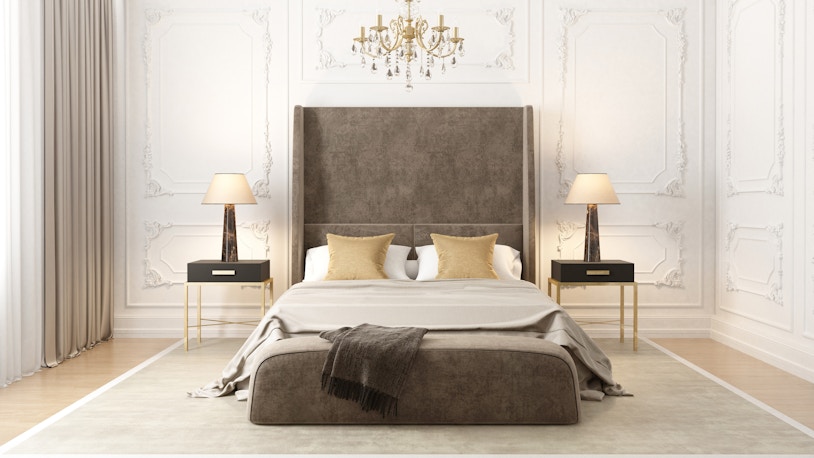 Where to Stay in Dubai in December
The modern city of Dubai offers various options for accommodations. Explore our list and opt for the hotel that suits you!
Budget Hotels: Radisson Blu Hotel, Carlton Downtown, Amwaj Rotana Jumeirah Beach, Dubai Deira Creek, and Crowne Plaza Dubai
Mid-range: Marina Crown Tower, Intercontinental Dubai Marina, Dallas Hotel
Luxury Hotels: Atlantis, The Palm, One & Only Royal Mirage, Burj Al Arab, Sofitel The Palm, Al Qasr, Kempinski, and Ritz Carlton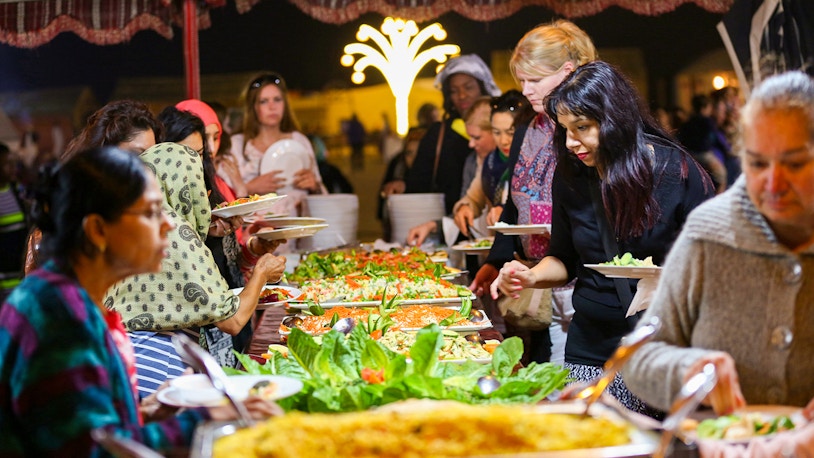 What to eat in Dubai in Decemeber
Dubai is a true foodie's paradise with lip-smacking cuisines from all corners of the globe. Explore the best Emirati cuisine and try a few international dishes during your time at this amazing city.
Manousheh: People with savory taste buds will like Manousheh, the native Dubai pizza. Exotic toppings like salty Akkawi cheese, earthy zaatar herbs, and olive oil are stuffed into stretched dough or flatbread.
Chelo Kebab: Chelo Kebab is a kebab served with delicious saffron-scented basmati rice and a pat of butter. It is said to be out of this world and delicious.
Al Machboos: Due to the zesty flavors, this is considered the most famous food in Dubai. This classic recipe combines rice, onions, and beef, all seasoned with spices, salt, and dried lemon.
Explore Dubai Through The Year
All Your Questions About Visiting Dubai in December Answered
Is December a good time to visit Dubai?
Yes. When it comes to visiting Dubai, December is one of the best months of the year. The weather is hot and humid, but not as hot as it is during the summer months. During this time of year, there are also several festivals and events to attend.
What are the best things to do in Dubai in December?
Is Dubai cold in December?
In Dubai, December is not particularly cold. The temperature is normally in the mid-20s during the day and drops to the mid-10s at night. You won't need any winter clothing, although a light jacket would suffice.
How hot is Dubai in December?
Dubai is hot and dry in December, with hardly any rain. With eight hours of daylight per day, you'll have plenty of time to explore this fascinating city.
Can you swim in Dubai in December?
Swimming in Dubai and the surrounding area is lovely in December. The average sea temperature is 78°F, which allows you to swim for lengthy periods and participate in water sports.
Is it sunny in Dubai in December?
In December, Dubai receives approximately 11 hours of daylight daily, with an average of eight hours of strong sunshine, making Dubai an excellent winter sun destination.
What clothes to wear in Dubai in December?
If you're visiting Dubai in the winter, bring a pair of long pants or a long skirt, as well as a sweater. A light jacket is also recommended, particularly if you plan on going on any evening adventures on the water or in the desert.
Is it rainy in Dubai in December?
​​The average rainfall in Dubai in December is 15 mm (0.59 in), with rain falling on only two days out of the month.
Is Dubai expensive to visit?
In general, Dubai's prices are similar to those in other major cities throughout the world. Accommodation and activities can be costly, but there is so much to choose from that you can make it more affordable if you want to.
Dubai boasts some of the lowest crime rates of any city in the world and is regarded as one of the safest destinations to visit.
What can I see in Dubai in December?
You must visit the Burj Khalifa, Dubai Aquarium, Dubai Safari Park, Dubai Frame, and other great attractions in Dubai in December.
What are the major events in Dubai in December?
Some of the major events in Dubai in December are the Dubai Shopping Festival, Dubai International Film Festival, Dubai Desert Classic, The Dubai Marathon, and more.
What is the average temperature in Dubai in December?
Temperatures in Dubai in December range from 16°C to 26°C, with an average temperature of 21°C.
What are the best things to do with Kids in Dubai in December?
Visits to KidZania, Wild Wadi Water Park, Dubai Aquarium & Underwater Zoo, Dubai Dolphinarium, and the Burj Khalifa are some of the best things to do with kids in Dubai in December.