A Guide to Visiting Dubai in January | Attractions, Malls & More
Contents
Dubai is, without a doubt, one of the world's most well-known and sought-after vacation spots. This metropolis has it all, from the world's tallest building to the world's second-largest shopping mall. It is a destination for people from across the globe seeking to spend their holidays in comfort and luxury. From magnificent vistas to opulent hotels, desert excursions to beaches, indoor-outdoor experiences to unrivaled shopping, Dubai has it all to make your holiday the best it's ever been. While the city is buzzing through the year, January is when everything comes together for a great vacation.
Is January a Good Time to Visit Dubai?
The weather in Dubai can be quite hot during the summer months, so if you're looking to avoid the heat, January is a great time to visit. However, keep in mind that this is also the peak tourist season, so be prepared for crowds and higher prices.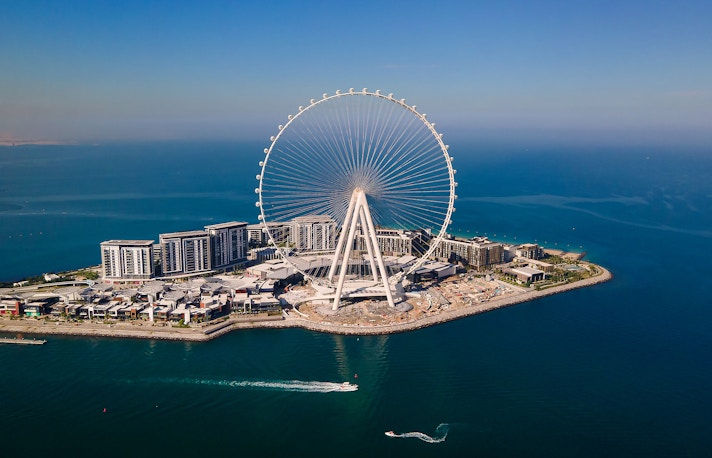 Why You Should Visit 
Cool and pleasant climate make January the perfect month for outdoor activities across the city.
Least crowded month of the winter season.
The Dubai shopping festival happens annually in January. If you're a shopaholic, there's no better time to visit Dubai.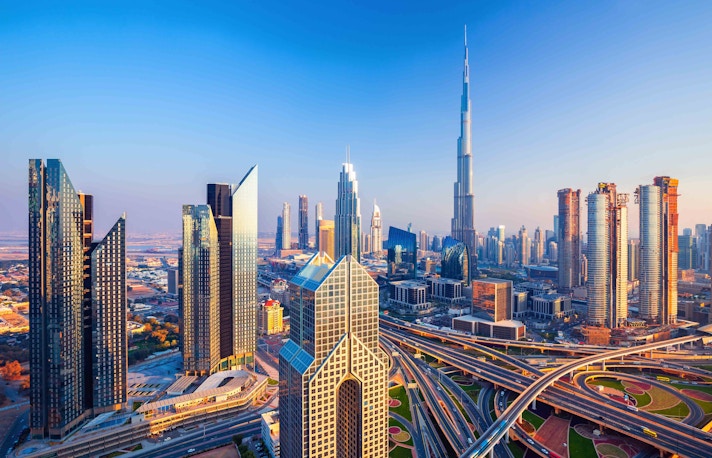 What to Look Out For
The stay expenses are spiked up during the first week of January so you should plan accordingly 
Rains and fog are common in Dubai during January
The night temperature of Dubai can drop up to 12 degrees, making it quite cold
Overview of Weather in Dubai in January
The weather in Dubai in January is usually hot and sunny. There is a small chance of rain, but it's usually brief. January's weather is ideal for sightseeing and outdoor activities.
Average Temperature: High - 25 degrees C Low- 15 degrees C
Average rainfall: 10mm.
Daily Wind Speed: 9.2 mph
Temperature of Sea: 21 degrees C
Average Daytime: 11 hours

Best Time to Visit Dubai
Best Things to do in Dubai in January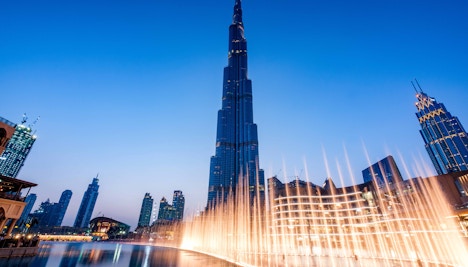 1. Burj Khalifa
City Landmark | World's Tallest Building
While the Burj Khalifa is a fantastic structure in its own right, it also offers a number of other features that make it truly one-of-a-kind. There is, for example, a restaurant that revolves around the tower. The sky bridge rotates at night so that you may enjoy a stunning view of Dubai city at night.
from AED 154.50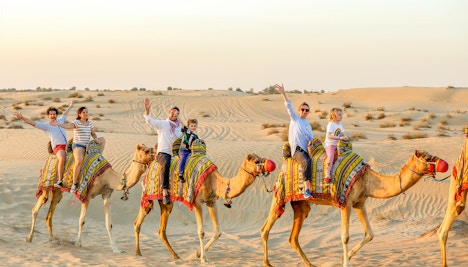 2. Desert Safari
Adventure Activities | Traditional Activity
Catch a glimpse of sunrise and light scattering on the rich sand dunes of the Arabian desert during your morning safari. It also gives you a golden chance to bask in the sunshine and enjoy dune bashing, camel riding, sandboarding, and other interesting activities during your trip.
from AED 70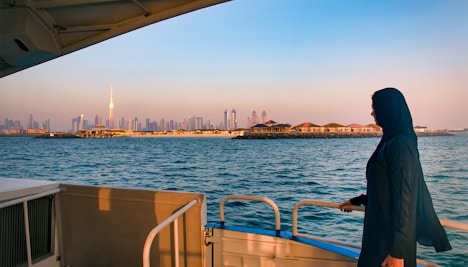 3. Dhow Cruise
Sightseeing | Dinner Cruise
On a dhow cruise, you can experience the best view of the city and its embellished nightlife in January. Of course, a delicious dinner is the icing on the cake for your winter evening on a dhow cruise in January. You can also take a romantic cruise with your partner to explore the sights Dubai has to offer.
from AED 64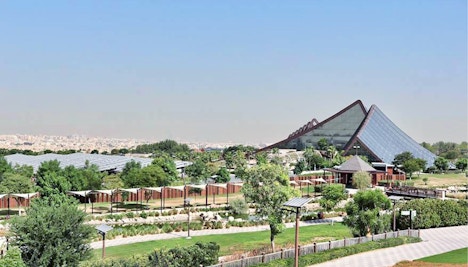 4. Dubai Safari Park
Zoo | Learning Experience
The Dubai Safari Park is an excellent spot to enjoy a day out with your family and friends. The park offers a variety of animals that you can see up close, including lions, tigers, elephants and more. There are also shows and activities available at the park, making it a fun and educational experience for all.
from AED 50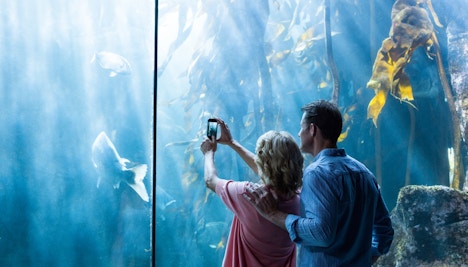 5. Dubai Aquarium
Aquarium | Learning Experience
The Dubai Aquarium and Underwater Zoo is one of the largest and most impressive aquariums in the world. It's home to thousands of aquatic animals, including sharks, rays, and tropical fish. There is also an underwater zoo that features a variety of marine life, including seahorses, starfish, and coral.
from AED 135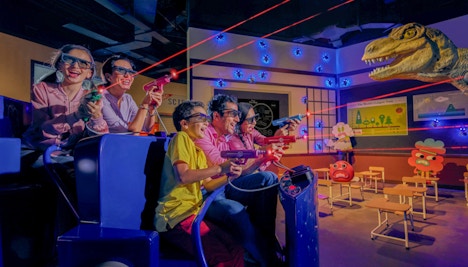 6. IMG Worlds of Adventure
Themepark
IMG Worlds of Adventure is a theme park in Dubai. It is the largest indoor theme park in the world with four zones: Marvel, Cartoon Network, Lost Valley - Dinosaur Adventure, and IMG Boulevard. The must-see Marvel zone includes rides such as the Hulk roller coaster and the Doctor Doom's Fearfall.
from AED 335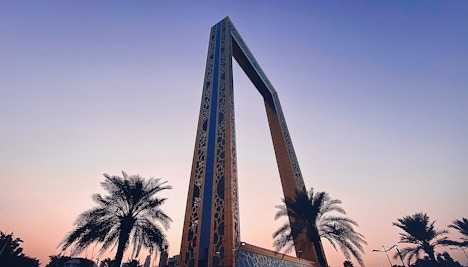 7. Dubai Frame
City Landmark
Unleash the photographer in you at this picturesque city landmark. Dubai Frame is the elegant picture frame in Zabeel Park. It's eye-catching architecture gives you the best pictures in the backdrop of glimmering Dubai city and the fantastic sky-reaching landscape.
from AED 50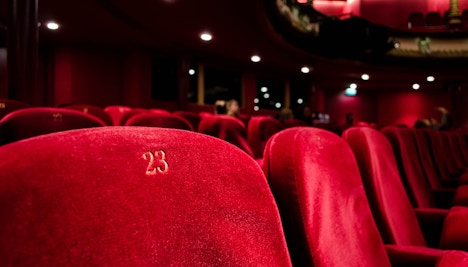 8. La Perle Show
Live Show | Entertainment
La Perle Dubai is one of the most beautiful and well-done productions in the world. The show features a number of different disciplines, including aerial performances, aqua shows, and dance. The costumes and sets are also absolutely breathtaking, and the show is a great way to spend an evening in Dubai.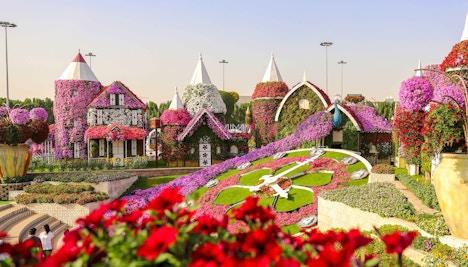 9. Dubai Miracle Garden
Garden | Tourist Hotspot
What would be more exquisite than enjoying a peaceful stroll in a colorful garden full of flowers in the mild winter sun? For all those who are looking for a break from the smog and heat, Dubai Miracle Garden is the place. Ideal for family outings, this garden lets you relax amidst multi-colored flowers.
from AED 55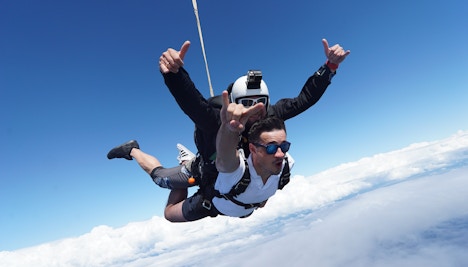 10. Skydiving
Skydiving | Adventure Activity
Sky-diving is a popular sport in Dubai and many people come to the city to experience the thrill of skydiving. There are a number of skydiving companies in Dubai that allow you to jump with an instructor. The jumps usually take place from a height of around 10,000 feet followed by an exhilarating 7-minute free fall.
11. Dubai Marina
City Walk
The Dubai Marina is a great place to walk, with its wide sidewalks and lovely views of the water. There are plenty of restaurants, bars, and shops for you ti enjoy. It can be busy on the weekends, but it's definitely worth a visit to witness the opulent neighborhood come to life after dark. .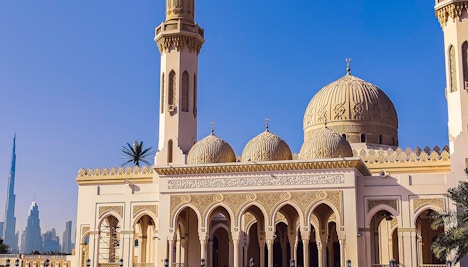 12. Jumeirah Mosque
City Landmark | Mosque
The Jumeirah Mosque is one of the most popular tourist attractions in Dubai. It's known for its intricate architecture and design, making it a stunning sight to behold. The mosque is open to all tourists, including non-Muslims, every day except Friday, and offers free guided tours.
Events in Dubai in January
The Dubai Shopping Festival
Date: Dec - Jan
The Dubai Shopping Festival is one of the most popular events in Dubai. It's a month-long festival that celebrates shopping, culture, and the arts. There are plenty of activities and events to enjoy during the Dubai Shopping Festival including fashion shows, concerts, and delicoius food stalls.
Know more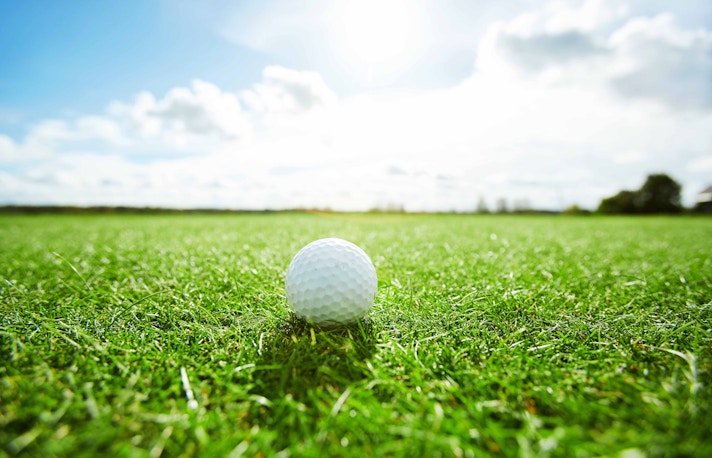 Dubai Desert Classic
When: Dec - Jan
The Dubai Desert Classic is one of the world's most prestigious sporting events in the city. It was created by Sheik Maktoum bin Mohammed Al Sharqi in 1971 to promote both casual and professional golf tours in Dubai. This yearly event is sponsored by Omega, a leading watch-maker.
Know more
Know Before You Visit Dubai in January
Travel Essentials
What to Wear
What to Pack
Transport
Stay
Food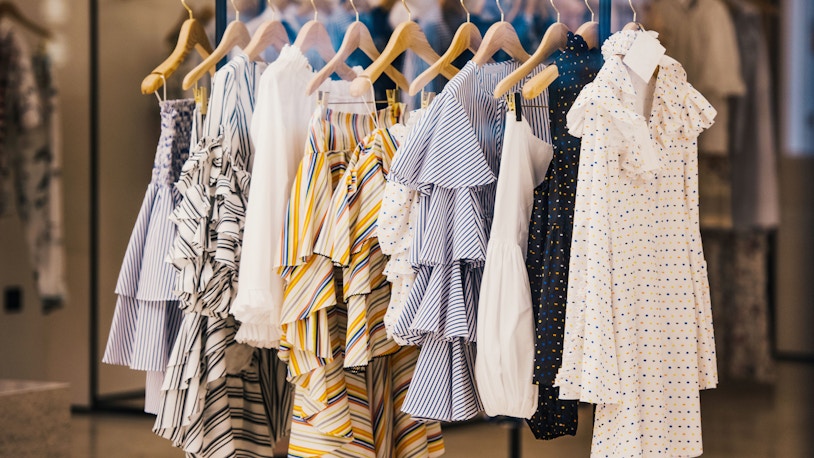 Time Zone: GMT +4
Currency: Arab Emirate Dirham (AED)
Country code: +971
Emergency numbers: 999 (Police), 998 (Ambulance), 997 (Fire Department)
Travel Guide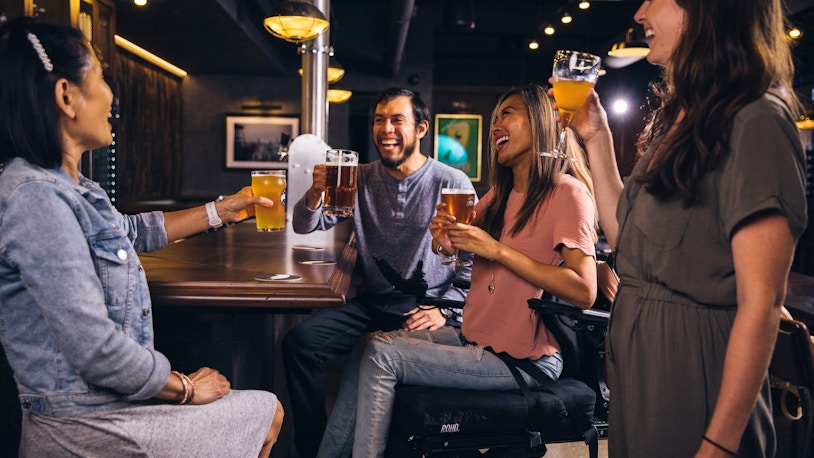 What to Wear in Dubai in January
Go for pants and jeans, especially for your evening strolls and dinners as the temperature falls up to 12 degrees on January nights.
Wear light-colored clothes during the day to avoid absorbing the heat.
Hoodies, jackets, and shrugs are a great idea for your after-dark adventures in Dubai.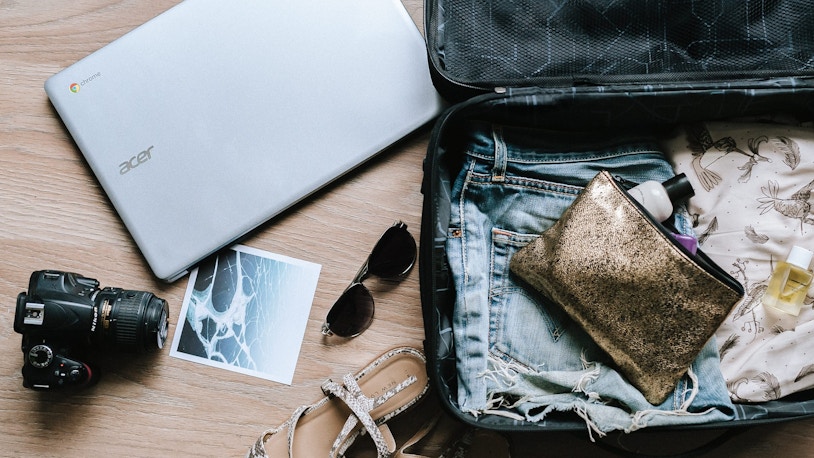 What to Pack in Dubai in January
Power Adapter: Type C, D, And G
Pack good warmers, jackets, hoodies, shawls, and scarves to save yourself from the chilly air of Dubai in January.
Pack trendy wear like maxi skirts and light shrugs for your afternoon visits and beaches.
Packing a swimsuit cover would be a wise decision taking into consideration the cultural norms of Dubai.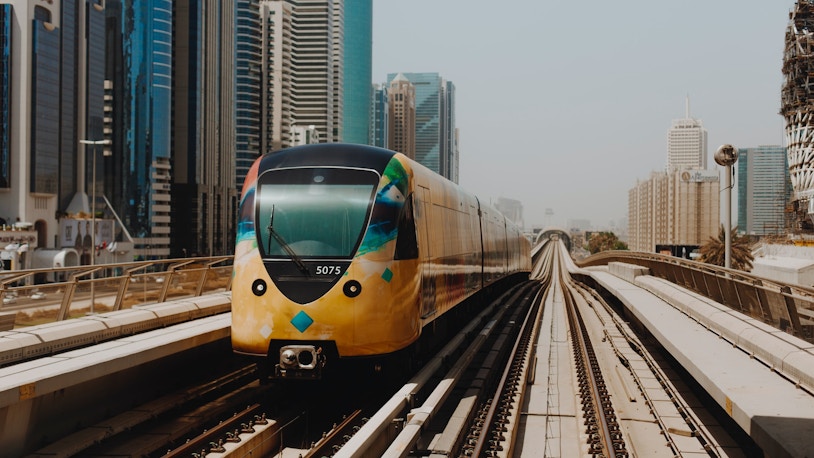 Getting Around Dubai in January
By Metro: Dubai Metro offers the convenience of having a single transport system in place, so passengers can travel anywhere around the city. Dubai Metro uses a central metro system extended up to 150 km through the city. Metro map.
By Taxi: Taxis are one of the most cost-effective options for getting around the city. You may be hail the down on street or book one through the RTA Smart Taxi app.
By Bus: Buses in Dubai can take you to most tourist attractions and are readily available at an interval of 15-20 minutes. Bus map.
By Boat: The Water Taxi is a ferry service that runs along the city coastline, offering an opportunity to view the most spectacular landmarks in Dubai.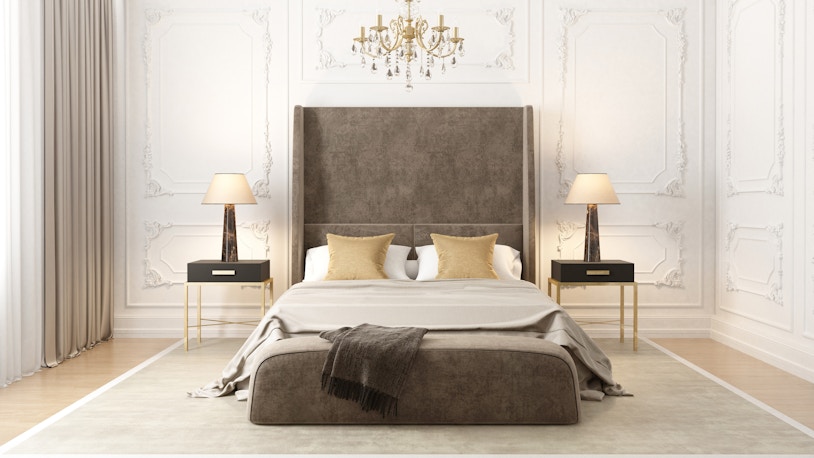 Where to Stay in Dubai in January
Dubai offers a variety of accommodation options that will suit any budget. From luxury hotels to budget-friendly apartments, there is something for everyone in the city.
Budget Hotels: Radisson Blu Hotel, Carlton Downtown, Amwaj Rotana Jumeirah Beach, Dubai Deira Creek
Mid-range: Marina Crown Tower, Intercontinental Dubai Marina, Dallas Hotel
Luxury Hotels: Atlantis, The Palm, One & Only Royal Mirage, Burj Al Arab, Sofitel The Palm, Al Qasr, Kempinski, and Ritz Carlton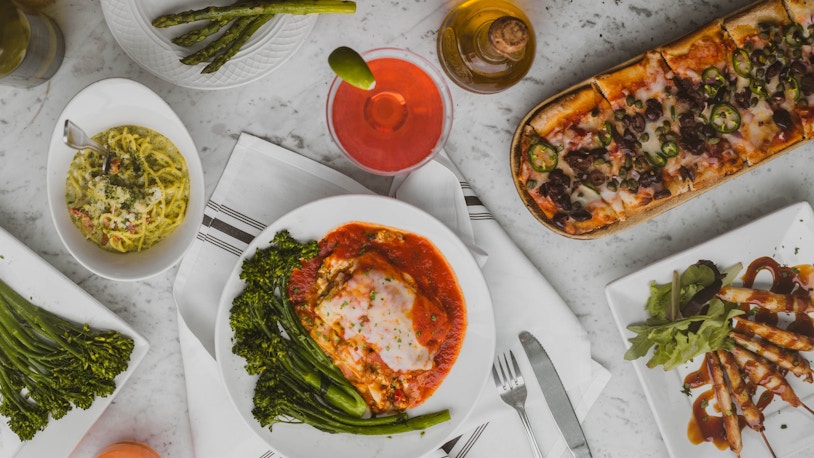 What to eat in Dubai in January
Dubai has a cosmopolitan cuisine with something to please everyone's taste. Cuisine from all around the world is available, with a focus on Indian, Arabic and Iranian flavors.
Hares: It is a mouth-watering delicacy that gives a mouthful outburst of mixed flavors from crushed wheat, ground cumin, and minced meat.
Majboos: It is a popular Emirati dish that has been running in Dubai's culture for generations. It is prepared with meat on delicious basmati rice.
Luqaymat: It is a sweet pastry shaped into golden balls. It is as delicious as it is beautiful.
Explore Dubai Through The Year
All Your Questions About Visiting Dubai in January Answered
Is January a good time to visit Dubai?
Absolutely, the month of January offers the most exquisite and delightful weather for tourists to visit the city. Moreover, it also hosts mesmerizing events like the Dubai Shopping Festival in January.
What are the best things to do in Dubai in January?
The best things to do in Dubai in January include enjoying the sunny weather, exploring the city's many attractions, and indulging in the fabulous nightlife. Visitors can also take advantage of the numerous shopping and dining opportunities available throughout the city. With so much to see and do, Dubai is the perfect destination for a winter getaway.
Is Dubai cold in January?
During January, the temperature falls up to 25 degrees in the daytime. Generally, the nights are colder as the temperature drops to 12 degrees.
How hot is Dubai in January?
In January, the city remains quite pleasant with a cold breeze and clear sky. There are no steaming hot temperature during this month.
Can you swim in Dubai in January?
January is perfect for swimming during the day as its not too hot.
Is it sunny in Dubai in January?
There is moderate sunshine in the afternoons of January, which does not hinder your traveling and recreation at all.
What can I wear in Dubai in January?
You can rock the beaches and afternoons with maxi skirts, light tops, and shrugs. For nights, consider wearing jackets, pants, and hoodies.
Is it rainy in Dubai in January?
It rains infrequently and for a short period in January. However, the average rainfall is 10mm for this month.
Is Dubai expensive to visit in January?
Yes! The accommodation charges increase as January is the peak tourist season.
Overall, Dubai is a safe place to visit. It has low crime rates, and justice operates strictly to protect an individual's rights. However, you should familiarize yourself with the public norms to avoid any misunderstandings.
What can I see in Dubai in January?
There are several magnificent tourist attractions that you can visit during January like Burj Khalifa, Desert Safari, Dhow Cruise, Dubai Frame, Dubai Safari Park.
What are the major events in Dubai in January?
The Dubai marathon, which offers prize money of one million dollars to those who set the world record, and the Dubai shopping festival for shopaholics are main events in Dubai in January.
What are the best things to do with kids in Dubai in January?
The delightful fountain show, an exciting visit to Kidzania in Dubai Mall, the alluring snow world of ski Dubai, and the aquatic life of Dubai Aquarium will surely make kids love the winter trip to Dubai.