The Complete Guide to Topgolf Dubai: Opening Hours, Location & More
Contents
Topgolf Dubai, a sports and entertainment hub, is the newest golf club in Dubai. The venue features high-tech golf games, where their patented technology tracks the movement of the golf ball, scoring each shot accordingly! Fit for all ages and skill levels, Topgolf Dubai offers food, games, and live music. The state-of-the-art golf driving range has 96 hitting bays, spread across three floors spanning 60,000 square feet. Enjoy a day out learning golf, show off your professional skills, or just indulge in food and music. Here's all the information you need to plan your visit to Topgolf Dubai.
Topgolf Dubai Location
Topgolf Dubai is located in Emirates Golf Club.
Address: 17/2, Al Naseem street Emirates Golf Club, Al Thanyah 3, Hadaeq Mohammed Bin Rashid, Dubai - Dubai - United Arab Emirates
About Topgolf Dubai
Getting There
Metro: The closest Metro Station to Topgolf Dubai is Al Khail/Nakheel Metro Station (on the red line or M1)
Bus: Bus routes 8, 83, 84, and 85 have stops near Emirates Golf Club.
Car: You can easily drive to Topgolf Dubai, located at Emirates Golf Club off Sheik Zayed Road. The venue has ample parking slots available. 
Taxi: Alternatively, you can opt for a taxi and get dropped off at the taxi drop-off point at Topgolf Dubai and get picked up from there, in case you don't want to drive or take public transport.
What to do around Topgolf Dubao
Dubai Marina Cruise
The residential district of Dubai, Dubai Marina, lies in the heart of Dubai, just 6 kilometers from Topgolf Dubai. The neighborhood boasts of awe-inspiring architecture like Burj Khalifa, the Dubai Mall, and the Yacht Club amongst many others. The Dubai Marina Cruise allows you to observe Dubai's impressive skyline from a vantage point while you cruise along the canal.
Dubai Marina Cruise tickets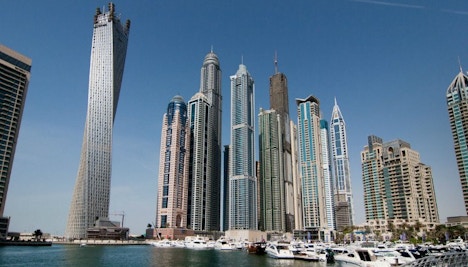 Dubai Marina Mall
Located just 4.5 kilometres from Topgolf Dubai, Dubai Marina Mall is a haven for shopping and leisure. The four-level mall has high-street fashion outlets, dining options that face the shimmering waterfront of Dubai Marina, entertainment venues to engage children, and a lot more!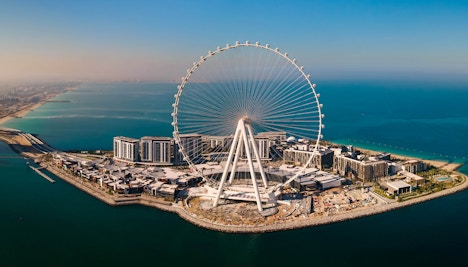 Bluewaters Island (Ain Dubai)
If you didn't already know, Bluewaters Island is one of the artificial islands across the water from Dubai Marina. It features multiple shopping, leisure and entertainment venues, hotels, and beach clubs. A must-do on the island is to soar high in the skies, in the world's largest observation wheel — the Ain Dubai.
Ain Dubai tickets
Plan your visit to Topgolf Dubai: FAQs
Q. Is Topgolf Dubai open now?
A. Yes, Topgolf Dubai is open to all guests.
Q. Where is Topgolf Dubai's location?
A. Topgolf Dubai is located in Emirates Golf Club, off Sheik Zayed Road.
Q. How much is the entrance fee in Topgolf Dubai?
A. Games at Topgolf Dubai are priced on an hourly basis. The prices range from AED 130-AED 220 per hour per bay, depending on the day and the time of your visit.
Q. What are the Topgolf Dubai opening hours?
A. Topgolf Dubai opening hours for Sunday-Wednesday are 10 AM-1 AM; on Thursdays, it operates from 10 AM-2 AM; On Fridays-Saturdays, it is open between 9 AM-2 AM.
Q. What is the best time to visit Topgolf Dubai?
A. Topgolf Dubai gets crowded during the weekends. So plan a weekday visit or an evening visit to the venue.
Q. How do I get to Topgolf Dubai?
A. You can take public transport or drive to Topgolf Dubai.
Q. What can I do at Topgolf?
A. Topgolf Dubai has a range of activities to suit every age group. Apart from beginner, intermediate and advanced level golf games, you can explore other activities. Indulge in the in-house eateries, enjoy miniature golf, celebrate your birthdays, host celebrations and corporate events, or enjoy a great night out with friends and family. Topgolf Dubai has stunning views of the Dubai Marina skyline.
Q. What can I do around Topgolf?
A. Topgolf Dubai has multiple nearby attractions like Dubai Marina, Dubai Pearl Museum, Bluewaters Island, Dubai Marina Mall, which offer a range of leisure, dining, and entertainment options.
Q. How long do you need at Topgolf Dubai?
A. You can expect to spend around 3-4 hours at Topgolf Dubai.
Q. Is Topgolf Dubai wheelchair-friendly?
A. Yes, the venue is wheelchair accessible.