A Guide to Visiting Dubai in August | Attractions, Malls & More
Contents
The amazing skyscrapers, exciting amusement parks, and architectural wonders make Dubai one of the most alluring destinations in the world. From the tallest building in the world to playing among Gentoo penguins, there is nothing impossible to achieve in this city. Whether you are looking for a romantic vacation, a family trip, or a solo adventure, Dubai is a perfect place to visit. Now, visiting Dubai in August means that you have to endure peak summer but, you also get amazing deals and discounts on flights, hotels, and local attractions. Read on to plan a trip to this city in August.
Is August a Good Time to Visit Dubai?
August is the summer season in Dubai which means that the weather is extremely hot and dry. But this also means that there are fewer tourists around and you can get amazing deals and discounts on your bookings.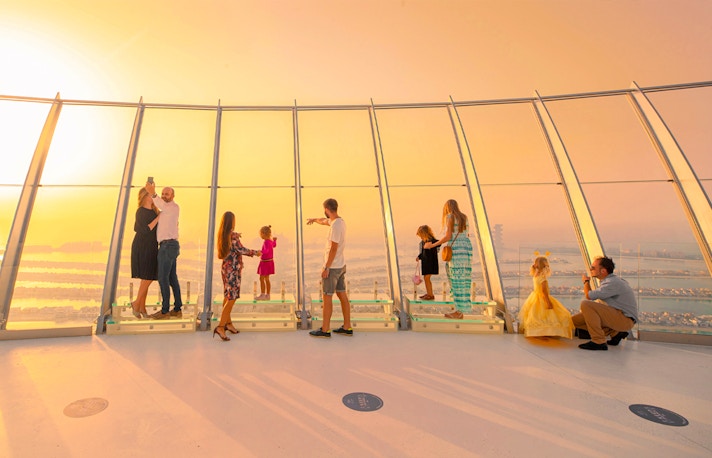 Why You Should Visit 
Many indoor and night attractions to visit in Dubai
Enjoy the summer sales and discounts on shopping
Get flights and accommodations at a lower fare
Non-existent queues at attractions throughout the city
Find amazing deals on Dubai attractions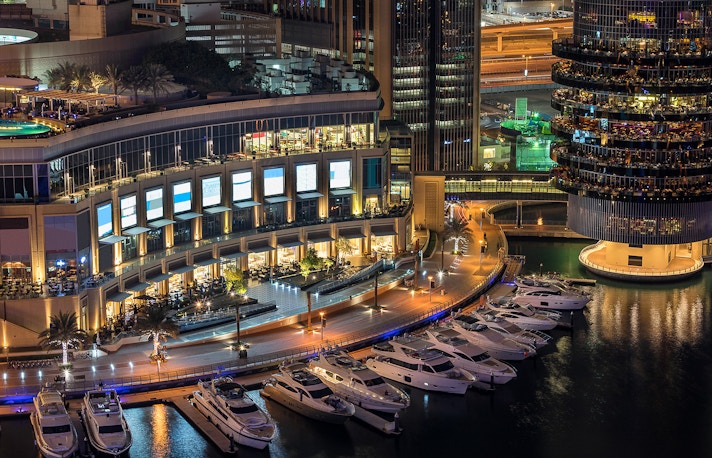 https://www.expo2020dubai.com/en/discover/pavilions
What to Look Out For
It is the second hottest month in Dubai
Stay away from outdoor activities, especially during the day
Daylight lasts up to 12 hours a day with no chance of rainfall 
Stay indoors or go out at night to avoid getting sunburn or dehydrated
There are high chances of encountering a sun-stroke
Overview of Weather in Dubai in August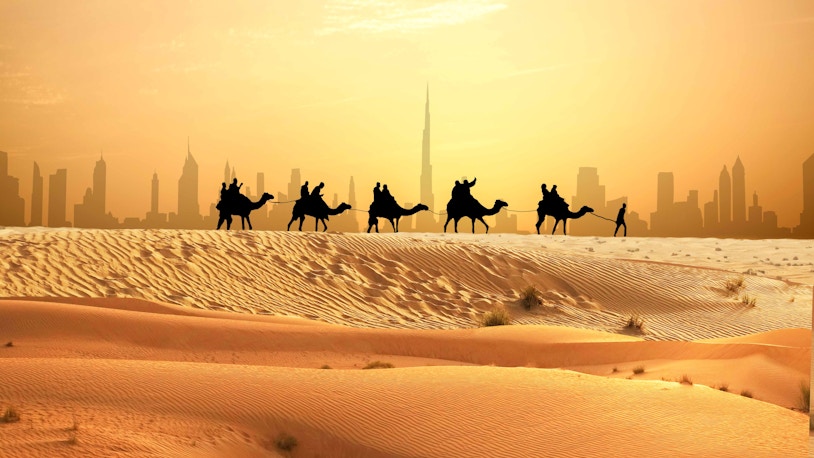 August is the second hottest month in Dubai with temperatures reaching over 40°C at times. There is no chance of rainfall this month and humidity and UV rays are at an all-time high. People end up spending most of their time indoors or in a mall. 
Average Temperature: High - 42°C | Low - 31°C
Average Rainfall: Less than 1 mm
Daily Wind Speed: 7mph. Light breeze
Temperature of the sea: 33°C
Best Time to Visit Dubai
Best Things to do in Dubai in August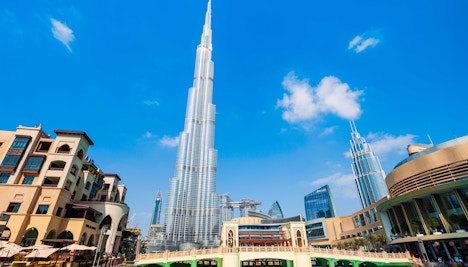 1. Burj Khalifa
A visit to Dubai must include Burj Khalifa, the tallest building in the world. This 163-storeyed building has an amazing structure and is filled with hotels, restaurants, shopping avenues, and lots more. Visitors can reach the observation decks here to enjoy the stunning view of the city. Visit the Burj Khalifa in the evening to catch the sunset as the temperatures cool down.
from AED 154.50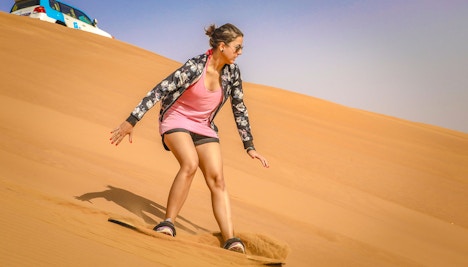 2. Desert Safari
An evening desert safari in Dubai is the best way to enjoy summers here. Generally, the evening safari starts in the afternoon after the sun slowly sets. You head to the desert where you can sit in an open-air Bedouin camp to enjoy the traditional Tanoura show and belly dancing. Indulge in delicious Arabic cuisine and spend the night under the stars.
from AED 70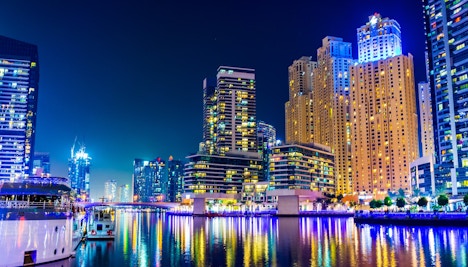 3. Dhow Cruise
The Dhow Dinner Cruises are quite famous in summers in Dubai. On this cruise, you travel on a yacht or a cruise liner through Dubai Creek while enjoying delicious Arabic food and drinks. There is also entertainment offered on the deck and many live performances to enjoy. You can admire the twinkling Dubai city at night while spending quality time with your loved ones.
from AED 64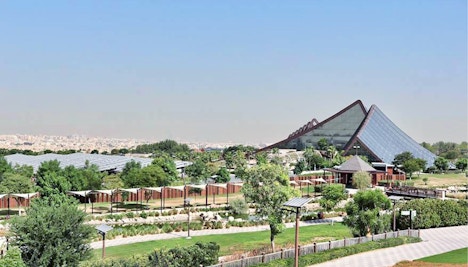 4. Dubai Safari Park
Dubai Safari Park is the best place to visit in Dubai for animal lovers. It is home to over 3,000 animals from around the world including lions, moon bears, giraffes, panels, and more. The park is divided into five themes and each theme showcases the animals that are native to it. This is a great place to not only view the animals but learn more about their habits and interact with them too.
from AED 50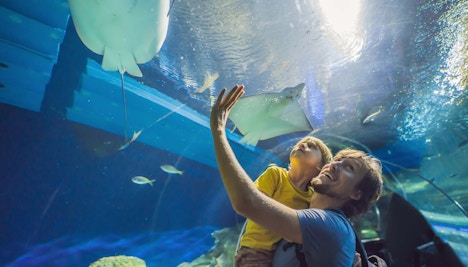 5. Dubai Aquarium
Another popular animal-based attraction to check out in the city is the Dubai Aquarium and Underwater Zoo. This indoor venue houses over 30,000 aquatic animals and if you are looking for an adventure, you can go cage diving with sharks. This is one of the best places to explore in summer as you can enjoy the air-conditioned aquarium and learn the mysteries of marine animals too.
from AED 135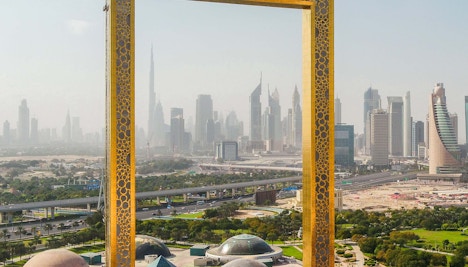 6. Dubai Frame
The Dubai Frame is a unique attraction in the city and is a fine example of architecture that you must visit. From here, you can enjoy gorgeous views of the city and its skyline. It is the world's largest picture frame and offers stunning views of Dubai from both the north and south sides. You can also book your tickets for the observation deck that offers you a glimpse into both new and old Dubai. 
from AED 50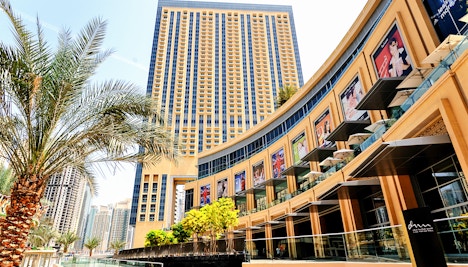 7. The Dubai Mall
One of the largest shopping malls in the world, The Dubai Mall is an amazing place to visit if you love shopping and roaming around in air conditioning. With over 1200 stores, a huge aquarium, an amazing indoor ice rink, and several dining options, this place is perfect for a visit with your entire family. You can also expect great off-season shopping discounts in August.
8. Aquaventure Park
Aquaventure Park is the largest waterpark in the Middle East that offers many exciting rides and water-based activities for you to enjoy. It is exactly what you need to enjoy summers in Dubai. You can relax on the private beach, slide through a shark-filled lagoon, or simply play around a water pool. This is the perfect attraction for the entire family to enjoy.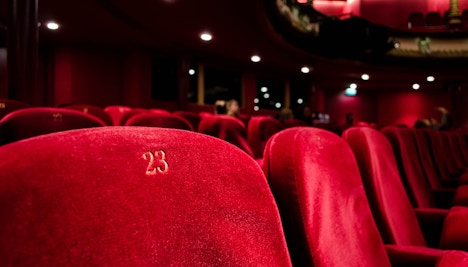 9. La Perle
Another amazing attraction to visit in August is La Perle where you can enjoy the air conditioning while watching an amazing water show. This is Dubai's first permanent live show where skilled artists do acrobatic stunts to showcase Dubai's history and culture. La Perle has something for everyone, with breathtaking stunts, acrobatics, and aquatic performances.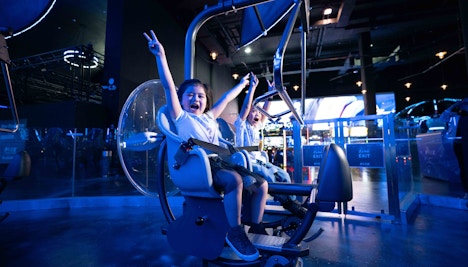 10. VR Park
Located in the Dubai Mall, VR Park is a unique and fun indoor attraction to visit. Challenge your perception of reality here by indulging in augmented reality and virtual reality experiences here. From horror to action, to adventure, you will find all kinds of VR rides and experiences to enjoy here. 
from AED 200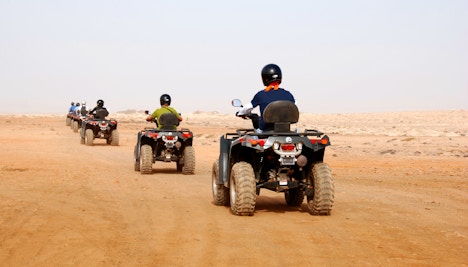 11. Ski Dubai
For a little respite from the summer heat, Ski Dubai is a great indoor adventure park to visit in Dubai. This place includes a ski slope, a complete snow park, and a penguin home where you can meet King and Gentoo Penguins. Here, you can indulge in fun activities such as bobsledding, ice carving, and much more.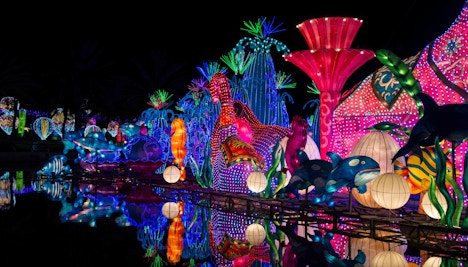 12. Dubai Glow Garden
Dubai Glow Garden is an amazing place to visit in Dubai that is open only after sunset. This is a perfect respite from the scorching August heat. Check out the beautiful structures installed from colorful lights here along with amazing performances by both local and international artists. The Dubai Glow Garden is one the most 'happening' places that you can't miss.
from AED 65
Events in Dubai in August Dubai Summer Surprises
Date: June - August
Venue: Throughout Dubai
For shopaholics, Dubai Summer Surprises is one of the best shopping and entertainment festivals to attend in Dubai. At this festival, you will get discounts on food, attractions, shops, and even amazing hotel packages. This festival was started to attract tourists to Dubai despite the summer heat and make them spend money in the city. Every day, they come up with new sales and deals that visitors can take advantage of during their visit.
Know more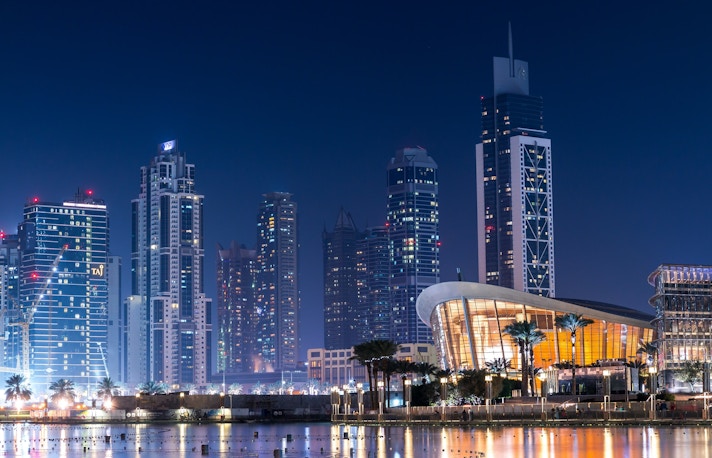 Desert is a Forest Exhibition
Date: November 15, 2021 - September 4, 2022
Venue: Jameel Arts Centre
If you love art and culture, then you should check out this innovative garden art at Jameel Arts Center. It was created by Sunoj D and Namrata Neog and focuses on goats and humans. The exhibition shows indigenous plants consumed and used for medicinal purposes by both parties. It reflects the relationship between humans and non-humans including food and livestock.
Know more
Know Before You Visit Dubai in August
Travel Essentials
What to Wear
What to Pack
Transport
Stay
Food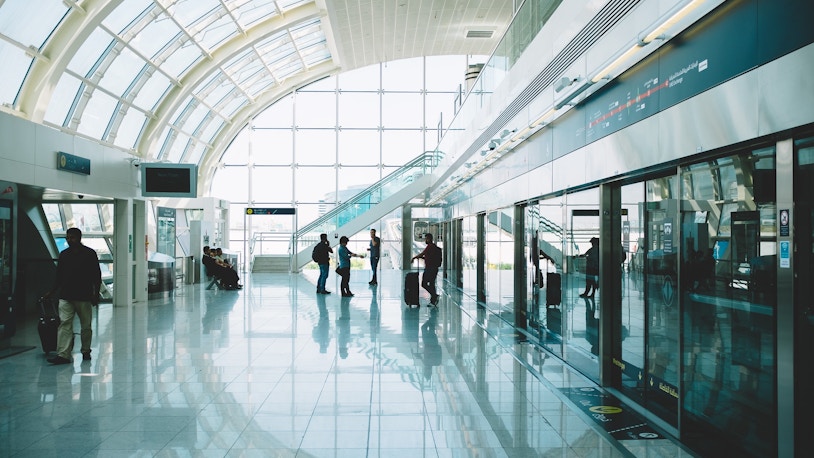 Time Zone: GMT +4
Currency: Arab Emirate Dirham (AED)
Country code: +971
Emergency numbers: 999 (Police), 998 (Ambulance), 997 (Fire Department)
Travel Guide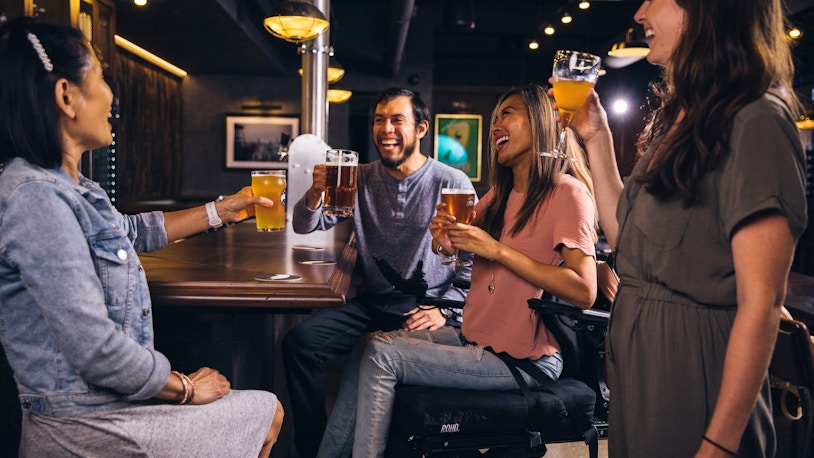 What to Wear in Dubai in August
August is peak summer in Dubai so, the weather will be extremely hot and humid.
Wear loose-fitting clothes that are made from cotton or linen 
Wear shirts, skirts, leggings, etc., and pack your swimsuits for swimming in the pools and the beaches. 
Wear light-colored clothes that won't absorb the heat when you are exploring during the day.
Do wear a light cardigan as the evenings tend to be a little cooler in Dubai and if you are planning to visit indoor air-conditioned attractions.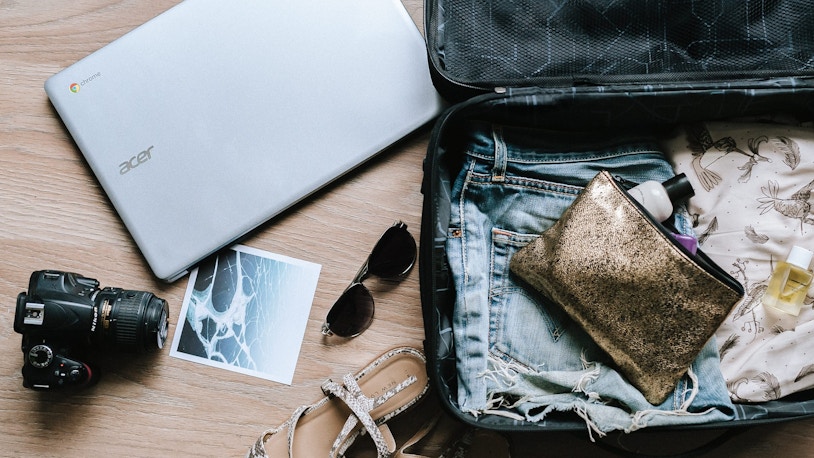 What to Pack in Dubai in August
Power Adapter: Type C, D, and G plug
Clothes: Shorts, skirts, cotton t-shirts, swimsuits, sarong, light cardigan, leggings, etc.
Comfortable shoes
Umbrella, hat, and plenty of sunscreens
A daypack to carry your belongings when you explore the city.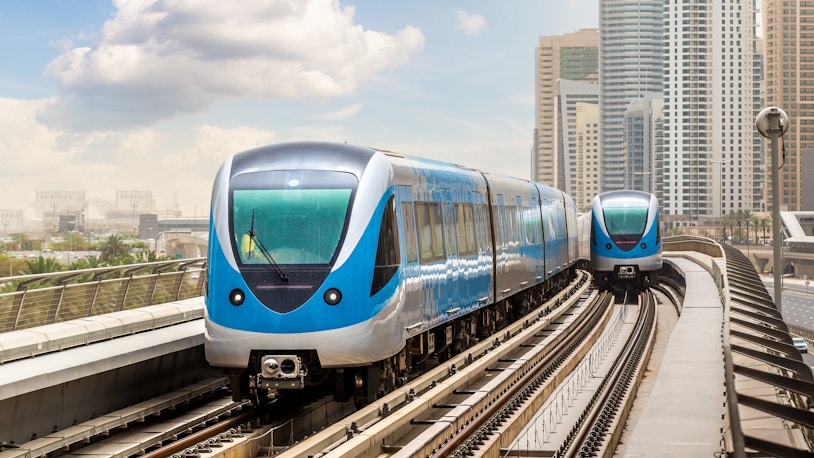 Getting Around Dubai in August
By Metro: One of the best ways to travel around Dubai is by getting a Nol card that you can use to ride the metro. Two metro lines connect most of the places in the city, making it a convenient way to explore Dubai. Metro map.
By Bus: You will also find buses connecting most of the major neighborhoods in the city. They run 24 hours a day and are the most cost-efficient way to get around Dubai. Bus map.
By Cab: You will also find cabs for rent throughout the city. There are many taxi apps that you can download on your phone to hire them too.
By Bicycle: Another affordable way of getting around Dubai is by renting bicycles or using bike-sharing options.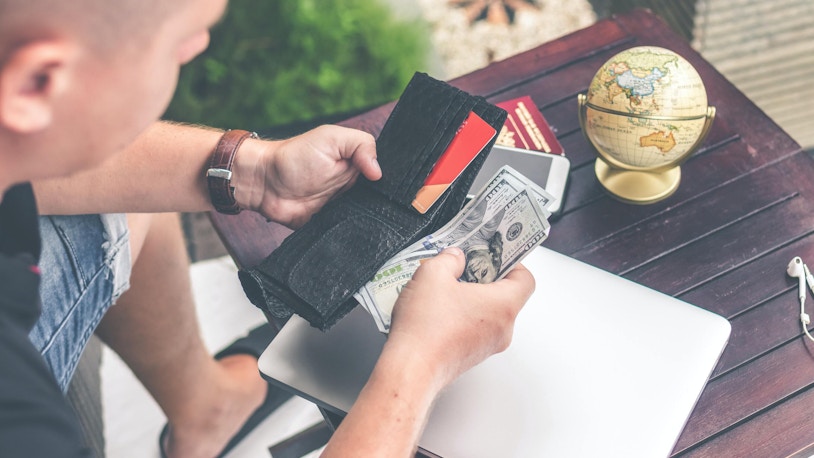 Where to Stay in Dubai in August
There are a variety of accommodation options available in Dubai, from luxurious five-star hotels to budget-friendly hostels. Explore the options and choose your stay based on your convenience.
Budget Hotels: ibis Styles Dubai Jumeirah, City Avenue Hotel, Majestic City Retreat Hotel
Mid-range: Marina Crown Tower, Intercontinental Dubai Marina, Dallas Hotel
Luxury Hotels: Atlantis The Palm, Grand Hyatt Dubai, Burj Al Arab Jumeirah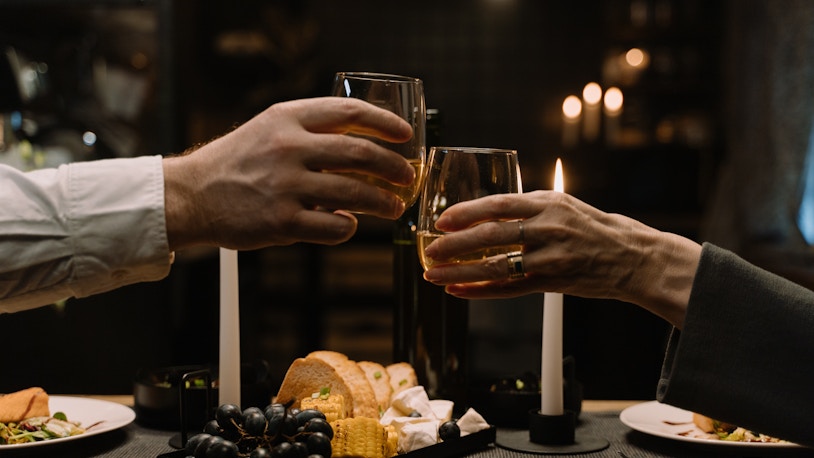 What to eat in Dubai in August
Dubai is a melting pot of cultures and this is evident in the city's cuisine. You can find all kinds of food in Dubai, from traditional Emirati dishes to Indian, Pakistani, Thai, Chinese, and European fare.
Knafeh: Knafeh is made with noodle-like pastry that is drenched in sweet sugary syrup which is then layered with cheese, cream, and nuts.
Manakish: The Manakish is a traditional dish that resembles a pizza in which unleavened bread is baked with toppings on top.
Falafel: Falafel is another dish that you cannot miss out on in Dubai. It is deep-fried balls of grounded chickpeas and served in different shapes.
Explore Dubai Through the Year
All Your Questions About Visiting Dubai in August Answered
Is August a good time to visit Dubai?
In terms of weather, August is not a good time to visit Dubai as it is extremely hot here. However, this means that you get amazing discounts on flights, hotels and many summer shopping sales too.
What are the best things to do in Dubai in August?
Although it is the hottest month of the year, there are still plenty of activities to keep you entertained in Dubai in August. Some of the best things to do in Dubai in August include visiting the Dubai Zoo or taking a dip at one of the city's many waterparks.
The average temperature of Dubai in August ranges between a high of 42°C and a low of 31°C.
How hot is Dubai in August?
This is the second hottest month in Dubai with temperatures ranging between a high of 42°C and a low of 31°C.
Can you swim in Dubai in August?
The average sea temperature in Dubai is 33°C which makes it cool and pleasant to swim in August.
Is it sunny in Dubai in August?
Yes, Dubai receives no rainfall in August and stays sunny for most of the days. You can expect 12 hours of daylight every day this month.
What clothes to wear in Dubai in August?
Since August is the second hottest month to visit Dubai with temperatures reaching a high of 42°C, it is important to pack loose summer clothes. Pack cotton clothes such as shorts, skirts, etc., and a light cardigan for air-conditioned attractions and evenings in the city.
Is it rainy in Dubai in August?
No, there is very little to no chance of rainfall in Dubai in August.
Is Dubai expensive to visit?
Not at all. Since August is one of the hottest months to visit Dubai, there are not many tourists around. As a result, you can get amazing discounts on flights and hotel accommodations. So, a trip to Dubai in August is inexpensive if you book your tickets in advance.
Dubai is an extremely safe city to explore. But be careful of your belongings as petty crimes are common here.
What can I see in Dubai in August?
Burj Khalifa, Ferrari World, Aquaventure, Ski Dubai, The Dubai Mall, etc. are a few attractions that you can visit in Dubai in August.
What are the major events in Dubai in August?
Dubai Summer Surprises and Exhibition: Desert is a Forest are a few major events to check out in Dubai in August.
What is the average temperature in Dubai in August?
The average high in Dubai is 42°C and the average low is 31°C.
What are the best things to do with Kids in Dubai in August?
You can visit the numerous theme parks and amusement parks such as Aquaventure Park, Dubai Safari Park, Ski Dubai, etc. with your kids in Dubai in August.