A Guide to Visiting Dubai in October | Attractions, Malls & More
Contents
Dubai is one of the most dazzling and must-see destinations in the world. From its iconic skyline to its endless array of luxury hotels and resorts, this city has something for everyone. Dubai is also a shopper's paradise, with chic boutiques and world-class malls catering to every budget. Add to that a fascinating culture and heritage, exciting nightlife, and superb dining options, and it's easy to see why Dubai is one of the most popular tourist destinations on the planet. If you are planning a visit to Dubai in October, here's everything you need to know!
Is October a Good Time to Visit Dubai?
October is the transitional period before the peak season starts in Dubai. As a result, the weather is relatively pleasant with fewer tourists and lower rates for flights, hotels, and activities.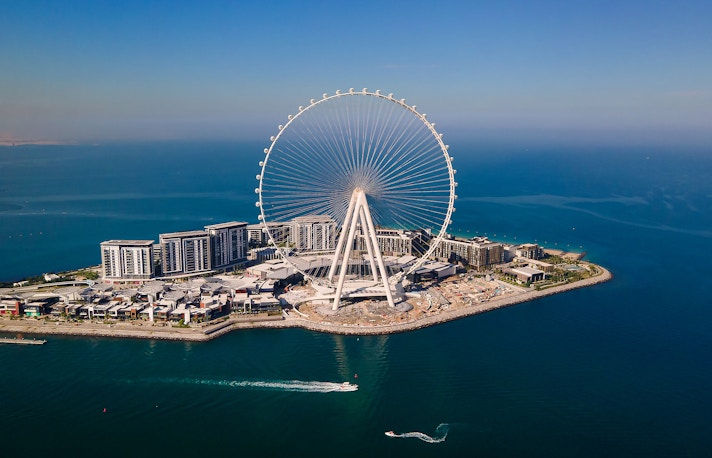 Why You Should Visit 
Good time to enjoy both indoor and outdoor attractions
Cool and pleasant weather compared to summer months
Fewer tourists as it is the traditional month
Lower rates on flights, hotel accommodations, and attractions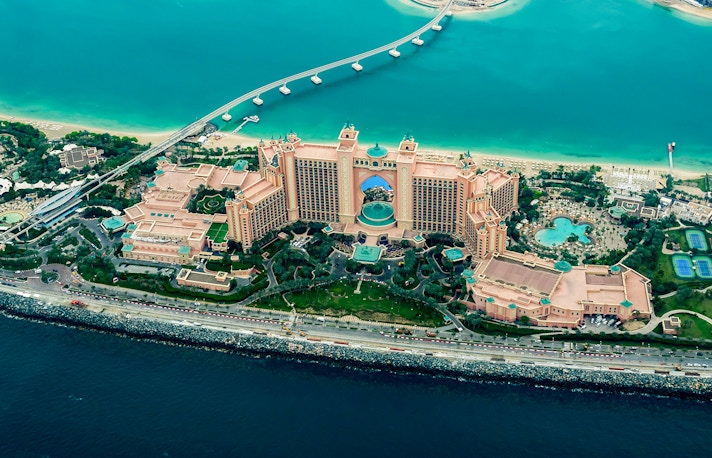 What to Look Out For
Days can still be hot with temperatures reaching a high of 35°C
Days are 10 hours long with no rainfall, making it hot and difficult to explore the city
Chances of dehydration if you don't drink sufficient water
Few events and concerts during this month
Overview of Weather in Dubai in October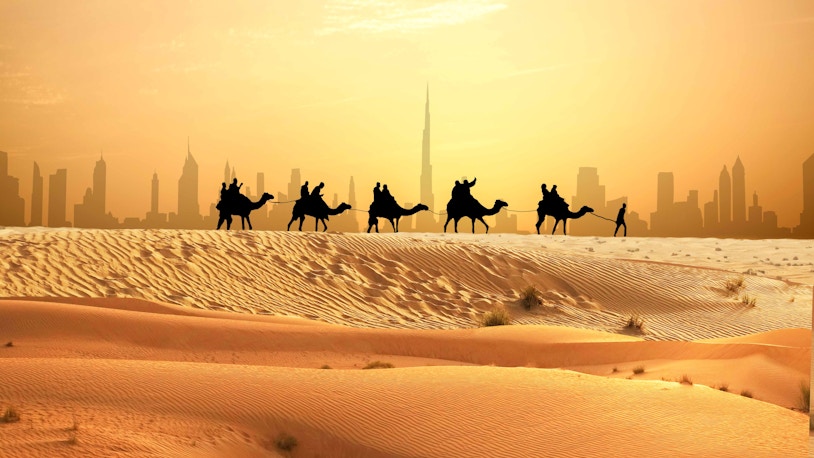 Dubai experiences relatively cooler and pleasant weather in October. The temperature during the day reaches a maximum of 35°C while the nights can be as low as 23°C. The city sees sunny and clear skies with 10 hours of sunshine every day. There is a very low chance of rainfall this month. 
Average Temperature: High - 35°C Low - 23°C
Average Rainfall: 1mm
Daily Wind Speed: 7mph. Light breeze
The temperature of the sea: 30°C
Best Time to Visit Dubai
Best Things to do in Dubai in October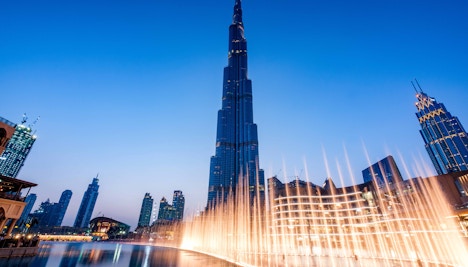 1. Burj Khalifa
City Landmark | World's Tallest Building
Burj Khalifa, the tallest building in the world, is one of the most-visited buildings in Dubai. You can visit this 828m building for a breathtaking panoramic view of the city from the observation decks on the 124/125th level. We'd recommend visiting the popular building during sunrise or sunset to enjoy a sun-kissed skyline with fewer tourists around.
from AED 154.50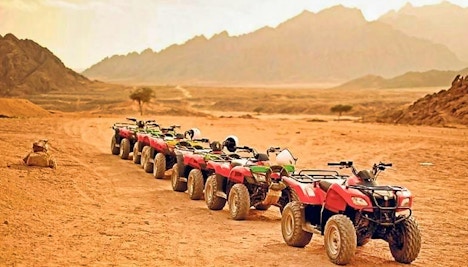 2. Desert Safari
Adventure Activities | Traditional Activity
Join this amazing and unique experience in the desert of Dubai where you cross the dunes and enjoy fun activities like dune bashing, sandboarding, and more. Have dinner under the stars in the middle of nowhere or choose to pamper yourself by indulging in a Bedouin camping experience complete with Arabic dances and performances.
from AED 70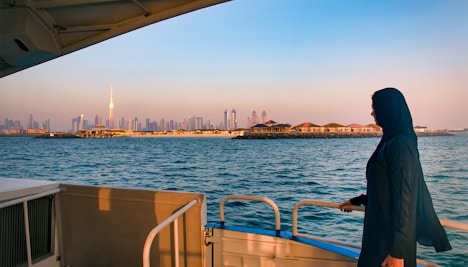 3. Dhow Cruise
Sightseeing | Dinner Cruise
Enjoy this luxury cruise along Dubai Creek that offers a magical experience to the visitors. Witness the stunning views of iconic Dubai buildings as you glide along the water. Dhow cruise also includes a scrumptious meal with drinks and many traditional Arabic performances on board. The Dhow Cruise is a must-see for anyone visiting Dubai.
from AED 64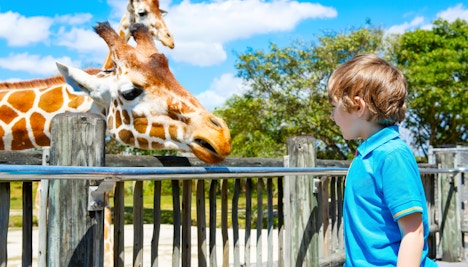 4. Dubai Safari Park
Zoo | Learning Experience
Explore this eco-friendly wildlife park that houses over 3,000 animals from around the world. This park is divided into 5 areas where animals are kept based on their origins. You can meet these animals in a close encounter and learn more about them at this park. Komodo dragons, Arabian oryx, African wild dogs, and white lions are a few of the animals found here.
from AED 50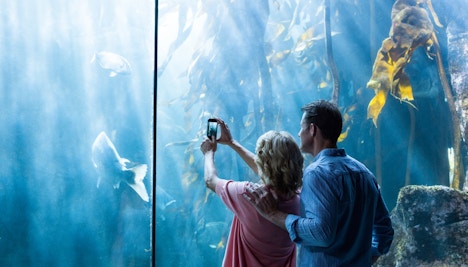 5. Dubai Aquarium
Aquarium | Learning Experience
Located in Dubai Mall, the Dubai Aquarium and Underwater Zoo is another good place to visit in October. Here, you can check out a wide range of aquatic animals including sharks, stingrays, and more. There are many exciting things to do such as cage diving with sharks or you can see the world's largest living crocodile here too.
from AED 135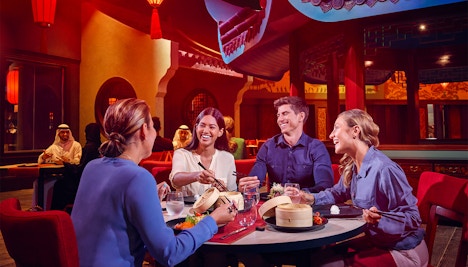 6. IMG Worlds of Adventure
Themepark
Featuring around 22 exciting rides, IMG Worlds of Adventure is the world's largest indoor theme park to visit in Dubai. The amusement park is divided into 4 zones - Dinosaur Adventure, Cartoon Network, Marvel, and IMG Boulevard. There are rides for all ages here, making it the perfect family destination.
from AED 335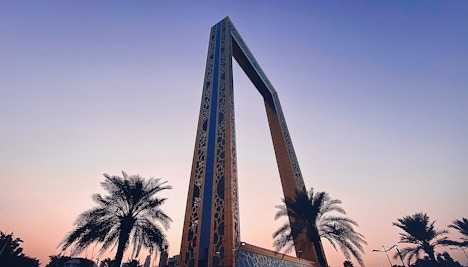 7. Dubai Frame
City Landmark
Dubai Frame is one of the latest additions to the city's skyline and is truly an architectural marvel. This tall frame is an observation deck that also houses an art gallery to showcase the city's past and future. Visitors can enjoy a trip to this venue to learn about Dubai's history and admire the stunning panoramic view of the city from here.
from AED 50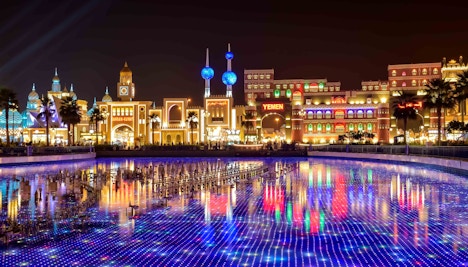 8. Global Village
Themepark | Tourist Hotspot
One of the best places to visit with family, Global Village is located right outside Dubai and features a lot of attractions and activities. Witness the reconstruction of several world-famous monuments such as the Taj Mahal, Colosseum, etc. along with numerous pavilions, each dedicated to a country. From food to clothes to souvenirs, you can find everything in this theme park.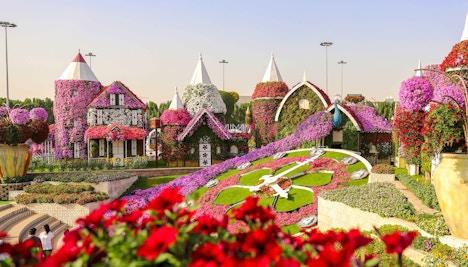 9. Dubai Miracle Garden
Garden | Tourist Hotspot
With over 150 million flowers, Dubai Miracle Garden is the world's largest flower garden. Take a stroll through this garden to admire the different colored and shaped flowers and you can enjoy a few live performances here too. There are a few floral structures to look at here as well including a replica of A380, Burj Khalifa, Disney characters, and more.
from AED 55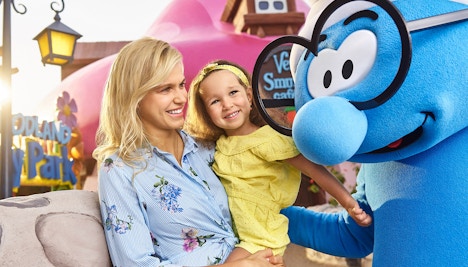 10. Dubai Parks and Resorts
Themepark
Dubai Parks and Resorts is home to several theme parks and amusements parks including Motiongate, Bollywood Parks, Legoland, Riverland Dubai, and more. Spend a day enjoying the rides and attractions at these exciting parks with your family.
11. Xline Dubai
Adventure Activity | Zipline
If you're an adrenaline junkie, you must try your hand at ziplining the magnificent Dubai Marina with Xline Dubai. You begin from a height of 170m and cross the Marina to reach Dubai Marina Mall while enjoying the gorgeous city skyline.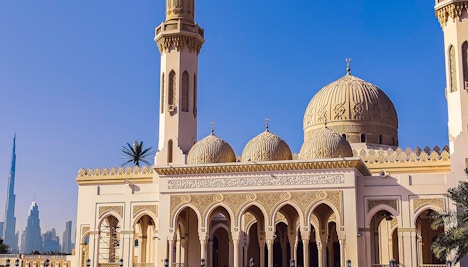 12. Jumeirah Mosque
City Landmark | Mosque
Another top attraction to visit in Dubai is Jumeirah Mosque, the only mosque open to non-Muslims in the city. Take a guided tour to learn about its history and significance in Emirati culture. You will also learn about the 5 pillars of Islam inside this mosque.
Know Before You Visit Dubai in October
Travel Essentials
What to Wear
What to Pack
Transport
Stay
Food
https://www.expo2020dubai.com/en/discover/pavilions
Time Zone: GMT +4
Currency: Arab Emirate Dirham (AED)
Country code: +971
Emergency numbers: 999 (Police), 998 (Ambulance), 997 (Fire Department)
Travel Guide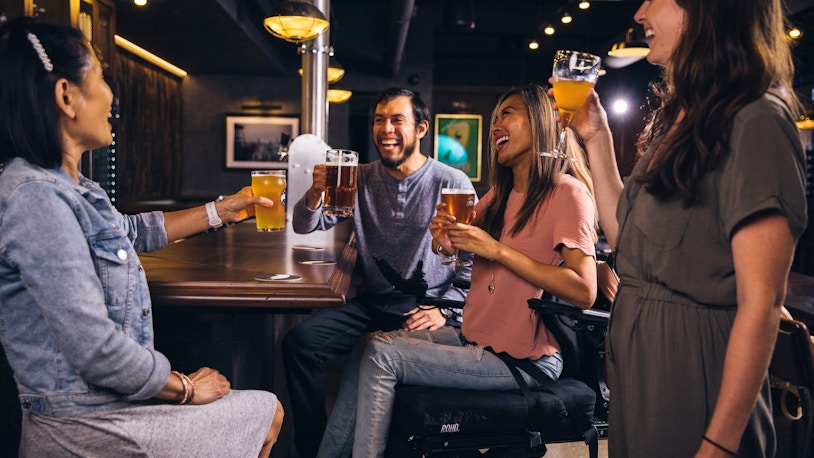 What to Wear in Dubai in October
October is the autumn season in Dubai so, the weather is relatively cooler and pleasant with less humidity.
It will be still hot during the day which would be ideal for wearing comfortable cotton shorts, dresses, or jeans. 
Wear light-colored clothes during the day so that you don't end up absorbing the heat.
In the evening, the temperature significantly drops down so wear a jacket or a cardigan when you are exploring the city.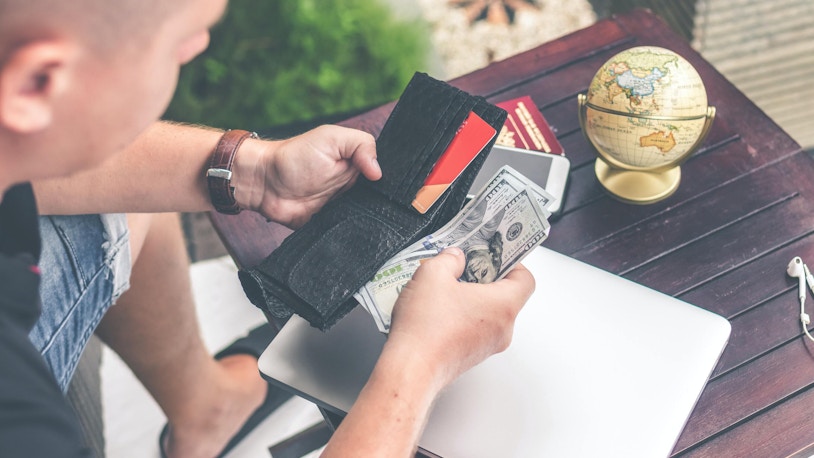 What to Pack in Dubai in October
Power Adapter: Type C, D, and G plug
Clothes: Shorts, skirts, jeans, t-shirts, swimsuits, cardigan or light jacket, etc.
Comfortable sandals or shoes
Umbrella, hat, scarf, and sunscreen
Pack a small bag to carry around your essentials when exploring the city. This includes your wallet, IDs, water bottle, scarf, and so on.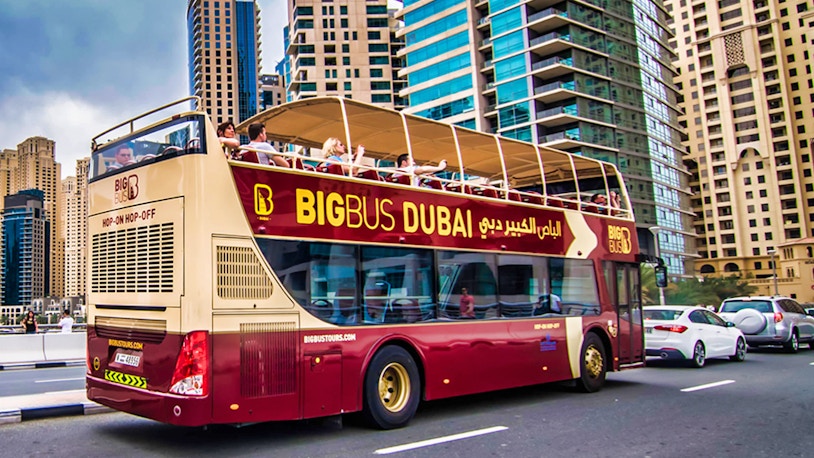 Getting Around Dubai in October
By Metro: If you are looking for a quick and affordable way to reach your destination, then you can check out Dubai metro. Metro map.
By Bus: The bus tickets are quite cheap and you get one bus every 30 minutes going in your desired direction. Bus map.
By Cab: Since Dubai is a modern city, you also have the facility of hiring a cab to reach your destination. You will find cabs at most venues or can even order a cab by downloading a local taxi app.
By Boat: Another great way to explore around the city, especially Dubai Creek, is by using boats. There are ferries and abras (traditional wooden boats) available to help you cross the creek.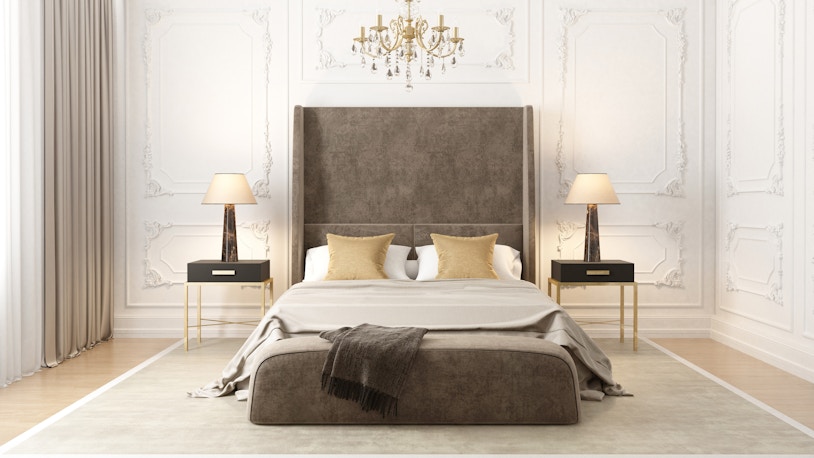 Where to Stay in Dubai in October
A modern metropolitan city like Dubai comes with various options for accommodations. Explore our list and opt for the hotel that suits you!
Budget Hotels: ibis Styles Dubai Jumeirah, City Avenue Hotel, Majestic City Retreat Hotel
Mid-range: Marina Crown Tower, Intercontinental Dubai Marina, Dallas Hotel
Luxury Hotels: Atlantis The Palm, Grand Hyatt Dubai, Burj Al Arab Jumeirah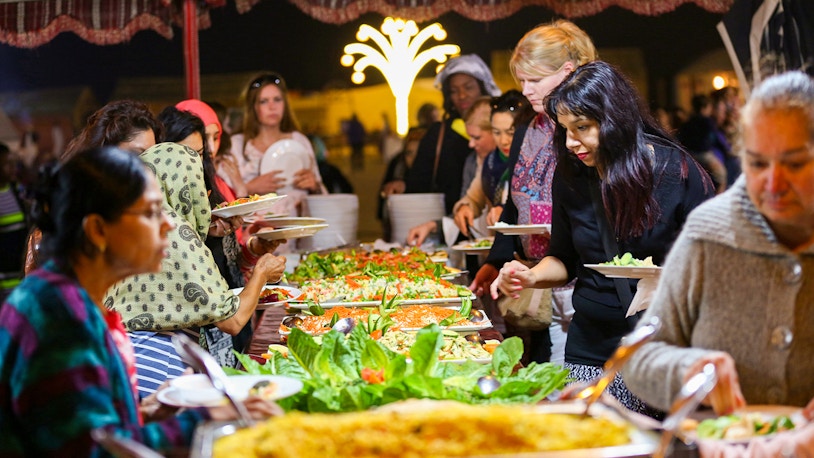 What to eat in Dubai in October
The selection of cuisine is truly diverse in Dubai. From flavor-packed fan-favorites to delicious dishes from around the world, Dubai has it all and more!
Al Machboos : Al Machboos is a traditional rice-based dish that is made with onions, meat, and of course rice.
Knafeh: Knafe, the Queen of Arabic Desserts, is an amazing cheese-based pastry that has a slightly sweet-salty taste.
Shish Tawook: One of the most popular dishes that you will find in Dubai is Shish Tawook. It is marinated and grilled meat on a skewer that is served with hummus and pita. 
Explore Dubai Through The Year
Frequently Asked Questions About Visiting Dubai in October
Is October a good time to visit Dubai?
October is a good time to visit Dubai as it marks the end of the summer season so the temperature is relatively cooler. Also, there are still fewer tourists around and you can get amazing deals on your flights and hotels.
What are the best things to do in Dubai in October?
Some of the best things to do in Dubai in October include visiting the city's various outdoor attractions, going on a desert safari, or taking a dip in one of the city's many pools. The weather is also cooler in October, making it a great time to visit Dubai.
Is Dubai cold in October?
The average temperature of Dubai in October ranges between a high of 35°C and a low of 23°C.
How hot is Dubai in October?
It is hot in Dubai during the day with temperatures ranging between a high of 35°C and a low of 23°C.
Can you swim in Dubai in October?
Yes, this is the perfect month to go swimming in Dubai. The water temperature is 30°C, making it perfect for a swim in October.
Is it sunny in Dubai in October?
Yes, the city experiences clear and sunny skies for the entire month with 10 hours of sunshine daily and almost no chance of rainfall.
What clothes to wear in Dubai in October?
October is a comparatively cooler month to visit Dubai one of the hottest months to visit Dubai with temperatures reaching a high of 40°C during the daytime. This is why it is important to pack loose summer clothes, preferably made out of cotton. In the evening, you might need a light cardigan or shawl. Do wear a hat and sunscreen if you are exploring outdoors during the day.
Is it rainy in Dubai in October?
No, there is very little chance of rainfall in Dubai in October.
Is Dubai expensive in October?
Dubai is inexpensive if you are planning a visit in October as it is a transition month. It is the beginning of peak season in the city so, you will be able to find cheap flights and hotel accommodations if you book in advance.
Dubai is a safe city to explore except for a few petty crimes like pickpocketing.
What can I see in Dubai in October?
There are many amazing attractions to see in October such as Burj Khalifa, Ski Dubai, Desert Safari, Dubai Safari Park, and more.
What are the major events in Dubai in October?
In October, you can attend Dubai Muscle Show and Motexha Textile Show in Dubai.
What are the best things to do with Kids in Dubai in October?
You can go on a desert safari, try ziplining, explore amusement and theme parks, and so on with kids in Dubai in October.