Dubai Safari Park Villages | Explore Animals in Their Own Habitat
Contents
The Dubai Safari Park, located in the Al Warqa desert, is home to over 3,000 animals ranging from the magnificent African Elephant to a striking Arabian wolf. Sprawled across 119-hectares, the Dubai Safari Park offers continent-centered attractions exhibiting rich wildlife from Africa, Asia, and the Arabian Peninsula. 
Be prepared to get up close with the beautiful creatures in UAE's only drive-through safari and maybe even learn a thing or two about their awesome existence from experienced guides and keepers.
What Are Dubai Safari Park Villages?
The main attractions at the Dubai Safari Park are the culture-rich villages. Brimming with the diversity of a natural jungle, the park has four human-made animal habitats.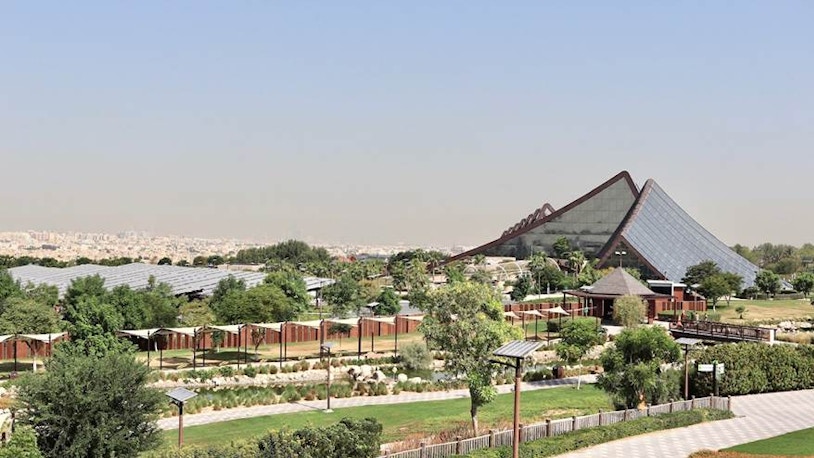 Asian Village
African Village 
Explorer Village
Arabian Desert Safari
On these guided safari tours, be transported to oriental forests of Asia, parched plains of Africa, and mystic Arabian deserts. Witness mammals in their natural habitats, observe magnificent leaps of a Mountain Gazelle, and if you're lucky enough - catch a White Lion's thunderous roar!    
Plan Your Visit to Dubai Safari Park
How to Visit Dubai Safari Park Villages?
Arabian Desert Safari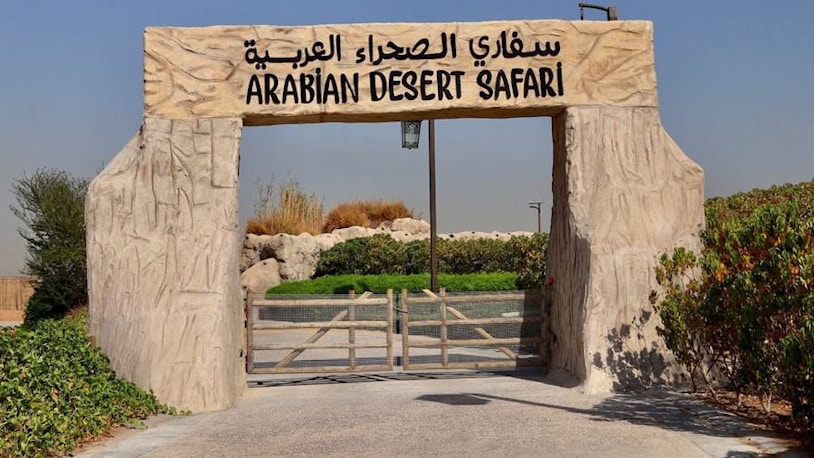 The Arabian Desert Safari, with its nomadic influences, encompasses the essence of the entire Arabian Peninsula. This drive-through safari will bring you close to the local residents of the Sahara Desert. 
Keep an eye out for the Arabian Wolf (the hero attraction of this exhibit). Spot the long-legged Arabian Oryx grazing aimlessly and behold a grueling horn-lock fight between feisty Arabian Gazelles. Learn about typical animal practices, habits, and character traits from guides who will tag along through your Arabian exploration. 
Timings: 9 AM to 5 PM (10 AM to 6 PM during Ramadan)
Tour Duration: 10-15 minutes
Dubai Safari Park Timings
Inside Arabian Desert Safari
Hero Animal
Other Native Animals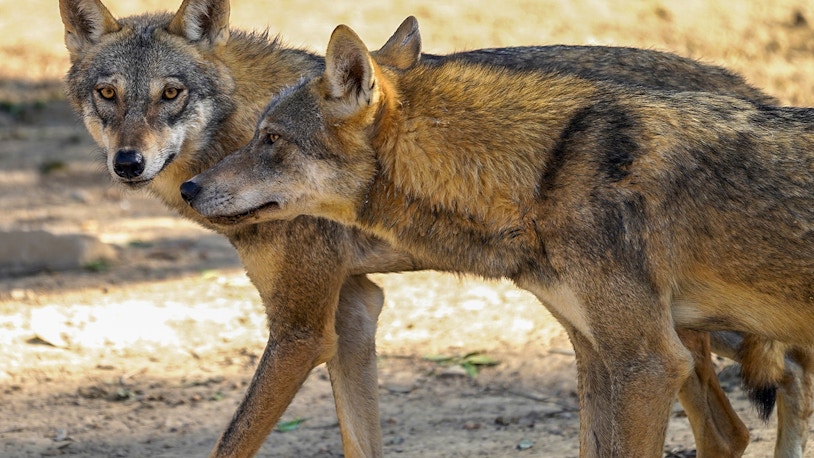 The Arabian Wolf, a direct descendant of the Grey Wolf, is the smallest of all the wolf species. While the other species of wolves hunt in packs, the Arabian Wolf is an interesting exception. They live and hunt in small groups of three or four across the Arabian Peninsula. 
One of the few carnivores on the prowling the desert, the wolf feeds on hares, rodents, and cats. However, these wolves are a menace to farmers. They often go after livestock and kill small domestic animals like goats and chickens, because of which they are often shot, trapped or poisoned. 
Scientific Name: Canis Lupus Arabs
Animal Group: Carnivore
Conservation Status: Vulnerable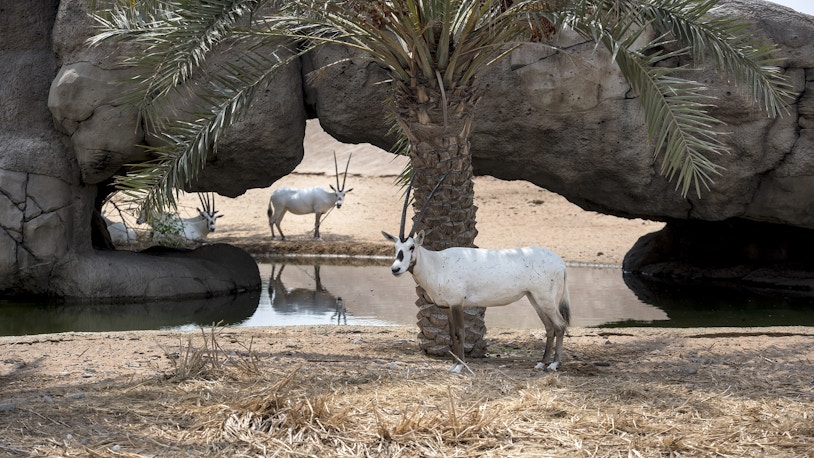 Arabian Oryx
Addax
Arabian Gazelle
Sand Gazelle
Mountain Gazelle
Scimitar-horned Oryx
Asian Village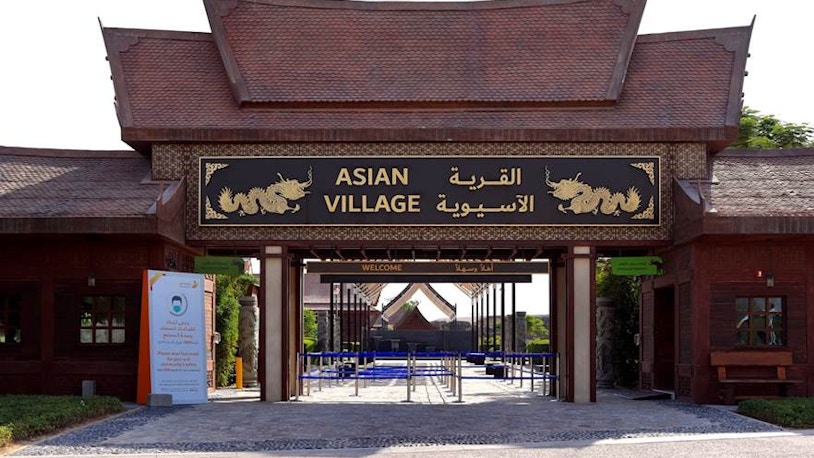 The Asian Village is a tropical rainforest safari. Featuring Asian elements like Chinese architectural cues and dragon-like designs at the shops and kiosks, the Asian Village is home to the Moon Bear (the hero animal of this exhibit), animated gibbons, and breathtaking Mandarin Ducks. 
You can also learn more about the Southern Cassowary, a large flightless black bird regarded as a 'keystone species', mostly because of how they eat more than 240 types of fruits and drop the seeds across large distances, playing the role of a magnificent rainforest gardener.
Do spot the white-handed Gibbon present from this season!
Tour Duration: 20-45 minutes
Live Show at Asian Village Theatre
Inside Asian Village
Hero Animal
Amazing Creatures of the World
Other Native Animals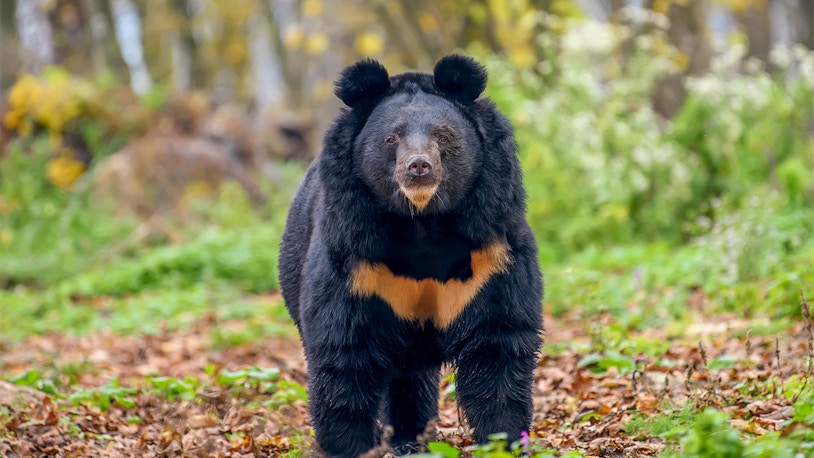 The Moon Bear, also known as the Asiatic Black Bear, is primarily a herbivore that feeds on insects, grasses, fruits, and nuts. Recognizable from the white crescent-shaped patch on its chest, the moon bear is also known to hunt and eat wild boars, water buffaloes, and domestic livestock. 
Scientific Name: Ursus Thibetanus
Animal Group: Carnivore
Conservation Status: Vulnerable As part of your Asian expedition, you can join the 'Amazing Creatures of the World' show. This 20 to 45-minute show displays a variety of animals in their natural behaviors. Witness fascinating Asian animals such as gibbons, moon bears, cassowaries, and timid wallabies. 
Watch them go about their quirks, communicate with each other, and feed in presentations led by the gutsy animal keepers. From here, you can also proceed to the Arabian Desert Safari through the departure station where other adventures await.   
Other Live Shows at Dubai Safari Park
Gibbon
Southern Cassowary
Mandarin Duck 
Explorer Village
The safari drive-through of the Explorer Village is the most sought-after attraction at the Dubai Safari Park. While being safe in comfortable buses, you can experience pristine African wildlife and conclude your discovery in the Asian exhibit. Hippos, giraffes, zebras, and cheetahs are some of the magnificent animals you get to see in this 35-40 minute journey.
Guests with Safari Journey tickets can access all the villages of the park including the safari at Explorer Village. However, guests with just entry tickets will have to upgrade to the Safari Journey tickets if they want to experience the Explorer Village. We suggest that you book the Safari Journey ticket for a full experience.
Tour Duration: 60-90 minutes
Dubai Safari Park Experiences
Inside Explorer Village
Hero Animal
Birds Show
Other Native Animals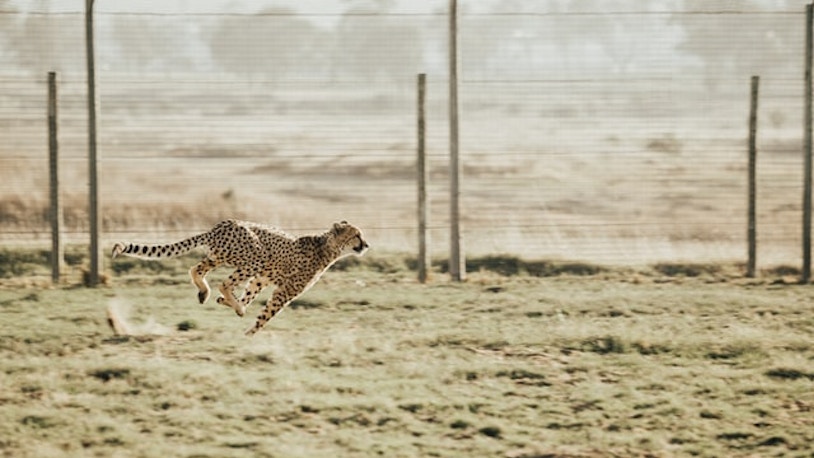 Among the various breathtaking creatures at the Explorer Village, the Cheetah is the Hero animal. And rightfully so! Considered the fastest mammal, the Cheetah can go from 0-60 miles per hour in under three seconds. 
Slim, light, and highly nimble; Cheetahs prey on deers, gazelles, and impalas in high-speed hunts. If you're lucky, you can watch the Cheetahs run across the field in the Cheetah Viewing Gallery at the Explorer Village. 
Scientific Name: Acinonyx Jubatus
Animal Group: Carnivore
Conservation Status: Vulnerable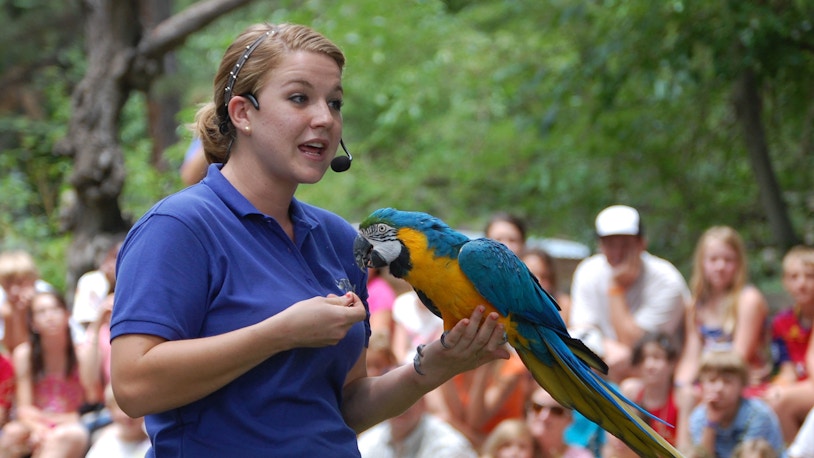 Witness vibrantly colorful birds at the Birds Show in the Explorer Village as well. Learn about their contributions to the environment and get personal with the birds through engaging presentations by the bird keepers.  
Show Timings: 12 PM
Other Experiences at Dubai Safari Park
Hippo
Giraffe
Impala
Zebra
Wise Owl
Rhino
African Buffalo
Ostrich
Tiger
Brown Lion
Nile Crocodile
African Village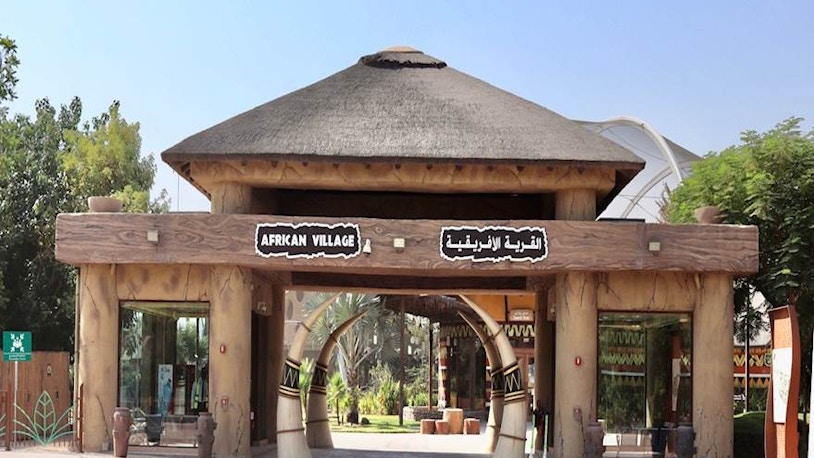 The African Village displays some of the most intriguing creatures from the vast continent of Africa. This attraction, with a strong African heritage, will give you a true taste of desert wildlife. Home to the world's largest and smallest mammals, from the African Elephant to the Meerkat, the African Village is a must-see.
What's more? You can also visit The Grand Aviary (UAE's largest aviary) to view hundreds of birds from across the globe. Hoping to spot a rare Violet Turaco? Approach one of the guides present to make your bird watching experience a whole lot more interesting. 
Spot the Mona Monkeys and Chacma Baboon present from this season!
Tour Duration: 60-90 minutes
Inside African Village
Hero Animal
Other Native Animals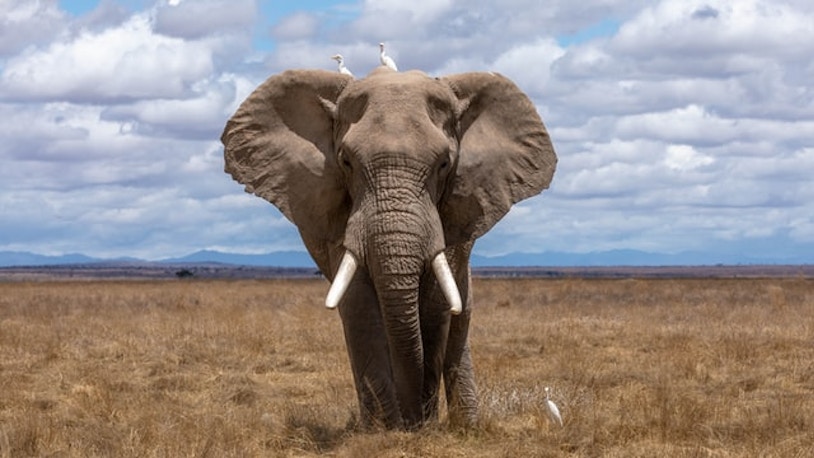 The Hero animal of this village is hard to miss, quite literally. Weighing up to 6,000 kg, the African Elephant is the world's largest land mammal and a humbling sight to behold. Social and pleasant in demeanor, the African Elephant consumes around 300 pounds of food a day. They typically feed on roots, grasses, fruit, and bark. The average African Elephant can live 60-70 years in all its gigantic glory.
Scientific Name: Loxodonta Africana
Animal Group: Mammal
Conservation Status: Vulnerable
White Lion
Greater Flamingo
Gorilla
Burmese Python
Spotted Hyena
Wood Duck
Golden Pheasant
Kids Farm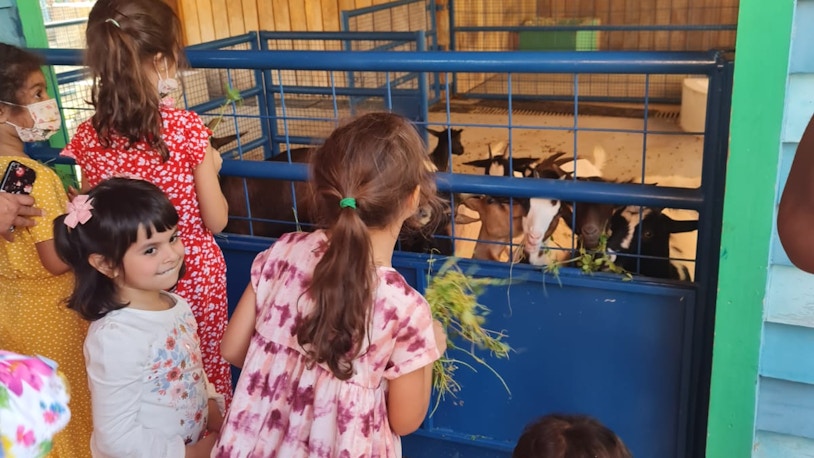 The Dubai Safari Park is a wholesome trip for the entire family. Bring your little ones to the Kids Farm for a delightful interaction with friendly farmyard animals. A unique blend between a farm and a petting zoo; kids can connect and interact with amiable sheep, donkeys, ponies, and ducks. 
Youngsters can also join one of the bird feeding sessions at the Kids Farm Aviary and frolic around the pygmy goats at the Goat Barn. Include your kids in the educational tours to learn all about the farm's animals and birds and how they contribute to a real farm.
Tour Duration: 30 minutes
Other Feeding Experiences
Inside Kids Farm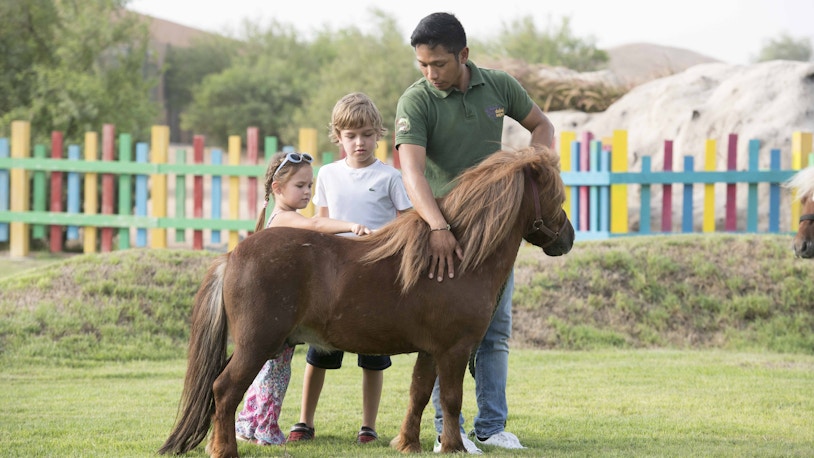 Farm Animals at Kids Farm
African Love Bird
Amazon Parrot
Donkey
Najdi Sheep
Plum-headed Parakeet
Pony
Eurasian bullfinch
Cockatiel
Black Hooded Parrot
Alexandrine Parakeet
Al Wadi Farm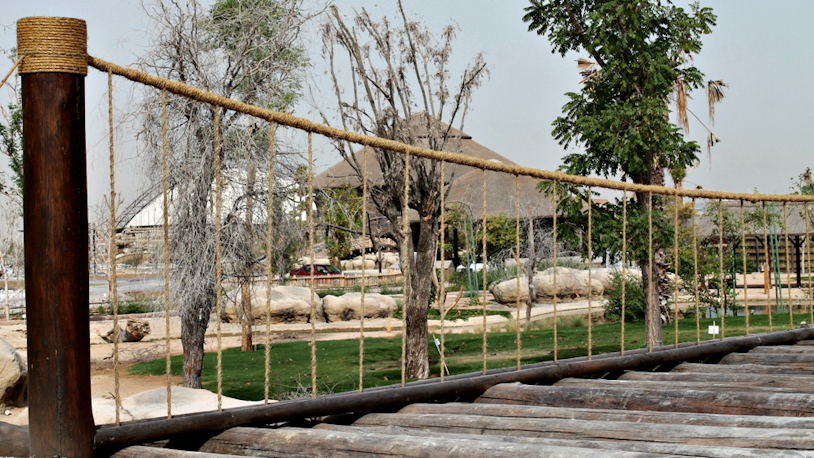 The Al Wadi (the valley) farm is a sprawling rest area designed to give you a break from your adventures. Sit, relax, and dine in one of the restaurants. Head over to one of the street-food kiosks for a quick bite. Gaze at the lazy ducks and swans in the river as you unwind on the grass. Catch a glimpse of some serene peacocks as well!
Getting to Dubai Safari Park
Frequently Asked Questions on Dubai Safari Park Villages
How many villages are there at Dubai Safari Park?
Dubai Safari Park has 4 different villages of different habitats and 2 farms for you to relax in.
What are the different villages at Dubai Safari Park?
The different villages at Dubai Safari Park include Arabian Desert Safari, Asian Village, Explorer Village and African Village.
What villages can I visit at Dubai Safari Park?
How do I visit the villages at Dubai Safari Park?
Are there any regions where I can relax at Dubai Safari Park?
You can relax and unwind at the Al Wadi Farm at Dubai Safari Park. The Kids Farm also offers some interactive activities for your children to enjoy.
How do I cover all the villages at Dubai Safari Park?
You can approach any of the staff members at Dubai Safari Park to help you plan your day and find your way around the park. You can also keep the Dubai Safari Park Map handy to make sure you know where you are at any time.