Contents
From heart-pounding roller coasters to captivating 3D attractions, every ride at Motiongate Dubai delivers a unique and unforgettable experience that will leave visitors craving more cinematic excitement. So buckle up and prepare for an action-packed adventure as you step into the world of movies and become a part of the action at Motiongate Dubai.
Rides at Motiongate Dubai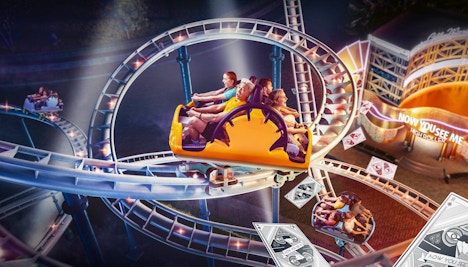 Madagascar Mad Pursuit
Join Alex, Marty, Melman, and Gloria from the beloved Madagascar series on a wild chase through the streets of New York City. This roller coaster combines thrilling twists, turns, and high-speed excitement with the hilarious antics of your favorite animated characters.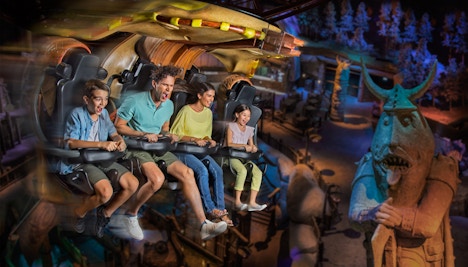 Dragon Gliders
Embark on an epic quest through the mythical world of How to Train Your Dragon. Take control of your own dragon glider as you soar through the skies, dodging obstacles and engaging in exhilarating aerial battles. Feel the wind in your hair and experience the exhilaration of flight in this immersive attraction.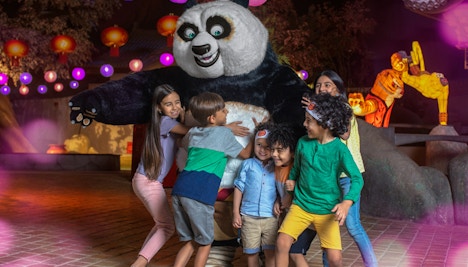 Kung Fu Panda: Unstoppable Awesomeness
Get ready to channel your inner warrior as you join Po, the lovable Kung Fu Panda, on a high-octane adventure. This motion simulator ride takes you on a thrilling quest filled with action-packed martial arts battles, stunning visuals, and heart-pounding moments that will leave you feeling like a true hero.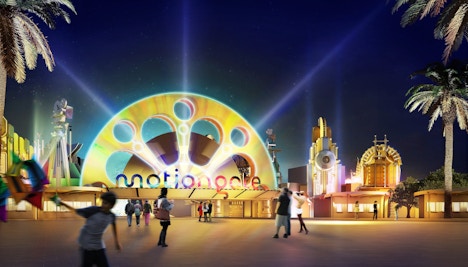 Hotel Transylvania: The Ride
Step inside the world of monsters and mayhem as you enter the infamous Hotel Transylvania. This dark ride takes you on a spooktacular journey through Dracula's lavish hotel, encountering all your favorite characters from the animated film series. Be prepared for surprises, laughs, and a few frights along the way.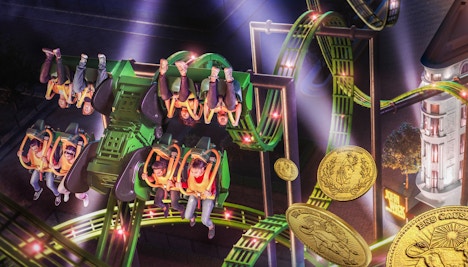 The Green Hornet: High-Speed Chase
Join forces with the Green Hornet and his trusty sidekick, Kato, as you race through the city streets in a high-speed pursuit. Buckle up and hold on tight as you navigate sharp turns, exhilarating drops, and thrilling encounters with villains in this adrenaline-pumping coaster experience.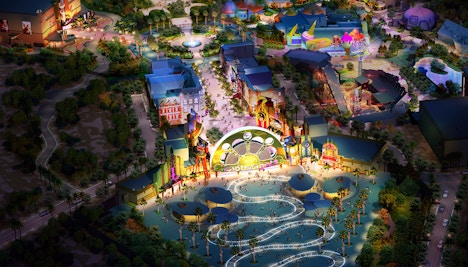 Zombieland Blast-Off
Brace yourself for an undead invasion as you board your escape vehicle in the post-apocalyptic world of Zombieland. This drop tower ride will have you screaming as you plummet from dizzying heights, narrowly escaping the clutches of the hungry zombies below. It's a heart-pounding experience that will leave you breathless.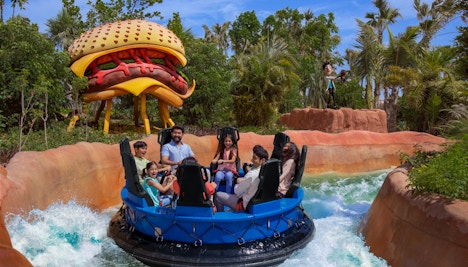 Cloudy with a Chance of Meatballs: River Expedition
Join Flint Lockwood and his friends on a river adventure like no other. Hop aboard a raft and journey through a world where food reigns from the sky. Encounter giant food creatures, navigate turbulent waters, and experience thrilling water effects in this interactive and immersive water ride.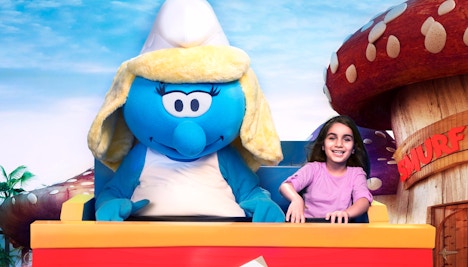 Smurfs Village Express
Climb aboard the Smurfs' colorful train for a gentle journey through the enchanting Smurfs Village. As you chug along the tracks, enjoy whimsical scenery, catchy music, and the company of your favorite blue characters. It's a delightful ride that will transport you into the magical world of the Smurfs.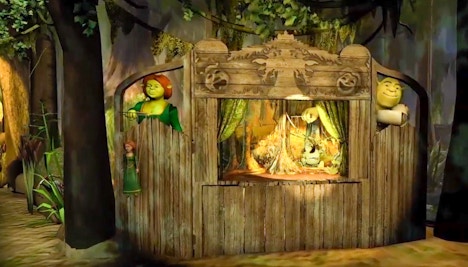 Shrek's Merry Fairy Tale Journey
Enter the fairytale land of Far Far Away and join Shrek, Donkey, and Princess Fiona on a whimsical boat ride. Sail through iconic scenes from the Shrek films, encounter beloved characters, and immerse yourself in the humor and charm of this beloved franchise.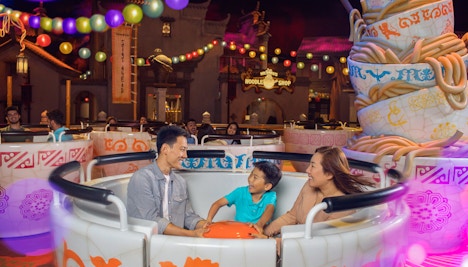 Panem Aerial Tour
Soar above the dystopian world of Panem on this breathtaking aerial tour. Strap into your flying vehicle and glide through the districts, witnessing the contrasting landscapes and absorbing the richly detailed world of The Hunger Games.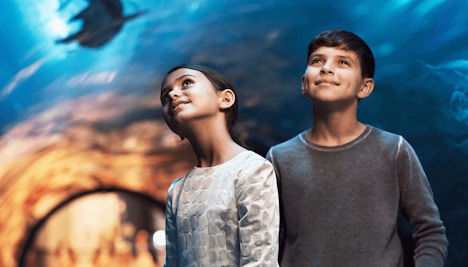 Illuminate
Get ready to dance your way through an electrifying hip-hop journey inspired by the Step Up film series. This high-energy show combines jaw-dropping dance moves, stunning visuals, and a pulsating soundtrack to create an immersive experience that will have you tapping your feet and moving to the beat.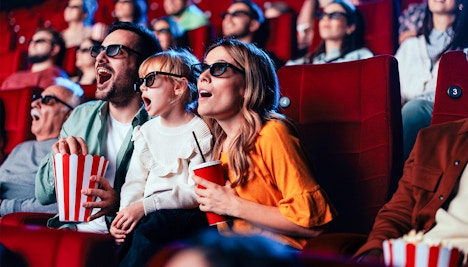 Underworld 4D
Enter the dark and mysterious world of vampires and werewolves in this thrilling 4D experience. Join Selene, the fearless vampire warrior, as she battles her immortal enemies. With stunning visuals, intense sound effects, and immersive 4D technology, this attraction will leave you on the edge of your seat.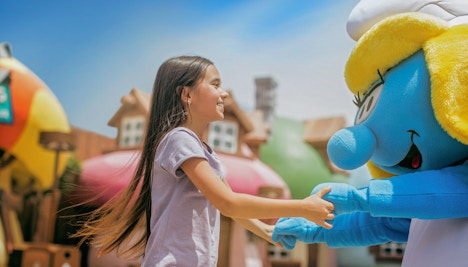 The Smurfs Studios Tour
Go behind the scenes of Smurf Village and discover how the animated magic comes to life. Take a guided tour through the Smurfs Studios, witness the animation process, and get a glimpse of the intricate details that make these blue characters so lovable.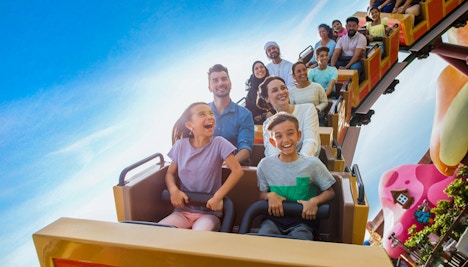 The Capitol Bullet Train
Hold on tight as you board this high-speed roller coaster inspired by the futuristic world of The Hunger Games. Race through the Capitol at breakneck speeds, experiencing thrilling drops, twists, and turns along the way. It's an adrenaline-pumping ride that will leave you breathless.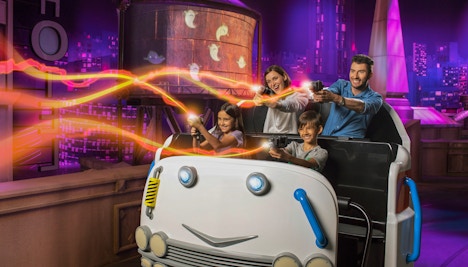 Ghostbusters: Battle For New York
Put on your proton pack and join the Ghostbusters in a live interactive show that combines comedy, special effects, and audience participation. Help the team capture mischievous ghosts, battle supernatural creatures, and save the day in this thrilling and hilarious ghost hunt.
Book Your Tickets to Motiongate Dubai
Frequently Asked Questions About Motiongate Rides
How many rides are inside Motiongate Dubai?
Motiongate Dubai has a total of 33 movie-based rides, filled with fun and adventure.
Are all the Motiongate Dubai rides open?
Yes, most Motiongate Dubai rides are open for visitors, but occasionally, certain rides may undergo maintenance or be temporarily closed for safety reasons.
Are rides free at Motiongate Dubai?
No, rides are not free at Motiongate Dubai. The rides and attractions within the park have individual fees or are included in the admission ticket.
Do I need separate tickets to go on the different Motiongate Dubai rides?
The admission ticket to Motiongate Dubai typically includes access to all the rides and attractions within the park.
What rides are in Motiongate Dubai?
Motiongate Dubai offers various movie-themed rides such as roller coasters, water rides, and many more.
Are there height restrictions on the rides at Motiongate Dubai?
Yes, some rides at Motiongate have height restrictions to ensure the safety of riders. Children between 100 cm and 122 cm must be accompanied by a supervision companion.
What are the average wait times in front of the different Motiongate rides?
The average wait times depends on multiple factors such as the type of rides, crowd, day of the week, etc.
How long does it take to go on all the rides inside Motiongate?
The time it takes to experience all the rides inside Motiongate Dubai can vary depending on various factors, including crowd levels, wait times, and individual preferences.
What are some must-visit rides at Motiongate Dubai?
Some popular and highly recommended rides at Motiongate Dubai are Kung Fu Panda: Unstoppable Awesomeoness, Ghostbusters: Battle for New York, The Green Hornet: High-Speed Chase, and many more.
Are there any restrictions on who can go on the rides at Motiongate Dubai?
Some rides have restrictions based on height, age, or health conditions. It is essential to review the specific requirements for each ride to ensure eligibility and safety.