Everything you Need to Know About Bluewaters Island Dubai
Contents
Why Visit Bluewaters Island? Explore the numerous shopping, entertainment, and restaurant options, inside this luxury island.
Visit the only Madame Tussauds in the Middle East and pose with your favorite celebrities.
Take a ride on the world's tallest and largest observation wheel - Ain Dubai and enjoy unparalleled views of the Dubai skyline.
Unwind at Cove Beach, where you can soak in the sun and enjoy the incredible views of the cerulean waters of the Arabian Gulf.
Enjoy a delectable meal at the London Project.
Visit the only other Caesars Palace hotel outside of the one in Las Vegas. Enjoy the serene pools, and spas, and dine at one of its many restaurants.
What to Do in Bluewaters Island?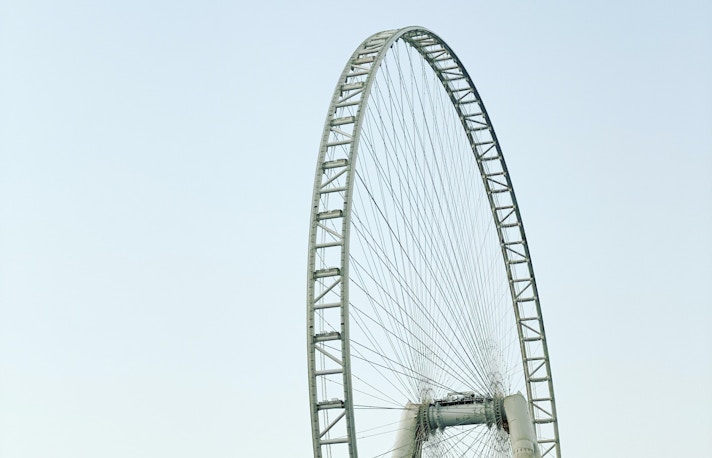 Ride the Dubai Eye
Bluewaters Island is home to Ain Dubai, the world's tallest and largest observation wheel which can carry 1400 passengers at a go in its 48 capsules. Standing tall at 250m, the wheel allows you to enjoy some incredible views of the city's sparkling coastline. One full rotation on the wheel takes nearly 40 minutes, giving you plenty of time to spot some of Dubai's most iconic attractions.
About Ain Dubai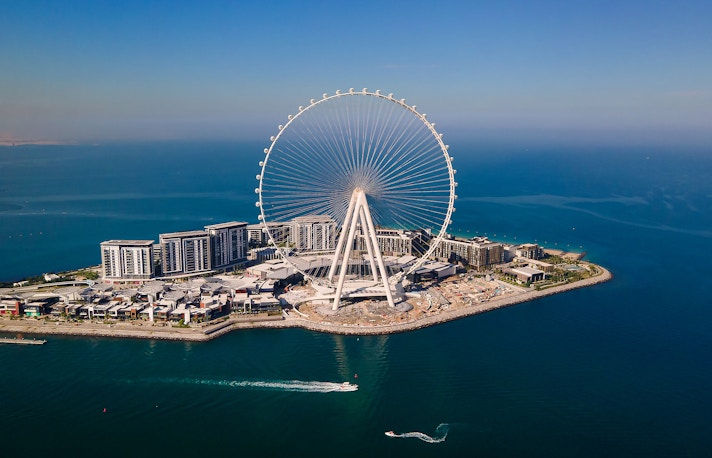 Explore Caesar's Palace
Explore the luxurious resort featuring a dozen dining venues and multiple accommodation types. Enjoy options ranging from Asian cuisine at Paru o Zhen Wei to the world-famous Hell's Kitchen from Gordon Ramsay and Mediterranean cuisine at Cleo's Table. Enjoy a swim in the hotel pool, relax at a spa or attend a show at The Rotunda.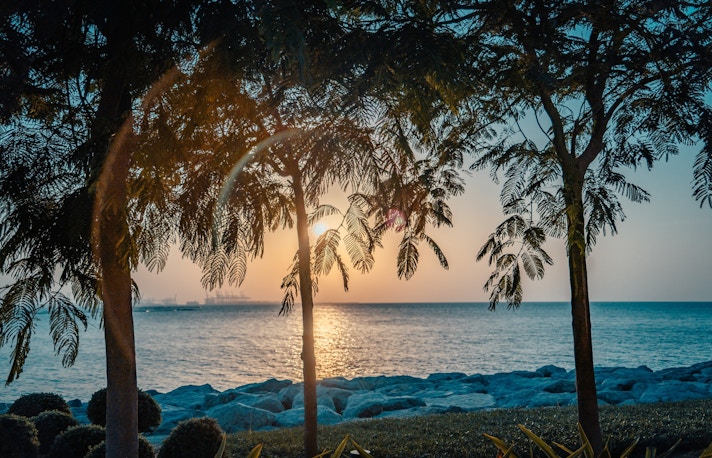 Lounge at Cove Beach
No beach visit is complete until you take out the time to lounge by the waters. So make sure that you make your way up to Cove Beach, and enjoy the views of the pristine blue waters of the Arabian Sea as it hits the coastline. Grab a meal at the Rosé Lounge, or take a dip in one of the 3 pools set against the backdrop of the tranquil sea.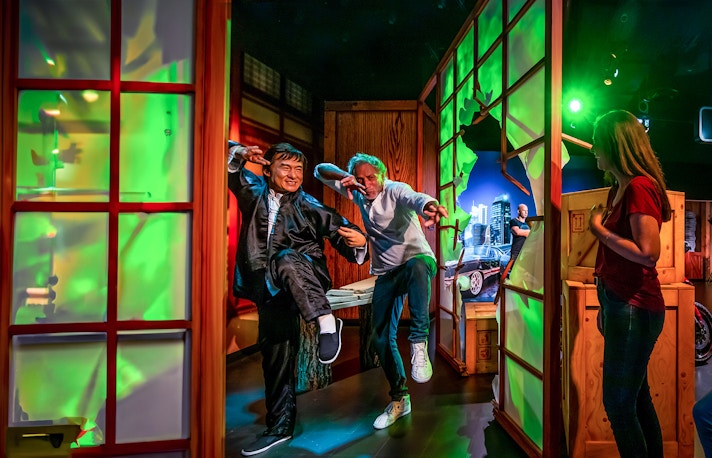 Meet Celebrities at Madame Tussades
Visit the wax musuem in Dubai and get the chance to see waxworks of famous personalities. The Madame Tussauds in Bluewaters Island is the first and only one in the Middle East. A museum for all ages, you can spot famous local artists like Lebanese singer Nancy Akram and international stars like Justin Beiber, Kylie Jenner, Vin Diesel and many other here.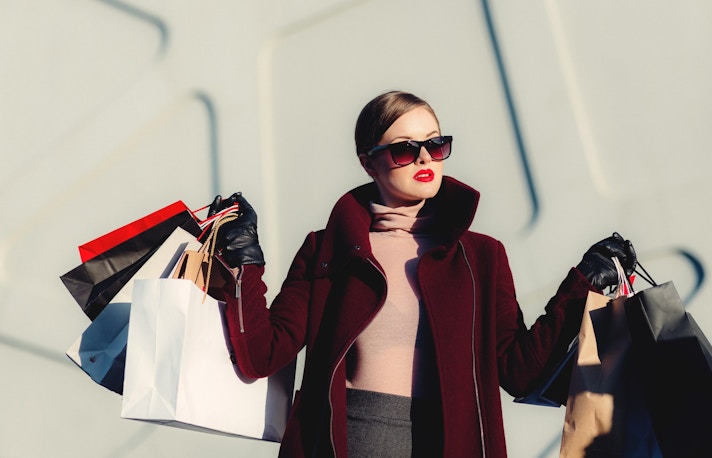 Shop
Dubai is a shopper paradise, and it is a title it has earned, after being home to always every brand under the sun. Bluewaters Island, which was intended to be a luxury destination of all kinds, doesn't fall all that far from the tree. An absolute haven to shopping aficionados, the island is home to a number of stores that deal with both, homegrown and international brands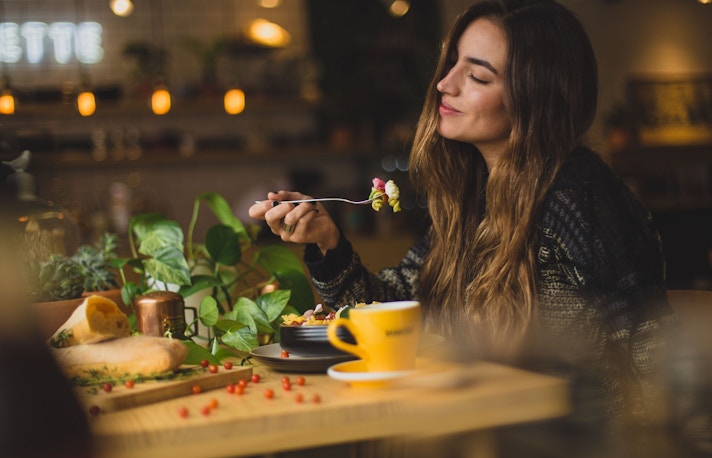 Enjoy a Scrumptious Meal
Bluewaters Island is home to a series of restaurants, each offering mouthwatering dishes. Make sure you dine at The London Project. With art adorning the walls and in-house podcasts that dive into community topics there is a lot to keep you entertained while you wait for your meal. Some star dishes here include kaffir lime and ancho chili squid, Oxford beef croquettes, and battered fish and chips.
Plan Your Visit To Bluewaters Island Dubai
Timings
Getting there
Where to Eat?
Stay
Shopping
Must Do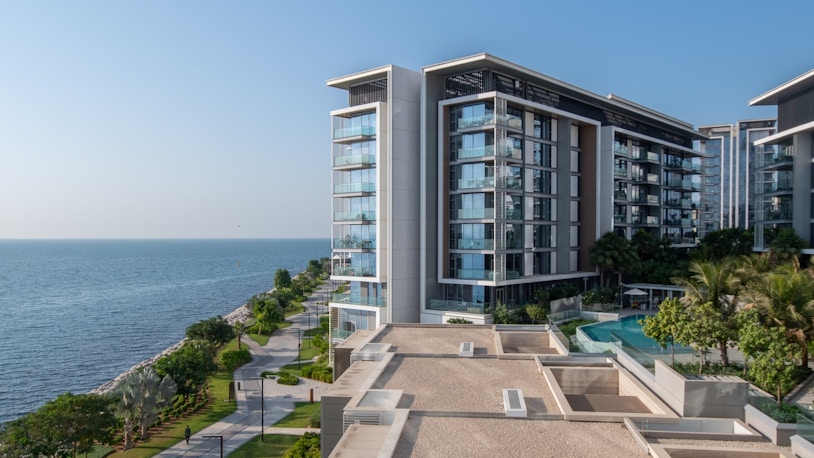 Monday to Thursday:
Retailers: 10 AM – 11 PM
F&B: 10 AM – 12 AM
Friday to Sunday:
Retailers: 10 – 12 AM
F&B: 10 AM – 12 AM
Best Time To Visit: The best time to visit Bluewaters Island Dubai is during winters since temperatures are significantly lower. The months from October to April offer pleasant and dry weather. During the daytime, in the winter months, the temperature is in the 20 to 25 degrees Celsius range, which is ideal for exploring the island.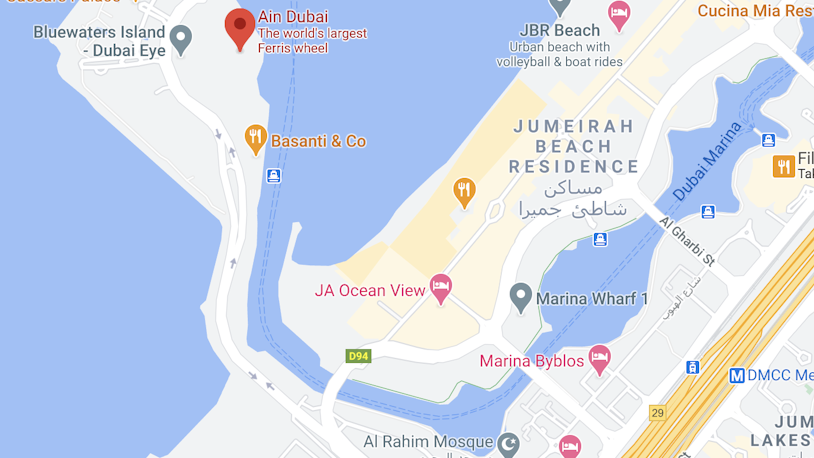 Car: Take the Sheikh Zayed Rd/E11 route towards Abu Dhabi. Take exit 31 to Al Azraq Street to reach the destination. 
Metro: Take the metro until either DMCC station or Jebel Ali station and take a cab from there to Ain Dubai.
Travel within the island is seamless with the help of the driverless transport system. There are a total of 25 driverless vehicles that can transport 24 passengers each at a time.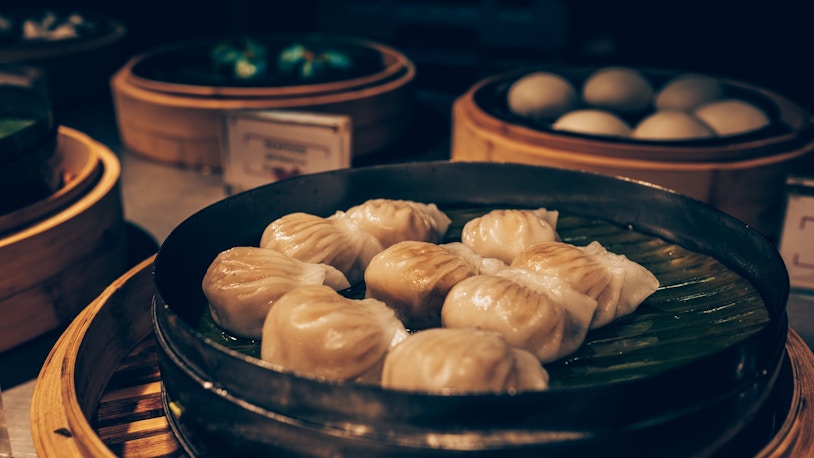 Bluewaters Island is home to over 30 restaurants, including fast-food, international cuisines, and even bakeries. Here are some of the best eateries you should look out for.
Gordon Ramsay's Hell's Kitchen: This is a celebrity chef restaurant with signature dishes by Gordon Ramsay.
Zhen Wei: This restaurant serves Pan Asian dishes by combining Asian flavors but with a modern twist.
The Coffee Club: The Coffee Club is a great place for some casual food with an excellent all-day dining menu.
Bacchanal: Enjoy some Arabic dishes at this highly acclaimed restaurant. 
Brass Monkey: In a mood to party? Head to Brass Monkey where you can enjoy bowling and arcade games, while you savor some delicious appetizers.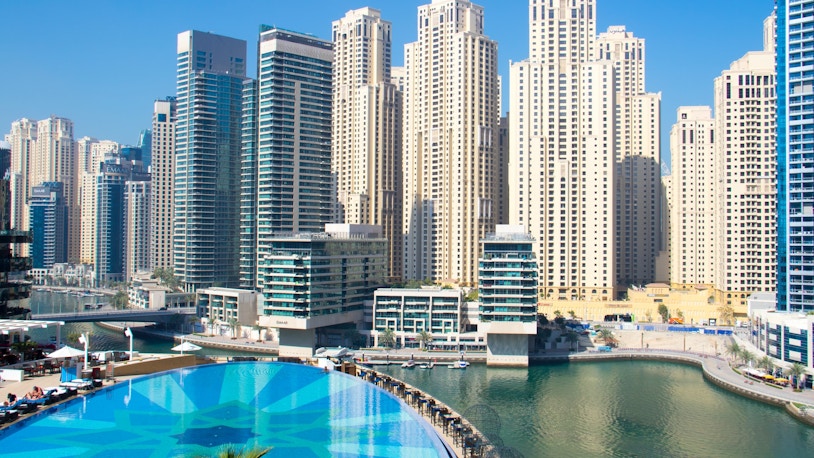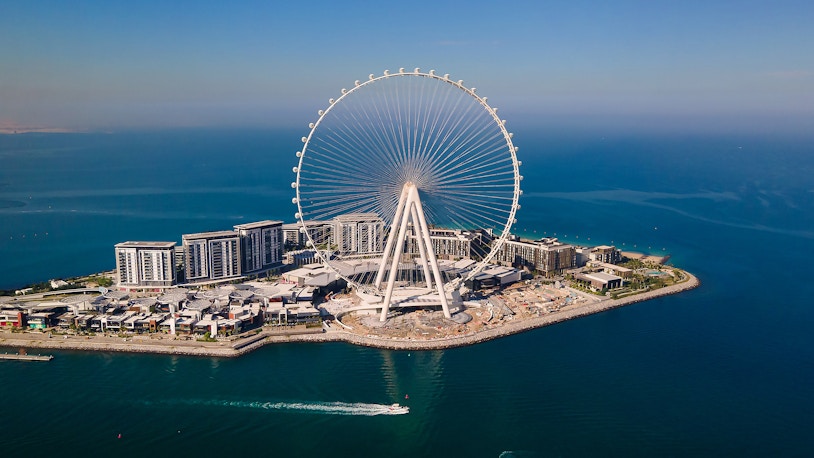 Bluewaters Island Dubai is home to more than 150 shopping and retail stores. From souvenir and gift stores to international brands, there's something for everyone! Some of the most visited stores include:
Typo and Camel Company: Here, you can buy stationery and souvenirs.
Tarsam Image: A haven for techies and gadget lovers.
OBLONG Gallery: Admire some of the finest contemporary art.
Arabia To Go: Buy products that are a fusion of Arabian heritage with a modern appeal.
Franprix: A dynamic and innovative grocery shopping concept.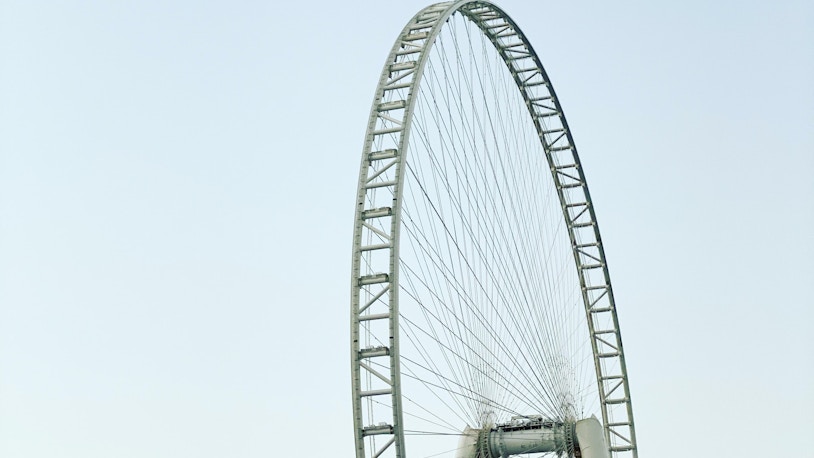 Take a ride on the incredible Ain Dubai Ferris Wheel
Enjoy food at The London Project restaurant
Visit the Rotunda for some of the best on-stage entertainment in all of Dubai
Take a stroll through the Cove Beach lounge during sunset
Travel inside the island using the seamless driverless Group Rapid Transit system
Visit Arabia To Go store for some memorabilia
Visitor Tips 
Wear comfortable clothing and shoes, since you will be walking a fair bit while exploring Bluewaters Island Dubai
Book tickets to the various attractions online, and in advance, so that you are guaranteed entry to them
For Ain Dubai, ensure that you book a slot at least 4 weeks in advance to ensure that you find a ticket
If you will be driving a car to Bluewaters Island, ensure that you choose a hotel with a private parking space
Frequently Asked Questions About Bluewaters Island Dubai
Q. Is Bluewaters Island open?
Q. How do I get to Bluewaters Island?
A. The easiest way to travel to Bluewaters Island Dubai is by taxi. You can also take the tram or Metro close to Bluewaters Island Dubai.
Q. Where can I eat on Bluewaters Island Dubai?
A. There are numerous restaurants present on the island serving a variety of cuisines near Bluewaters Island Dubai.
Q. Where can I stay near Bluewaters Island?
A. There are hundreds of hotels on Bluewaters Island. You can book one in advance to ensure that you have accommodation.
Q. What time does Ain Dubai open?
A. Ain Dubai's opening hours are from 10 AM to 9:30 PM, all days of the week.
A. Yes, travel within Dubai is open and allowed.