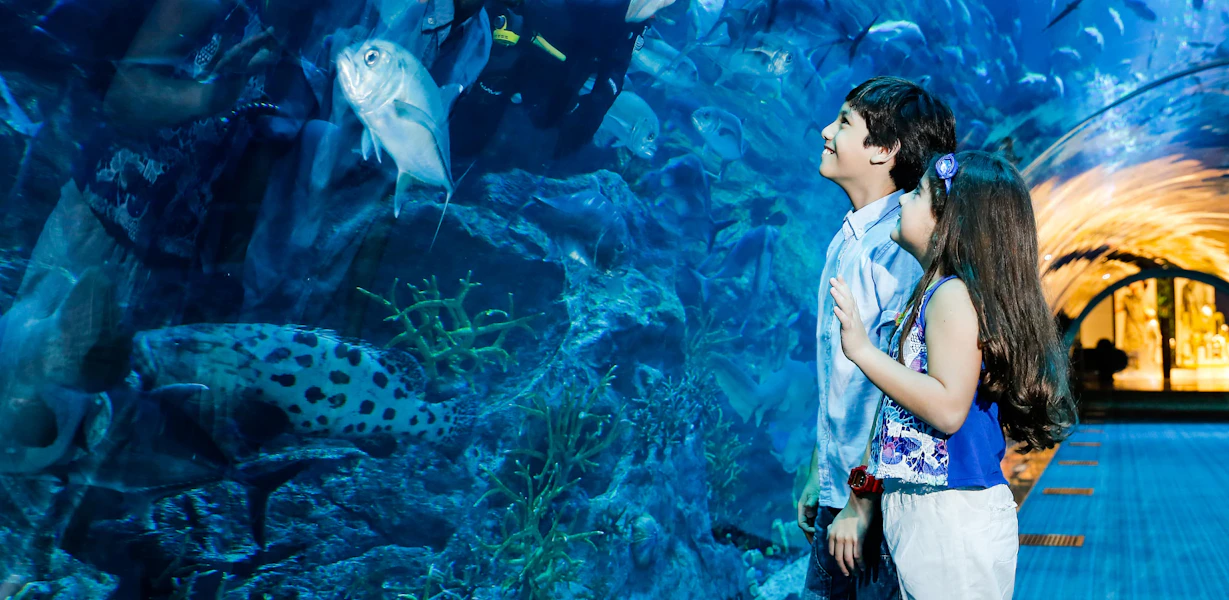 The Ultimate Guide to Visiting Dubai with Kids in 2022 | Attractions, Themeparks, Age Restrictions & More
Traveling is said to be therapeutic, but let's be honest, with mini-travelers in tow, a lot of careful planning and preparation goes into each trip! Chances for impromptu adventures are lower, but watching your kids having the time of their lives riding roller coasters or exploring the aquariums makes the experience worth it. Luckily, Dubai by design is an extremely family-friendly city, with something to offer for all age groups. There wouldn't be a dull moment for you or your kids. If you're planning a family trip to the Emirate, this page has got you covered with everything you need to know about creating the best itinerary for your children. 
Best Things to do in Dubai With Kids
Where to Eat in Dubai With Kids
Sign up to Events & Workshops for Kids in Dubai
Know Before Visiting Dubai with Kids
1. Explore The Beaches
If you're planning a beach day with the kids, plan ahead to see which days are allotted as women-only beach days.
2. Dress Codes For Kids
Children are free to dress weather appropriate, however adults are recommended to dress modestly in the region. 
3. Planning for the Weekend
The weekend in the Middle East is usually Friday and Saturday, so plan all activities accordingly. 
4. Getting Around Dubai with Kids
Metro stations have elevators and escalators to make stroller transport easier. If you're travelling in a car with children below four, a car seat is mandatory.
5. Height Requirements for Kids
Most theme parks have a minimum height requirement for rides. Make sure your child meets the requirements before planning a visit. 
6. Entry to Public Attractions
Most areas of attraction provide free entry to children below 3 years of age.
7. Safety for Kids in Dubai
Dubai has consistently ranked as one of the safest destinations for a family vacation with kids. 
8. Offers & Discounts for Kids
Most packages have a children package for kids between 3-12 years of age, while kids below 3 years have no charge. It is recommended to check with the service provider for children packages.
9. Watch Out for the Heat
Dubai is, at the end of the day, a desert, which means summers can get scorching hot. Avoid stepping out during the afternoons, or if inevitable, ensure the children are regularly hydrated and are regularly applying sunscreen.
10. Don't Take Your Kids to Bars
Children under 21 are not allowed in Dubai bars unless a restaurant is present in the premises. 
11. Public Facilities For Mothers
There are no laws against breastfeeding in public, however if you're uncomfortable, you can head to a female prayer room nearby for privacy.

12. Plan a Day Trip to Abu Dhabi
If you're looking for a day trip from Dubai, Abu Dhabi is the perfect place to go with attractions like Ferrari World, Warner Bros theme park, and Yas Waterworld.
Frequently Asked Questions About Visiting Dubai with Kids
Is Dubai a good place to visit with family?
What are the best things to do in Dubai with kids?
What activities can my kids do in Dubai?
Kids can try out the rides at theme parks, snowboard in the desert, or even just watch the Dubai fountains in the evenings.
Where can I take my kids in Dubai?
Can I travel around Dubai with kids?
What can my kids eat in Dubai?
If your children are not comfortable with Middle Eastern cuisine, there are many options on international familiar food chains such as McDonalds, Pizza Hut, Starbucks and Burger King.
When is the best time to visit Dubai with kids?
The Best Time to Visit Dubai is in the winter months. November and March are the coolest months to beat the heat in Dubai.

Which are the best theme parks to visit with kids in Dubai?
Legoland Dubai, Ski Dubai and Kidzania are a favourite among children.
Which are the best waterparks to visit with kids in Dubai?
Wild Wadi Waterpark and Legoland Waterpark have numerous rides and attractions for children, making it a fun outing.
Which are the best zoos and aquariums to visit with kids in Dubai?
The Dubai Aquarium and Dolphinarium are popular attractions for adults as well as children, as you can interact with the animals.
Which are the best parks to visit with kids in Dubai?
Dubai Ice Rink is great to beat the heat and ice-skate, and the Garden Glow Park is a good way to spend the day in nature.
Which are the best restaurants to visit with kids in Dubai?
Reform Social and Grill is a good eatery to enjoy the day with good food, while also taking the kids around the lake and indoor playground.