Contents
Dubai is a city defined by superlatives. Home to Burj Khalifa, the world's tallest skyscraper, the artificial Palm Islands, and the Dubai Mall, the largest mall in the world, is it no wonder the city is at the top of travelers' bucket lists. Another superlative attraction, right in the heart of the city, is the Dubai Fountain.
About the Dubai Fountain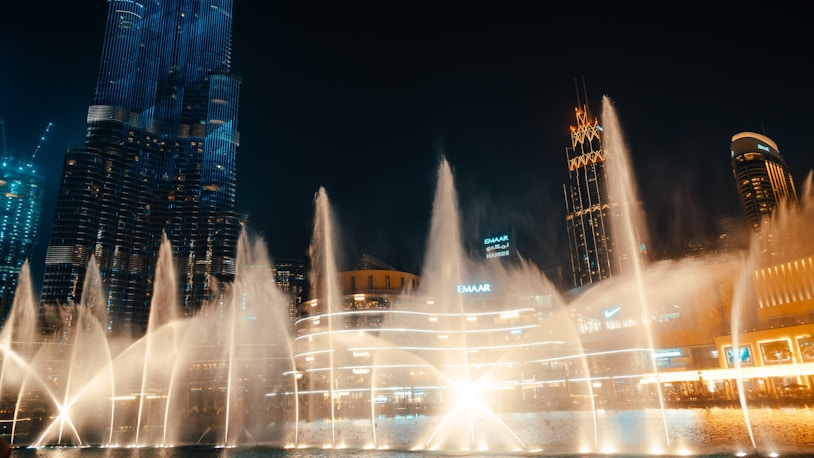 Dubbed as the largest musical fountain in the world, visiting the Dubai Fountain is an experience all travelers highly recommend. Located right next to the Dubai Mall, this musical fountain lies on the massive, 30-acre Burj Khalifa lake. It was designed by WET, a creative organization that also has the Bellagio Hotel fountains on its resume. Developed by Emaar, the Dubai Fountain was inaugurated in 2009, along with the Dubai Mall. 
This dancing fountain in Dubai measures about 900 ft in height! For a Dubai fountain show, about 25 color projectors and 6,600 bright lights are used across five circles and two arcs. During a five-minute performance, the fountain projects heavy jets of water into the air, which sways and moves in various choreographed patterns and rhythms to catchy music like Michael Jackson's Thriller!
Dubai Fountain: Know Before You Go
Timings
Where to View
Getting There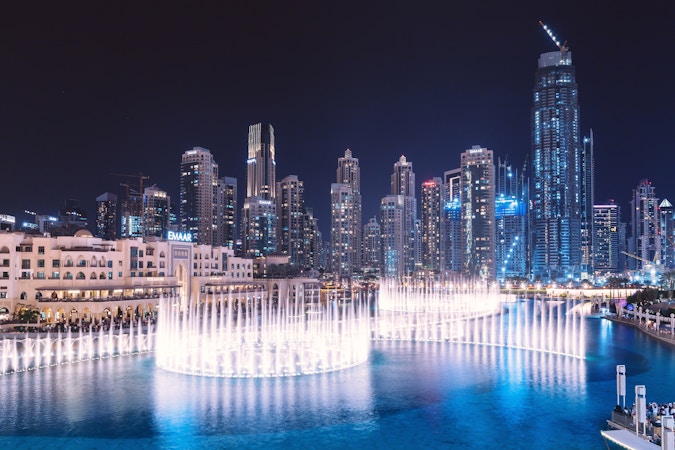 A Dubai fountain show is held every day of the week.
Dubai fountain timings are: 5:45 PM to 11:30 PM
Last boat departs 30 minutes prior to closing.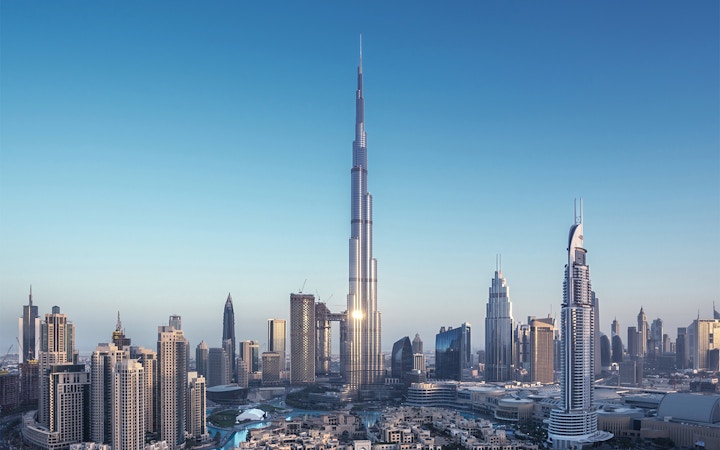 Perhaps the best way to get a close look at the dancing fountain in Dubai is to go for a boat ride on the Burj Khalifa lake. On a traditional Abra, you will sail across the lake and view the musical performance from an excellent vantage point. 
Timings: 05:45 PM to 11:30 PM
Ticket Price: AED 65/person
Located right next to the Dubai Mall and the Dubai Fountain, the Boardwalk is a floating structure that gives you a close view of the musical performance. The Boardwalk is located less than 10 meters from the Dubai Fountain!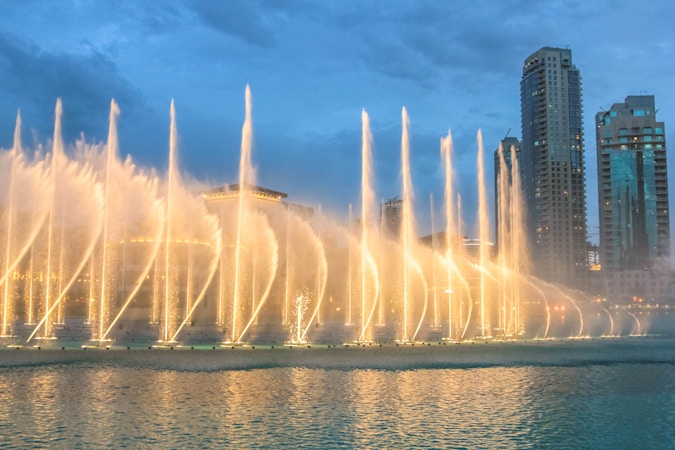 The Dubai Fountain is located next to the Dubai Mall, at Sheikh Mohammed bin Rashid Blvd - Downtown Dubai - Dubai - United Arab Emirates. To access it, you can simply walk through the Lower Ground floor of the Dubai Mall.
What Is Dubai Fountain Boardwalk?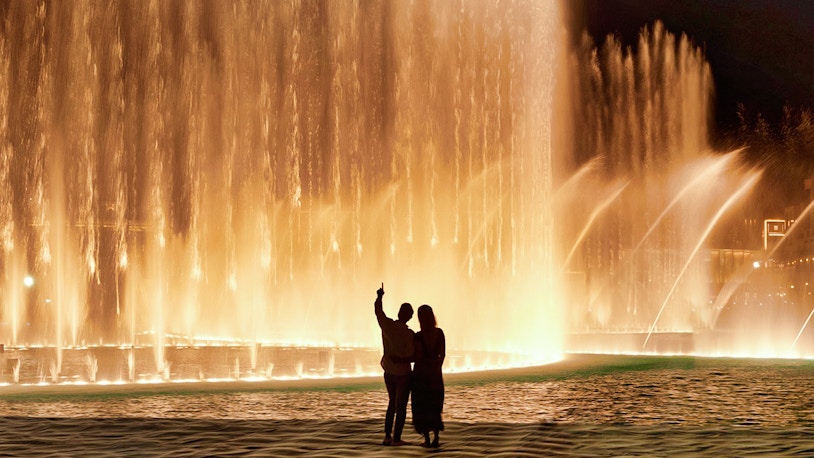 Dubai Fountain Boardwalk is a brand-new floating platform placed within the beautiful Dubai Fountain to let you get even closer to the iconic spectacle of the performing fountain. This allows you to get a whole new experience of visual spectrum of the Dubai Fountain.
The Dubai Fountain Boardwalk provides you with an unique experience as guests can stroll down the 272-metre board walk by starting their journey from the Burj Park or Fountain promenade. The experience turns is truly a remarkable one as you can get as close to 9 meters to fountain and immerse yourself in the captivating performance of the performing fountain.