Know All About Burj Khalifa Floors
Contents
Burj Khalifa has gained a worldwide reputation for its spectacular architecture and design, and its record-breaking height. Towering over Dubai's skyline at 830 meters, it is definitely not to be missed when you plan an itinerary in the city. Visitors have the option of visiting several Burj Khalifa floors: At The Top (Levels 124 &125), At The Top SKY (Level 148) and The Lounge (Levels 152, 153 & 154). Each of these floors hosts an observation deck from where you will get a jaw-dropping view of Dubai.  
Burj Khalifa Floors
Picture this: a serene blue-green ocean surrounding a landscape full of beautiful date palm trees, flowers and sky-high, glass-covered towers. This is the view you have in store when you visit one or all  of Burj Khalifa's floors.
At The Top
This Burj Khalifa floor is located at Levels 124 & 125, and is the most popular visiting spot for tourists. Zoom up on the world's highest elevator to get to At The Top. This level is designed with an indoor and outdoor observation deck, embedded with massive floor-to-ceiling glass windows to reward you with a wonderful view of Dubai's skyline. You can also use the Falcon's Eye View, an interactive display, to know more about the city's important landmarks.
Know More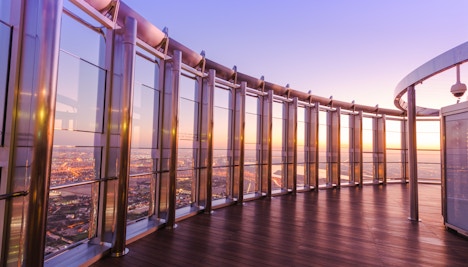 At The Top SKY
Ride up the super-fast elevator to step onto Burj Khalifa At The Top SKY. Located at a staggering 555 meters above ground, you're in for an absolute treat. Guests are treated with the finest hospitality, complete with delicious refreshments, a personalized tour by a guest ambassador and a relaxing lounge area. Home to the world's highest observation deck, prepare to have your heart race as you stare out into the open and soak in the City of Gold's landscape.
Know More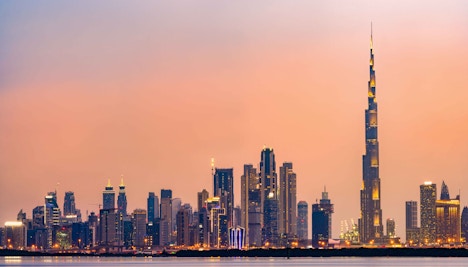 The Lounge
If you thought the view from Burj Khalifa's 148th floor was unbeatable, The Lounge is here to prove you wrong. While it does not have an observation deck, it does you one better: enjoy a splendid meal at a staggering 585 meters above ground level, with Dubai's beautiful terrain serving as the perfect backdrop and ambience. Visitors can have breakfast, high tea or dance till they drop in the evenings.
Book Your Burj Khalifa Tickets
All You Need To Know About Burj Khalifa Floors
Q. How many floors are at the Burj Khalifa?
A. There are 163 Burj Khalifa floors. The most popular ones are At The Top (Levels 124 & 125) and At The Top SKY (Level 148).
Q. Which Burj Khalifa floors can I access with a ticket?
A. With a standard ticket you get access to Burj Khalifa At The Top (Levels 124 &125). To visit At The Top SKY, you will have to specifically book tickets that provide access to Level 148.
Q. Do all Burj Khalifa floors have skip-the-line access?
A. No, You will have to specifically opt for tickets that provide skip-the-line access to Burj Khalifa floors.
Q. How do I get to different Burj Khalifa floors?
A. Take the exit from Dubai Mall's lower ground floor and head towards the Burj Khalifa elevator. From here, based on your reservation, you can visit any Burj Khalifa floor open to the public.